The Civic EK is a firm favourite amongst many die-hard Honda enthusiasts, weighing in at a mere 1,090kg and the chassis being renowned for its track-ready performance. So, when our resident web developer, Mikey Birch, decided he was going to build a Time Attack car for the 2021 season, this was the perfect platform to build upon.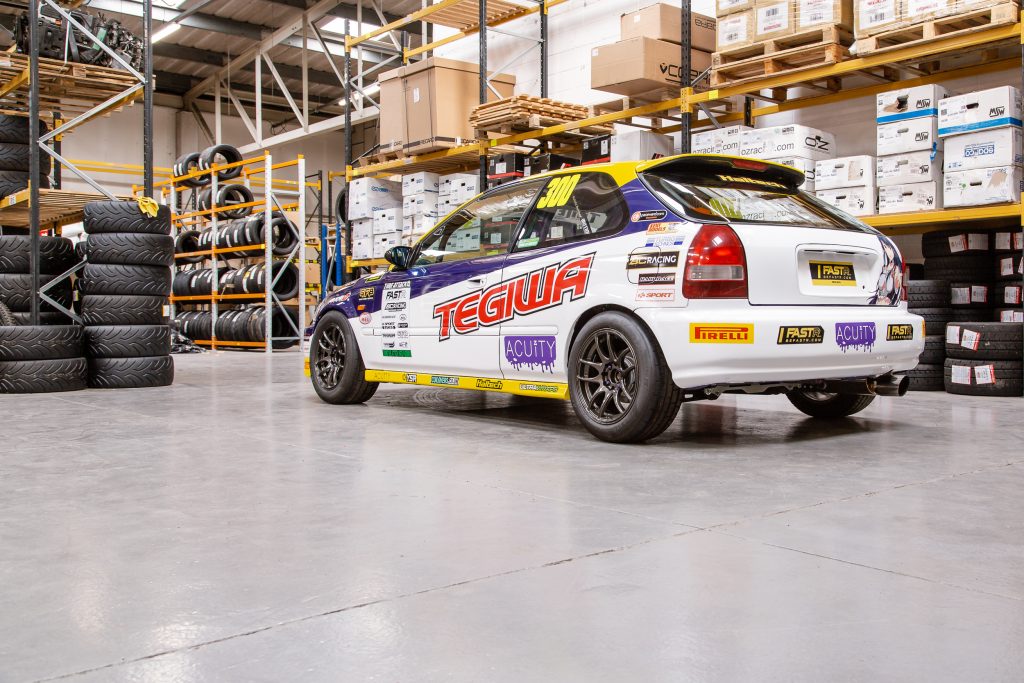 Where it all began
No stranger to the Honda brand or Time Attack, Mike's passion for the marque started with a Civic EF that he planned to transplant a B18C4 lump from a Civic Aerodeck VTi. However, that never came to fruition as he later acquired a Type R EK9 that we'll talk about shortly.
Those that have followed Mike's progress throughout the build will know that the car is in fact an EJ9, which means that it's the same chassis as the legendary EK9 Type R but left the factory with a lack-lustre 90 horsepower 1.4 D-Series engine. As we previously mentioned Mike had the pleasure of owning a Civic Type R EK9, something that many of us Honda fans can now only dream of. He didn't mess about with it and a turbocharger soon found its way onto the car, ripping out the original B16B power plant and replacing it with a B18C4 lump that kicked out a reliable 310 horsepower. It's no surprise that Mike has since returned to his roots and spoke about how at home he feels in the car and enjoys the more balanced handling characteristics that the EK platform offers as opposed to the more tail happy EP chassis.
Previous Experience
Mike will be the first person to comment on how relatively inexperienced he is in a competitive motorsport environment. He's no stranger to the track though, but by no means a seasoned pro either. Mike recalls his previous 5 track days with his mates in his daily driven Fiesta ST and Honda Civic EK9 (in standard form).
The bug to compete all started when Mike built a Type R Trophy spec Civic EP3 as a track toy. After 3 track days in the car, Mike was given the opportunity to enter into the 'Run What Ya Brung' Time Attack class at Cadwell Park and that's where it all began. He was then given a guest drive in the eBay Fiesta ST at Brands Hatch in the Pocket Rocket class, which lead to him taking the plunge into building his very own Time Attack car and a full season entry for 2021!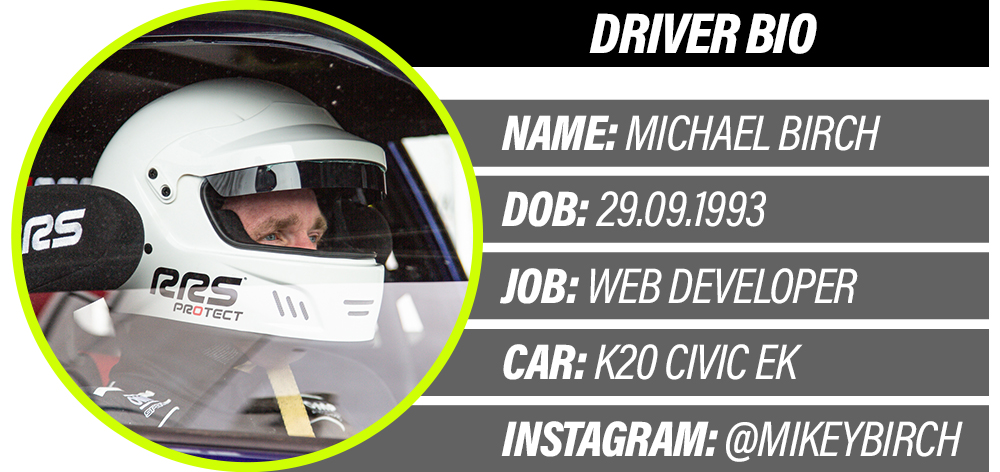 First things first
Mike's first port of call was to address the underwhelming power that was apparent from the get-go. You'd be hard pushed to find an easier, more reliable way towards a better power-to-weight ratio than with an engine swap, especially in a Honda as many engines drop into each platform with minimal work. Rather than go for a B16 that the EK9 came equipped with, Mike opted for the popular K20 engine that's found in the Civic EP3. There are a few reasons why this was the engine of choice and one of those was that parts are much more accessible for the K-Series and it's much easier and inexpensive to build an N/A 250hp K20 than a similar spec B-Series. At the time of writing this, Mike was very quick to make sure that I stressed how much of fan he is of the B-Series though!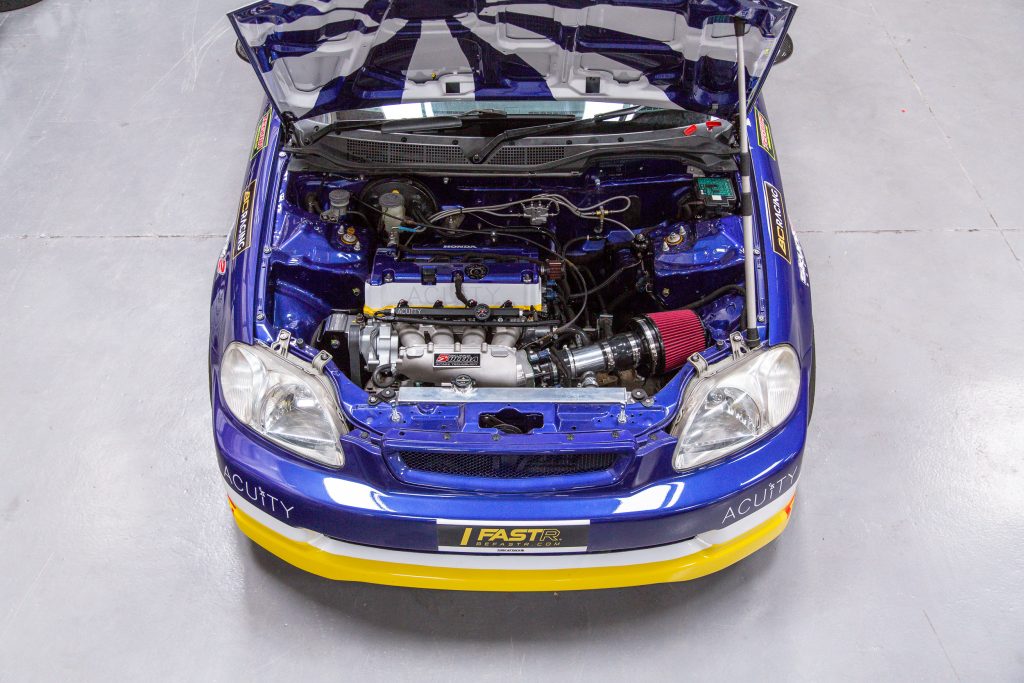 The Engine
The power plant in question is a K20A2, which is the UKDM engine found in an EP3 rather than the K20A found in the JDM Integra DC5. The car makes use of relatively simple bolt-on mods including a Skunk2 Racing Ultra Series Intake Manifold, Skunk2 Racing Tuner Series Drop-in Camshafts, 550cc Grams Performance Injectors, Tegiwa K-Swap Exhaust Manifold, Tegiwa 70mm Throttle body and a GReddy 3" Catback exhaust. This means the K20 screams all the way up to 9,000rpm through the 6-speed gearbox, which as you can imagine sounds absolutely incredible at full chat! The car is managed by a Haltech Platinum PRO plug-in ECU, that was mapped by legendary Honda tuner Jesse Halford from J.Cal, and now produces a very reliable 249.9hp.
The Transmission
Talking of the gearbox, the transmission was treated to a re-fresh with new Genuine Honda hub slider and synchro, JDM 4 5 6 gear set, Spoon Sports 5.1 final drive and a MFactory Plated limited slip differential that'll provide maximum attack at the apex.
Often the case when it comes to race cars, is that they've been insurance write offs or endured high mileage before they've ever seen a track. Mike's car couldn't be further from that if it tried. What he's done here is essentially a full nut and bolt restoration before the go faster bits were added. The car had been treated to a full respray prior to Mike's ownership so it certainly wasn't rough around the edges to begin with. Whilst Mike was stripping the car back, the engine bay, underside and arches were all treated to a coat of fresh paint too, which meant he could focus on enjoying the car rather than having to worry about rust issues further down the line.
The Suspension
When modifying the EK chassis, it's not something that you can just throw a catalogue of parts at and expect it to improve as Honda already perfected the balance and handling. As mentioned before, Mike's knowledge and previous experience came into play and he upgraded the suspension with a set of Yellow Speed Racing Premium Competition coilovers that were specifically designed for racing and heavy track use. As well as a range of Hardrace and Tegiwa suspension components, Blox Racing Spherical Bushes were fitted too so that Mike could dial in the car to suit his driving style.

The Brakes
Yellow Speed Racing were the flavour of the day when it came to braking too, with a 4-piston big brake kit that makes use of a 286mm x 26mm brake disc. The rear brakes saw Mike go for a fresh set of Genuine Honda calipers with Pagid discs and Ferodo DS2500 pads. A Tilton brake bias lever is mounted inside the car so Mike can increase and decrease the rear brake bias at will.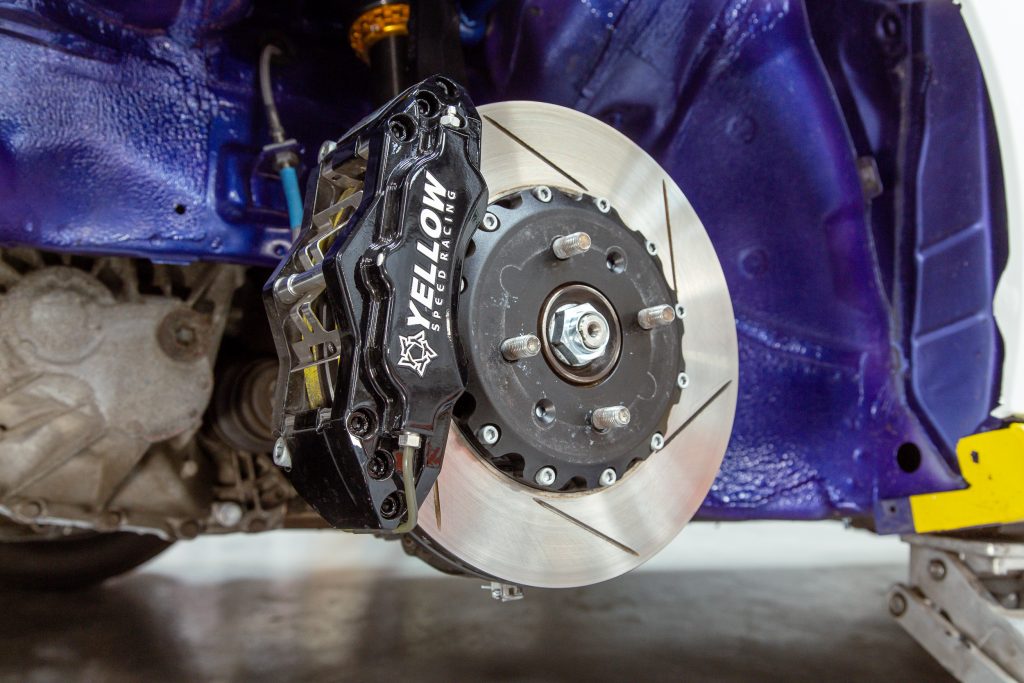 Wheels & Tyres
One thing that I love about this car is its wheel fitment, with 15" x 8J JR29 wheels wrapped in a chunky 50 profile Pirelli P-Zero Trofeo R semi slick tyre for maximum grip. As if one set wasn't enough, Mike has 3 sets of wheels! Another set of Japan Racing JR29's are  used for testing with Nankang AR1 rubber and Rota Force's make in appearance during wet weather and make use of Pirelli's Cinturato P1 tyre.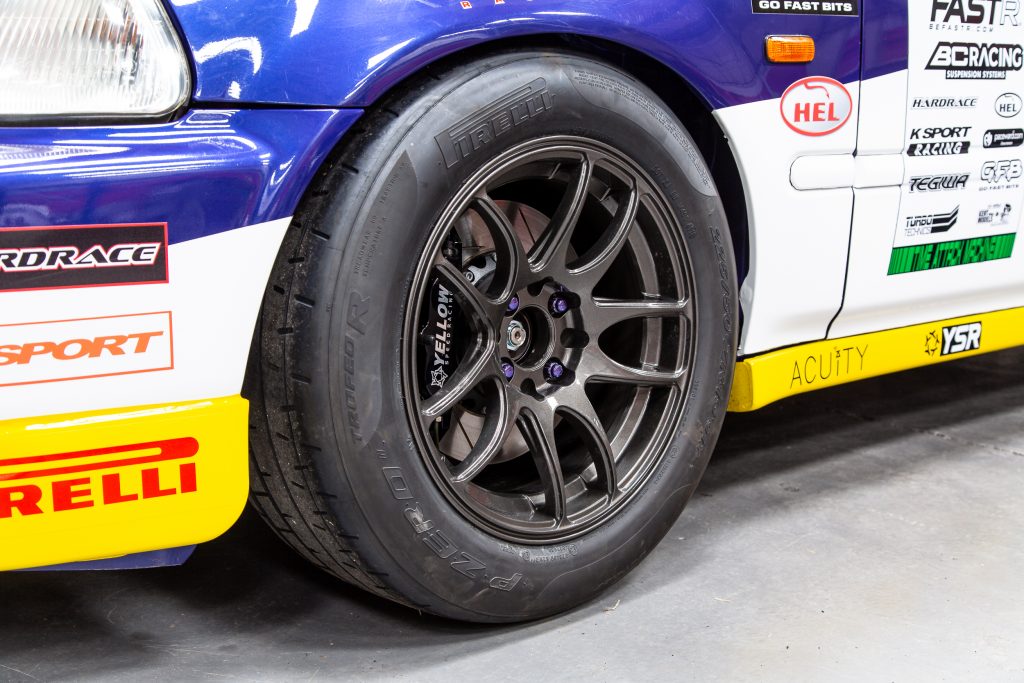 The Interior
Not much of the original interior remains, as it's very much a case of function over form with only necessary parts and equipment installed all in the name of safety and weight saving. There's one trick bit that stands out straight away and that's the Acuity 4-way adjustable shifter. A popular name in the Honda world, Acuity are one of the main sponsors backing Mike this season and a plethora of their goodies can be found on the car.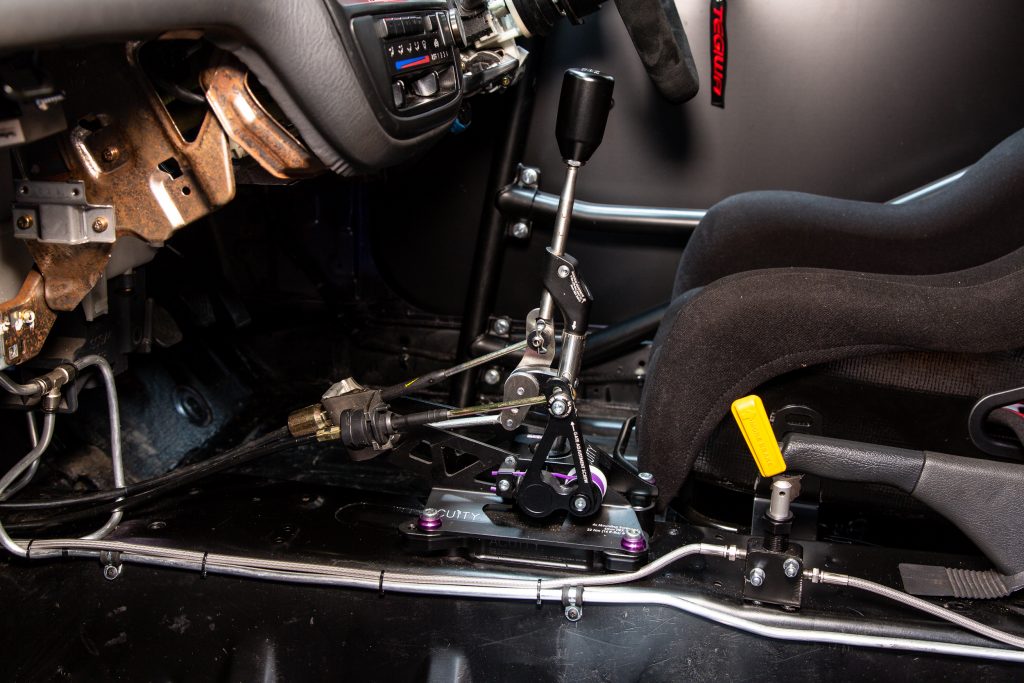 A Safety Devices 6-point roll cage fits neatly inside the cabin along with a RRS Grip EVO bucket seat and OMP harnesses to keep Mike firmly in position. Other safety equipment includes a RRS 4.25 litre fire extinguisher and a Tegiwa battery master cut-out isolator kit that's mandatory in all competitive race cars. With weight saving of paramount importance, Mike makes use of a MegaLife MR-15 battery that weighs only a mere 2.1KG and is neatly mounted in the passenger footwell. A smaller 330mm Personal steering wheel finishes the cockpit off nicely and is mounted to an NRG quick release to make it easier for Mike to enter and exit the car more efficiently.
The Exterior
Moving onto the exterior of the car, you're not likely to miss it out on track with its bespoke Williams FW10 inspired livery that was designed in-house at Tegiwa. Tsuki also features on the roof and boot, the character from the Tegiwa Honda NSX, which gives a gentle nod at the Civics JDM heritage. You'd be mistaken for potentially recognising this as a genuine EK9 and that's thanks to its Tegiwa front and rear Type R style bumper lips.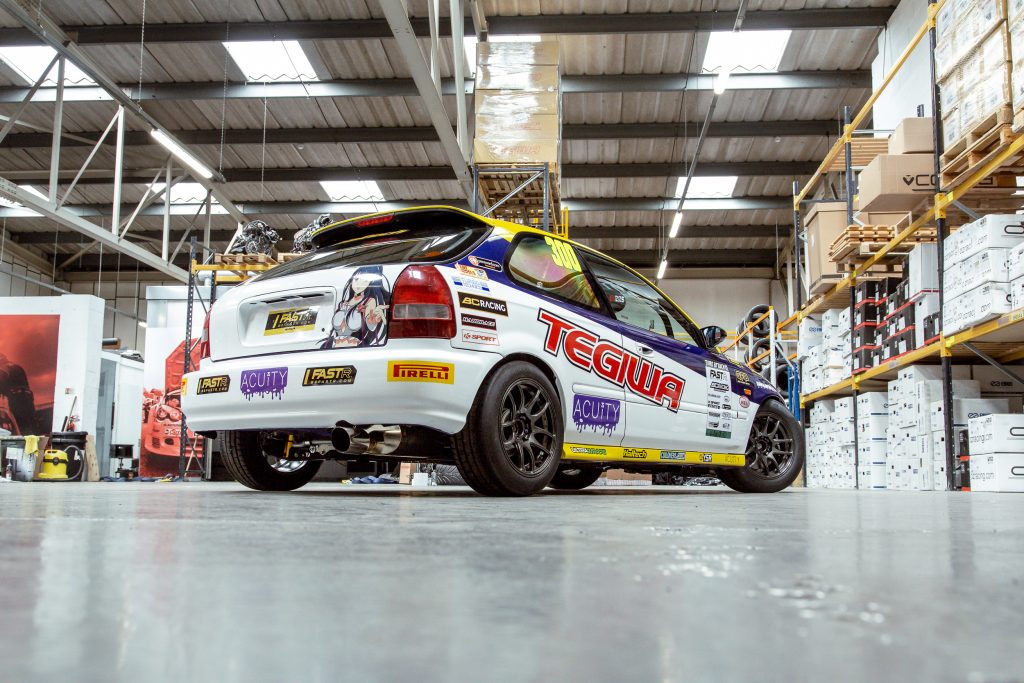 You'll be able to catch Mike in action in the Time Attack pocket rocket class as he enters his first full season in the championship. We'll bring you his progress throughout the season so stay tuned to see how he gets on! In the meantime, you can check out his build series over on our YouTube channel and drop him a follow on his Instagram.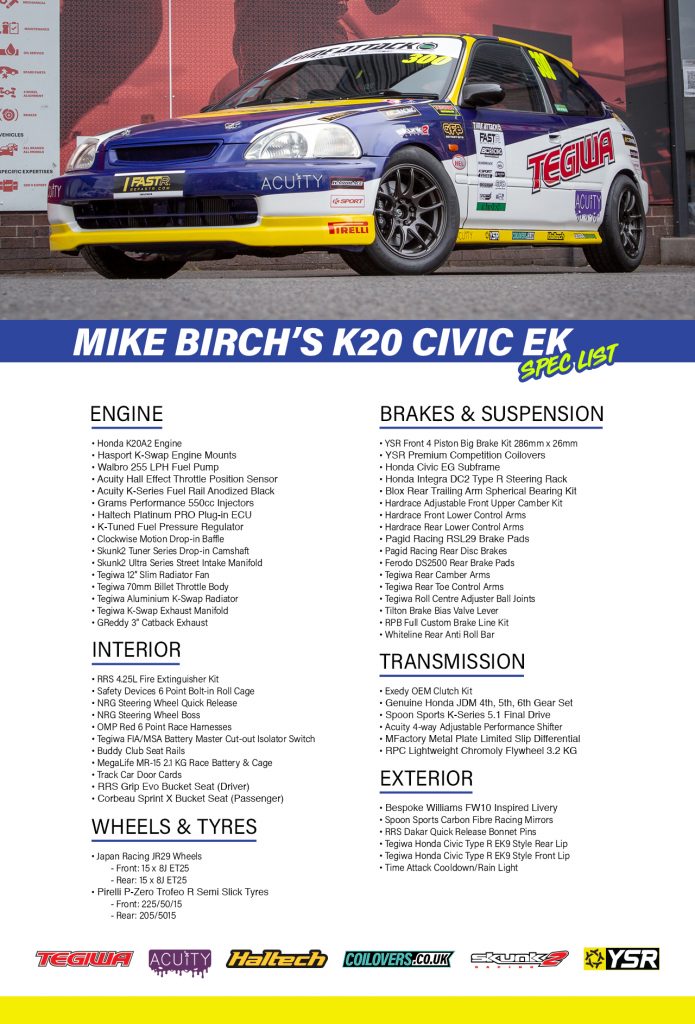 Mike sends a special thanks to the following people who've helped him get to this point: