Toyota Yaris GR – Modification Guide
Every so often a new car comes along that the critics can't get enough of and absolutely dominates the headlines for months on end. We're talking about the latest release from Toyota in the form of their brand-new GR Yaris.
WRC regulations state that top-end rally cars have to be based on an existing road car, with at least 25,000 of those having to be produced which means Toyota have essentially built a rally car from the ground up to get their perfect WRC car. Pretty good, eh? We've also seen Top Gear presenter, Chris Harris, singing its praises too.
The best new car I've driven this year is a Toyota. Little slice of genius.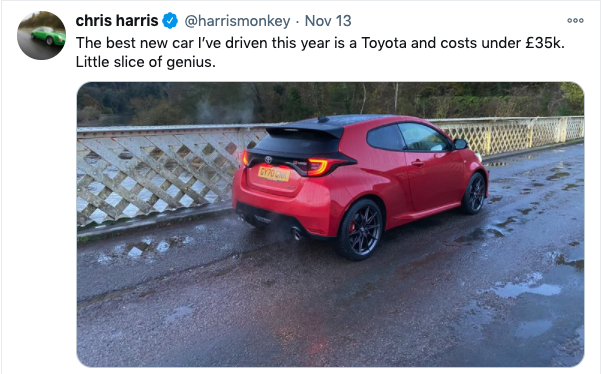 It wasn't long before the GR Yaris was the talk of the office here too here at Tegiwa. Checking out the spec lists and reading up on HKS's 2JZ swapped GR. No sooner had we finished drooling over the new Yaris than we'd had products sent through from the likes of HKS, Cusco and K&N! We quickly got to work and set about listing these products on our website and devised a dedicated category for the GR Yaris, which you can check out here.
Of course, it's still very early days yet when it comes to aftermarket parts, but we'll be adding more and more GR Yaris parts to the category as and when they become available.
Now, if you're in the market for a GR Yaris and thinking about opting for the Circuit Pack at £3,500 we suggest you hold fire on ticking that box as we've got our very own options that will cost nearly half the price! 
Aside from the front and rear mechanical Torsen diffs, the Circuit Pack will get you 18" BBS forged wheels, re-tuned suspension, Michelin Pilot Sport 4S tyres and red brake calipers. What if we told you for nearly half the price, you could get your very own choice of alloys and adjustable coilovers! It's worth nothing that we also offer a wide range of competitive, interest-free payment plans as well as worldwide shipping too!

If you're pushing your Yaris to its limits, then you'll be wanting to upgrade various braking components. With various Motul Racing Brake Fluids available, we recommend using RBF700 to improve braking power and uniformity, the same fluid that we use in our Time Attack Honda NSX.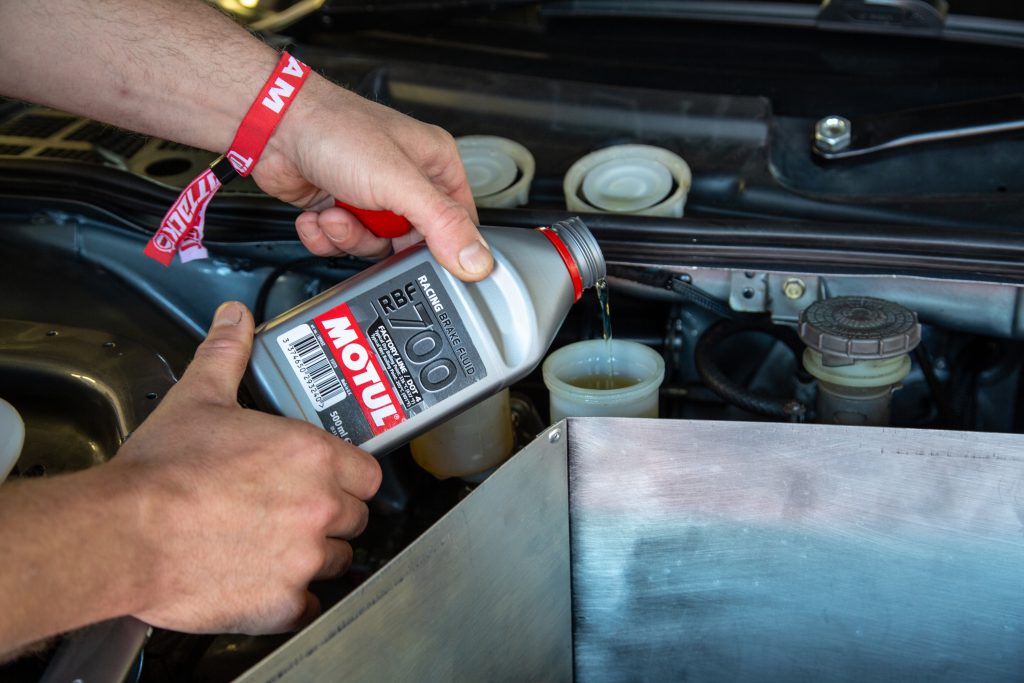 Whilst you're upgrading the brake fluid its worth swapping out your OEM brake lines to an aftermarket solution. This will remove the 'spongy' feeling from the brake pedal, and make braking feel smoother and stronger. We have options available from both HEL and Goodridge. If you're looking for a bit more bite from the brakes, then check out the range of Ferodo pads we offer with options for road and track available.
If you're planning on hitting the track in your GR then don't forget the importance of regular servicing. Ideally, you'll want to change the engine oil and filter before each track day to ensure that the engine runs as it should. We recommend installing one of Cusco's oil filters to ensure proper flow and filtration through the pleated paper as it catches fine dust and contaminants. The paper filter is also supported by a mesh filter than prevents it from collapsing or changing shape during high pressure under extreme conditions. When it comes to engine oil, HKS offer both a 0w-40 and 5w-40 engine oil, available in 4 litre quantities.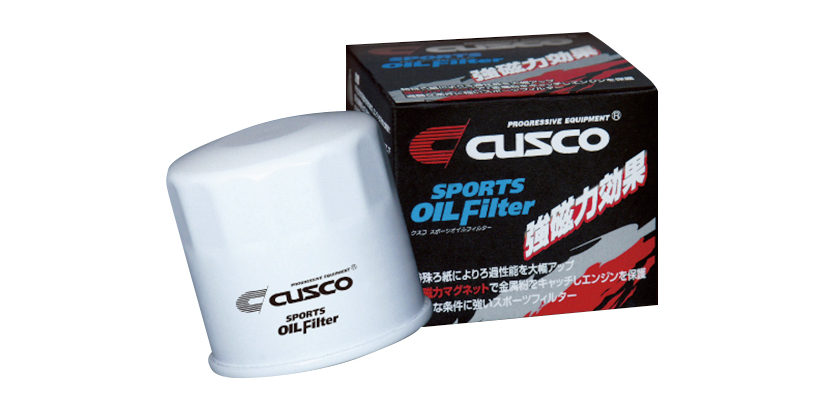 For a simple boost in power, the HKS Power Editor enables a boost increase in turbo cars that use electric or negative pressure control type actuators that cannot be controlled by conventional boost controllers. The maximum increase in power is 21.4hp and an addition 42.9Nm of torque.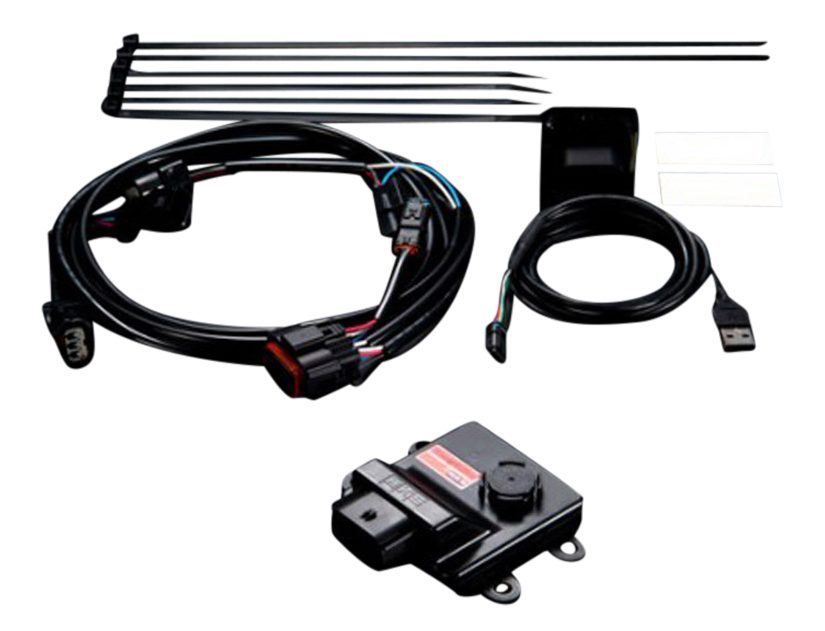 If you're looking at adding more power to the GR then there's some good news too. HKS will be developing a sports turbine kit for the turbo which is sure to increase those horsepower levels.
Alternatively, check out the Milltek Sport X DTE Tuning Box that includes an ITG replacement filter which is ideal for those that want to take the performance up a notch. The tuning box features a custom Milltek tune to get the best from Milltek Sport's performance exhaust this combo is the simplest way to get more from your GR Yaris and its new exhaust!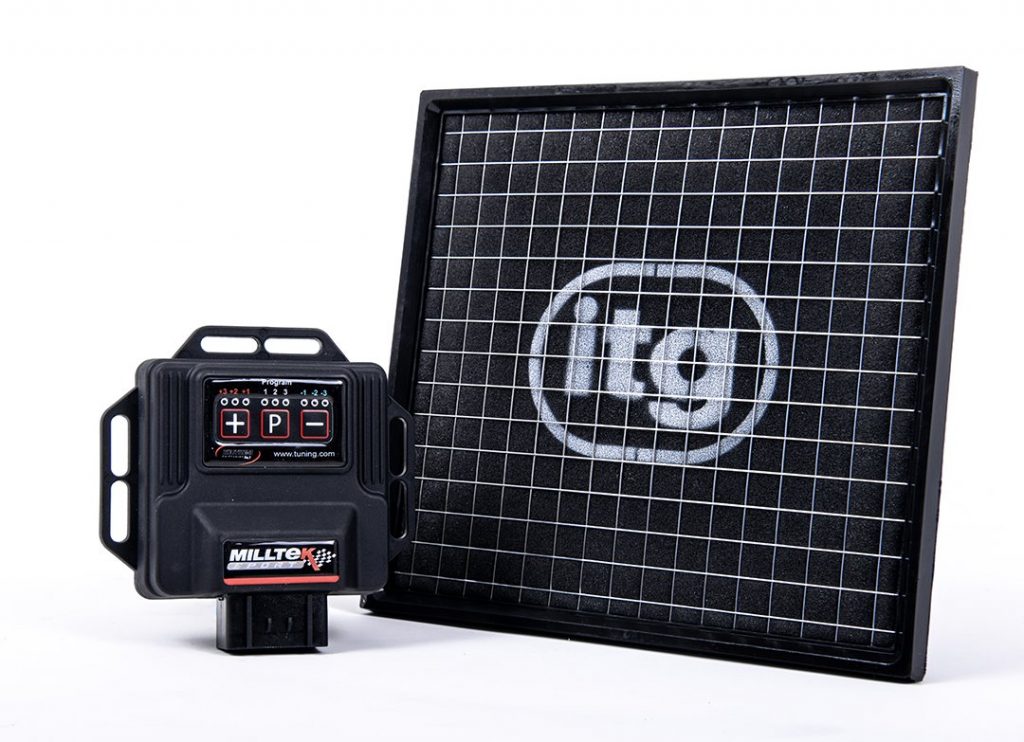 If you're wanting to hear some more noise from your Yaris then check out the HKS Legamax Premium Exhaust system, featuring a newly designed tail tip that has undergone ion plating with excellent corrosion and weather resistance. This exhaust has been developed to be OEM+ with it not being excessively loud for everyday use but a distinctive sporty sound under acceleration. HKS are also in the midst of developing a turbo muffler and sports catalytic converter too!
The newly released Milltek Sport option will be a popular choice for many too. Their OPF/GPF back system is available in a wide range of choices, including non-resonated and resonated options with sports cat and decat options too.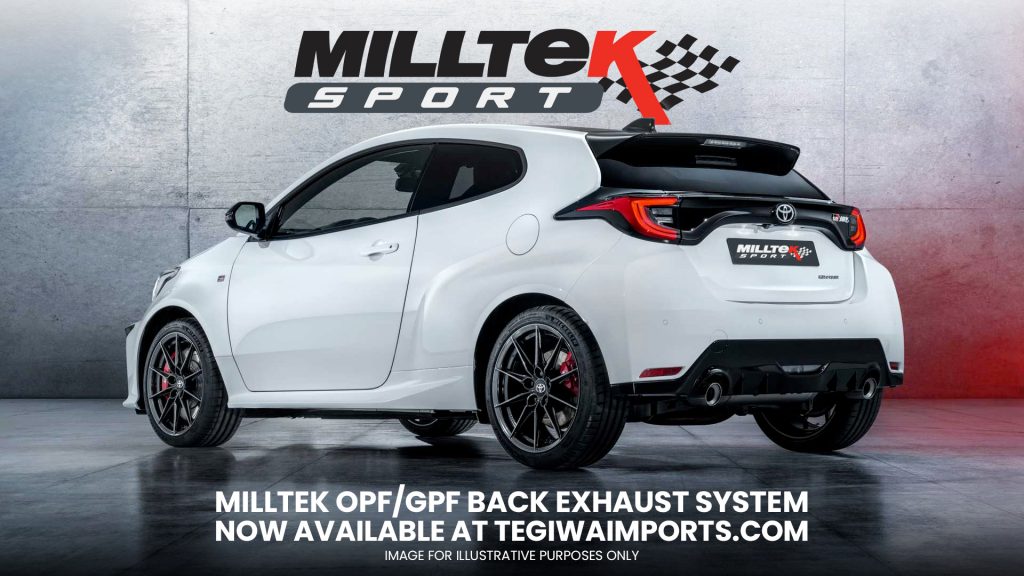 If you really want to increase your GR Yaris's visual appeal then check out the TOM's Racing Barrel Exhaust that features a single, centre exit. This exhaust is designed to be used with the TOM's Racing rear diffuser and makes for a much more aggressive look!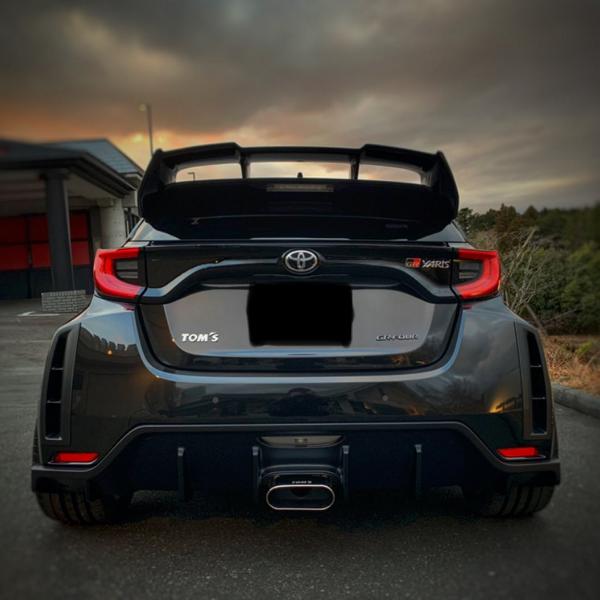 Other options that are on the market include the Fujitsubo Authorize R cat-back, Kakimoto Racing Class KR cat-back and decat pipe and the TRD GR Sports Muffler. For a full run down of the exhausts that we offer, check out our exhaust test!
You'll want to make sure that your GR is always breathing efficiently as possible. Both HKS and K&N offer a replacement panel air filter to ensure reduced airflow resistance and debris collection. Alternatively the ITG Pro-Filter Panel Replacement has been designed to improve throttle response whilst being re-usable.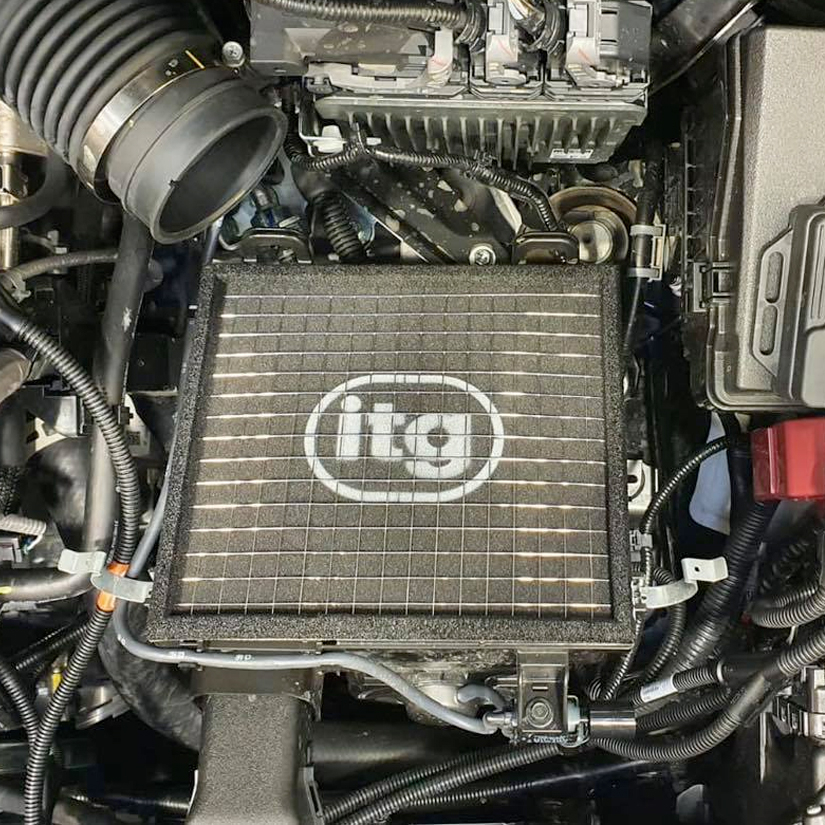 If you're looking for a complete induction system then we have options available from leading brands such as Eventuri, GruppeM, HKS, Sprint Filter and Airtec Motorsport.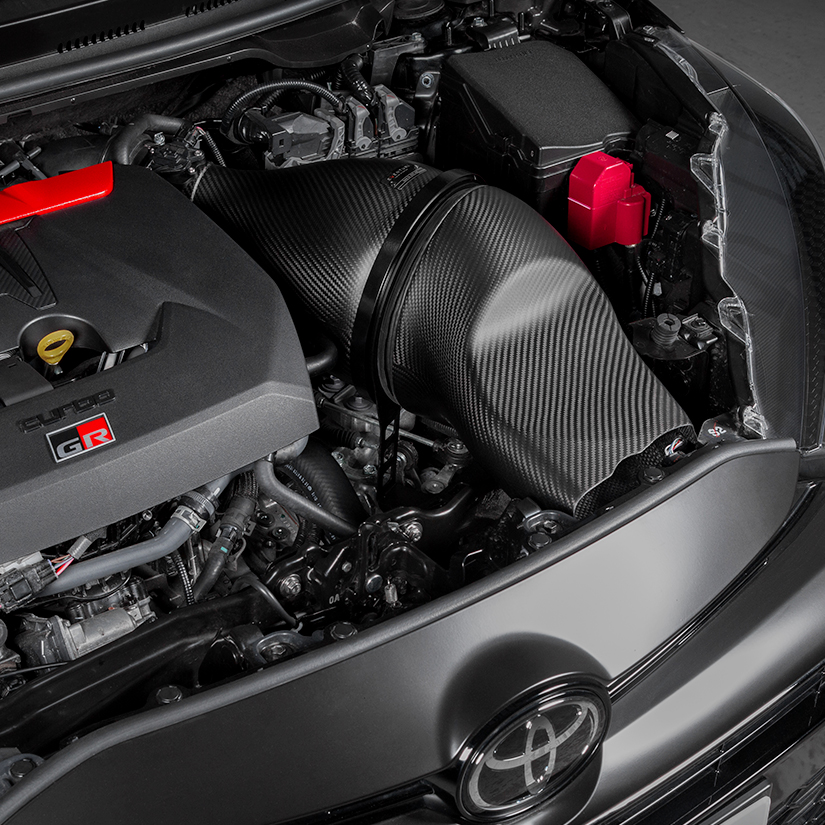 The GR Yaris benefits from an awesome interior from factory as standard, but should you wish to upgrade to an FIA approved bucket seat, or just something a little more to your taste then we have plenty of options available from the likes of Recaro, Bride, Cobra and OMP. To mount a new seat into the GR you'll need some Yaris specific rails which are available from Bride, check them out here.
It's not just seats that we offer for upgrading the interior of your Yaris though. Check out these neat air vent cup holders, available for both drivers and passengers side vents. Simply pop your drink in, and keep it cool!
Other interior equipment available includes Genuine Toyota Wind Deflectors, Gazoo Racing Boot Mat and TRD carbon interior panel set.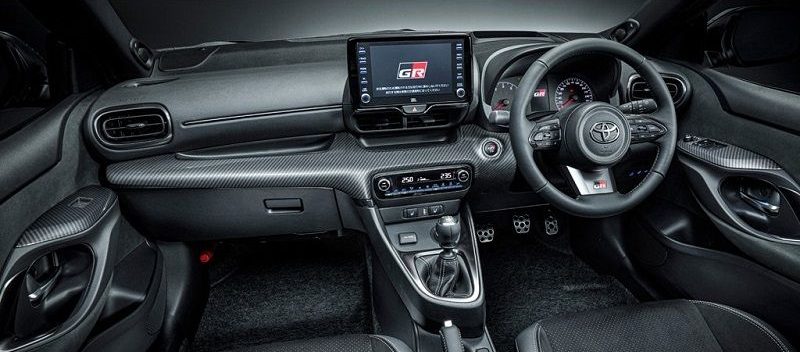 If you're planning on taking your GR Yaris to the track, which we'd highly recommend, then you'll be required to mount a tow hook on your vehicle. Cusco offer both a front and rear tow eye hook which are made of durable, moulded steel to ensure high strength.
The TOM's Racing exterior styling parts are a sure fire way to make your GR stand out from the crowd. Their range includes a front and rear bumper, rear wing spoiler and side skirt splitters.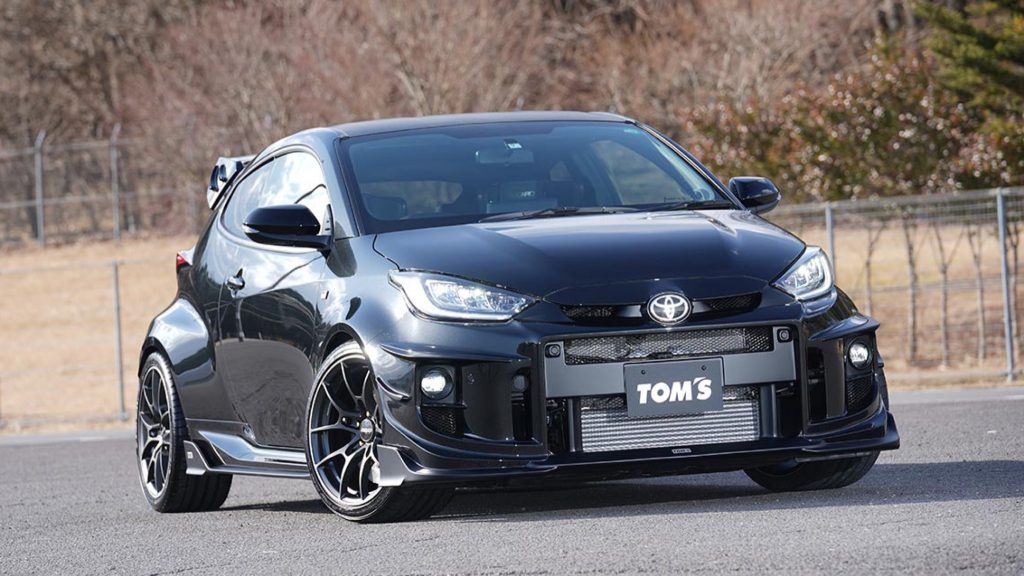 If you'd like something a little more subtle then make sure you check out the TRD exterior styling parts such as the front, rear and side skirt splitters. Even if you just want a subtle touch of styling, we have the GR carbon number plate surrounds available.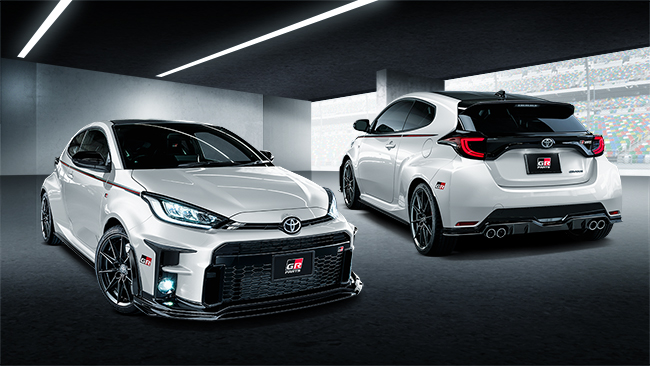 If you're not wanting to break the bank upgrading your cars visual appeal, then the Maxton Design range is perfect. With a vast array of styling parts including front, side and rear splitters and canards. Their prices start from only £59.00 and are a perfect addition to your Yaris.
Iconic Japanese tuning brand HKS have developed a set of their Hipermax coilovers for the new GR. Their system is perfect for increasing handling performance whilst a well-balanced tune means OEM ride comfort is retained. HKS tested various spring rates before opting for a 7KG front and 6KG rear to ensure ride comfort for daily use.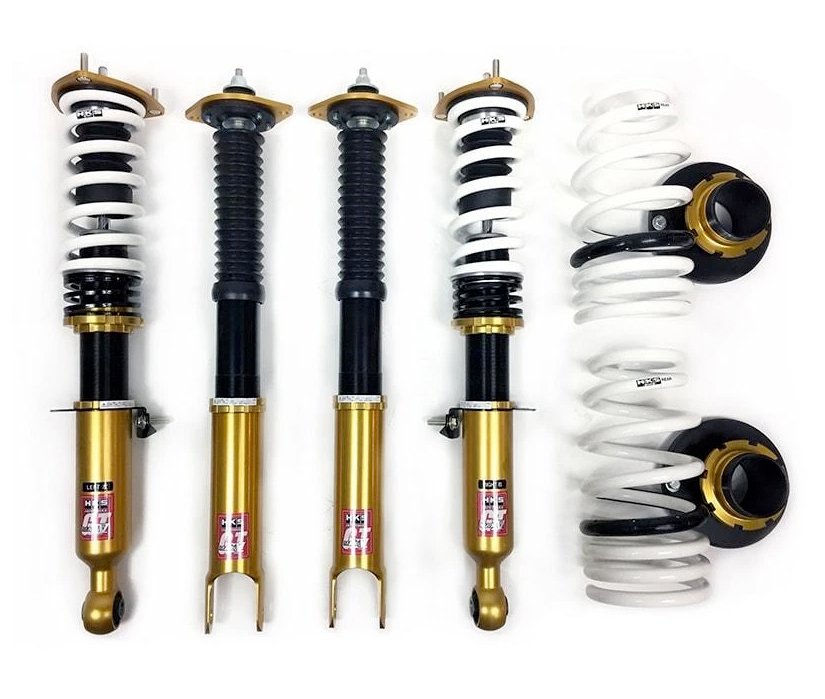 If you'd like to lower your car but don't want to commit to a set of coilovers then check out the H&R lowering spring kit. These will deliver improved handling and a lowered ride height while maintaining superb ride quality. You'll see a drop of approximately 35mm all round with these lowering springs installed.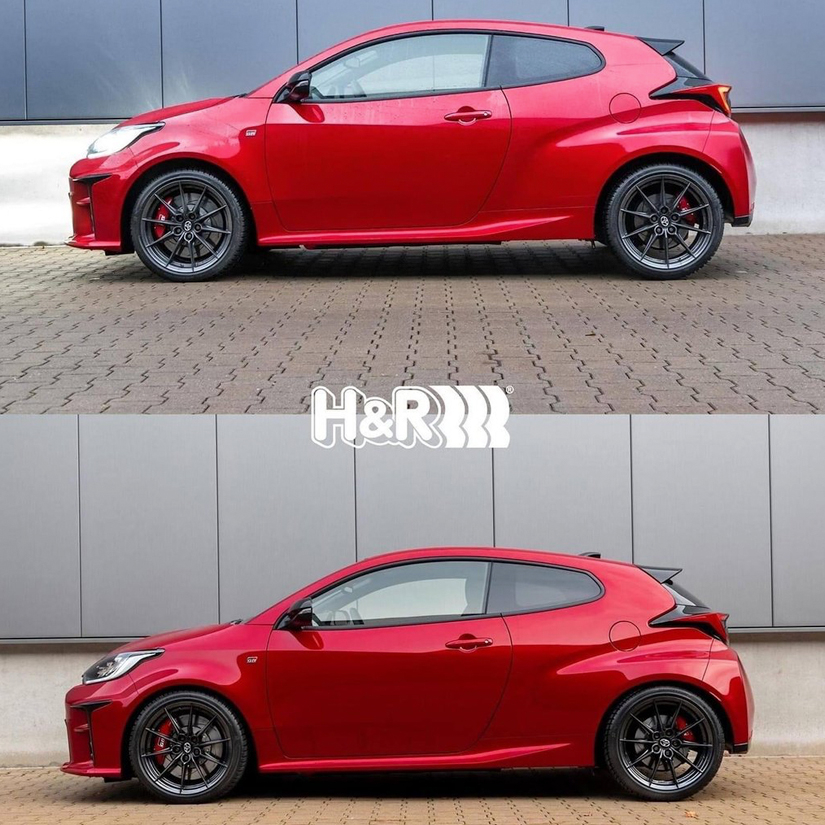 If you're looking to tighten things by increasing rigidity, then Cusco have a host of braces to provide sharper handling. With prices starting from as little as £165, these are a must-have for those looking to track their GR.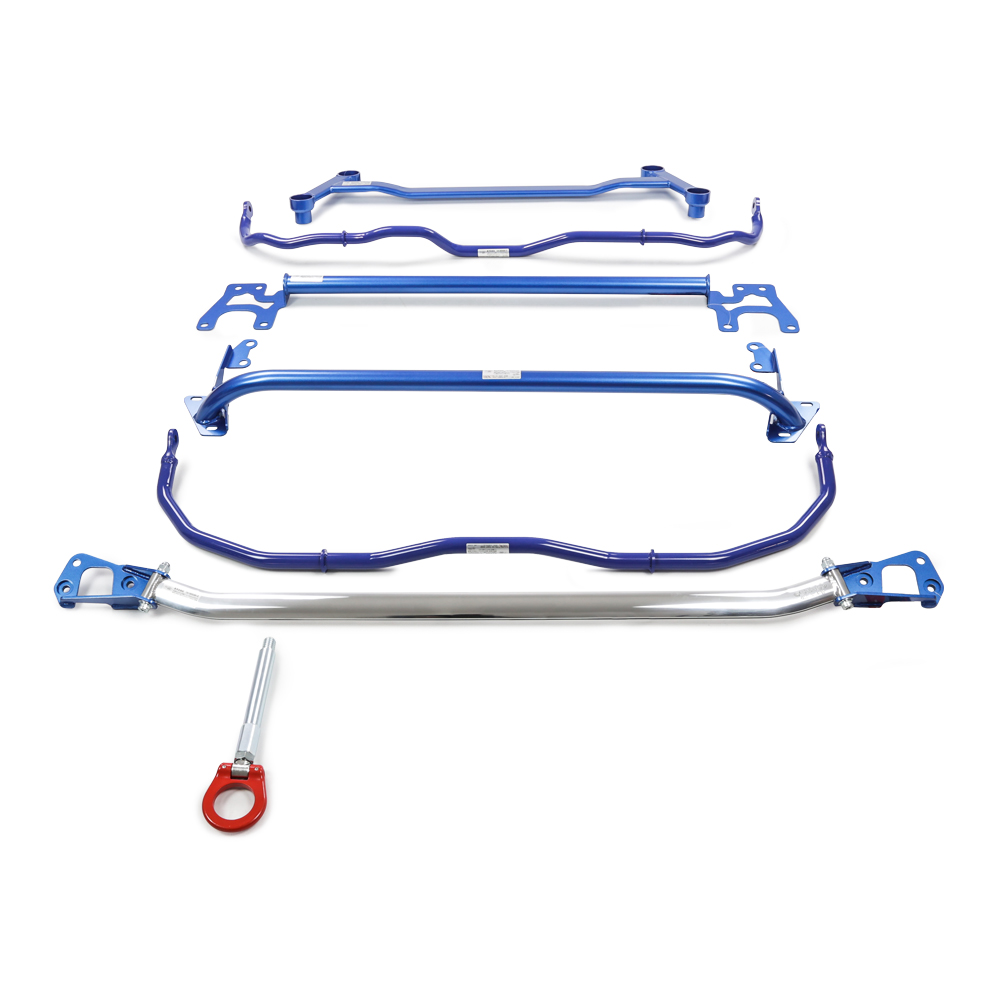 It wasn't going to be long before Hardrace got involved either. Their rear adjustable stabilizer links and upper camber kit offers adjustability to suit a variety of driving conditions, helping to improve cornering grip or get your car back to original alignment specs after lowering.
There's plenty of other big names offering high quality suspension products with the likes of YSR coilovers, Ohlins, Tein and Verklines full suspension set!
Whilst aftermarket wheels can be chosen based on their appearance, there's also the advantage that they're usually lighter than the OEM counterparts. We've selected a few wheels that we think look great on the Yaris and mocked them up onto the car so you can see what they look like before you buy! We've tried to keep fitments as close to OEM as possible to make for a like for like swap, but there's plenty of other options should you want something more aggressive or wider to suit a bigger tyre.
Please don't hesitate to contact us to discuss your wheel needs, or if you need any advice on fitment. Please remember that these images are for illustrative purposes only. If you'd like to request a mock-up of a wheel that you don't see here that we sell, again, please contact us and we'll endeavour to fulfil your request.
We've got you covered with our brand new website, Alloy Wheel Shop, with nearly 500 different options in the standard size! Feel free to adjust the filters accordingly to match your criteria.
OEM Wheels
For your reference, the OEM GR Yaris wheel are 18" x 8J ET45 5×114.3 60.1mm centre bore and M12 x 1.5 nuts. Both the cast 15-spoke and forged BBS 10-spoke alloys utilise a 225/40/18 92Y tyre.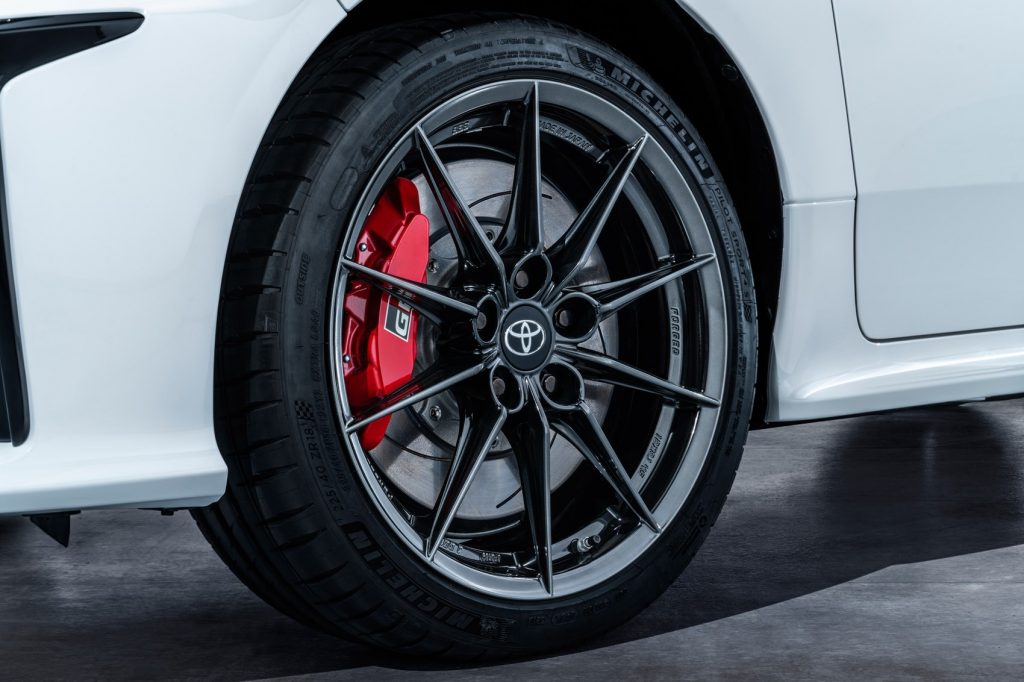 Bola
Bola allow you to tailor the B10 alloy wheel to suit your requirements. You can spec the B10 from an offset from 45 right down to 30 to give up to a 15mm wider stance. Plus, with prices starting from only £174 and a range of colour options to choose from, these are a perfect wheel to put your stamp on the car without breaking the bank.
Enkei
If you want an instantly recognisable wheel that's sure to be a fan favourite, then check out the Enkei RPF1. With the 18" x 8J version of this alloy being available you'll achieve a 10mm wider fitment than OE.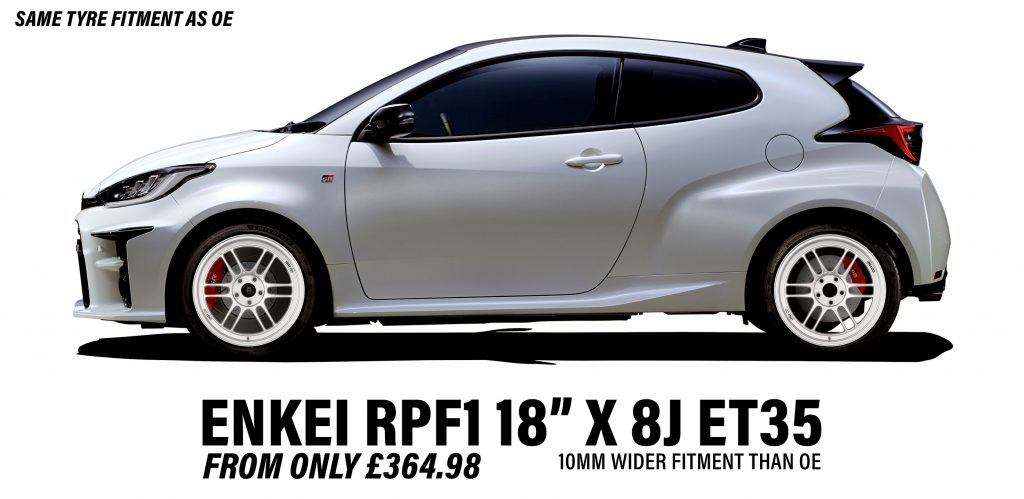 Fancy a slightly wider tyre for a bigger contact patch with the road? The Enkei NT03+M is another timeless classic that's available half an inch wider than the RPF1 to enable you to run a 235 or 245 wide tyre.
Japan Racing
Maybe you want the 8.5J alloy but aren't looking to spend as much as the NT03+M, then check out the JR29. With a lower offset of ET30, the 15mm wider stance is one of the most aggressive fitments we feature in this guide and is sure to look seriously mean when hunkered down on a set of coilovers.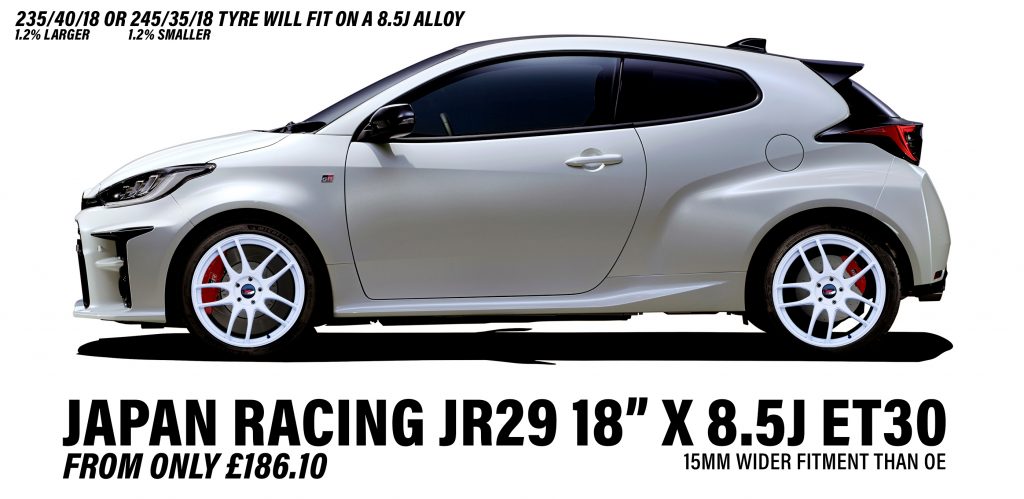 Japan Racing's Super Light series are flow-formed to meet the highest performance related requirements. Their first in the SL range is the SL01 which is our personal favourite and weighs in at only 8.5kg per wheel, 0.3kg lighter than the forged BBS 10-spokes and 3.1kg lighter than the standard 15-spokes!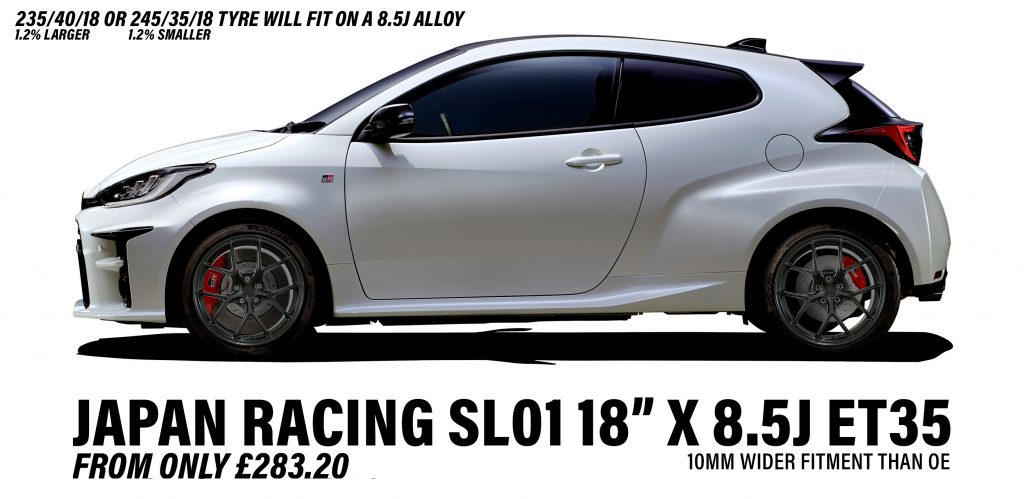 OZ Racing
As previously mentioned, the GR Yaris has plenty of thorough-bred rally pedigree, so why not give it that classic look with OZ Racing Rally wheels! With the same fitment as OE specification, these wheels sit in exactly the same place as your old ones, and if you want to keep the cost down, you'll be able to pop your old tyres on too!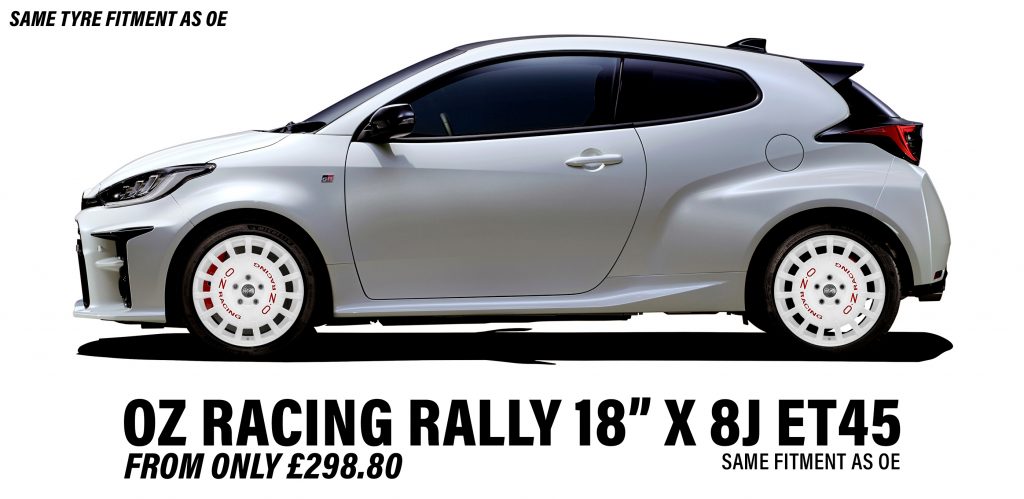 Arguably the most well-known 6 double-spoke designs ever, the Ultraleggera is known and recognised as one of the most popular OZ Racing wheels. We couldn't bring you a wheel guide and not include an Ultra!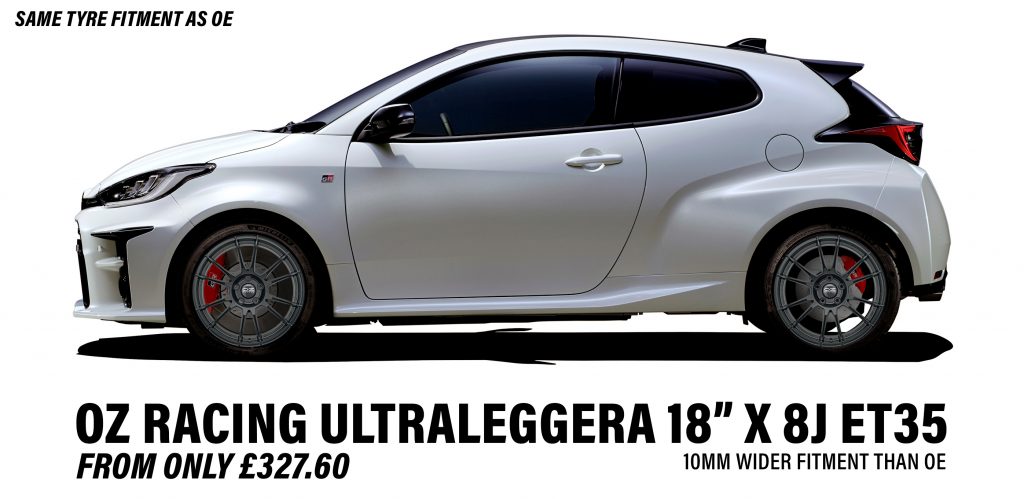 Rota
The Rota Grid is perfect for those wanting an aggressive appearance with the perfect amount of concave. With offsets available from ET44 right down to ET20 there's the perfect wheel to suit all requirements. Plus, with the wheel being an 8.5J you'll be able to utilise a wider tyre too.
Sparco
The first Sparco Wheels to feature a mesh design, the Pro Corsa is a technological wheel that provides a sporty look and is perfect for performance minded drivers. Whats more is that these wheels are TUV Approved, which is perfect for those in Europe that need to meet strict safety regulations.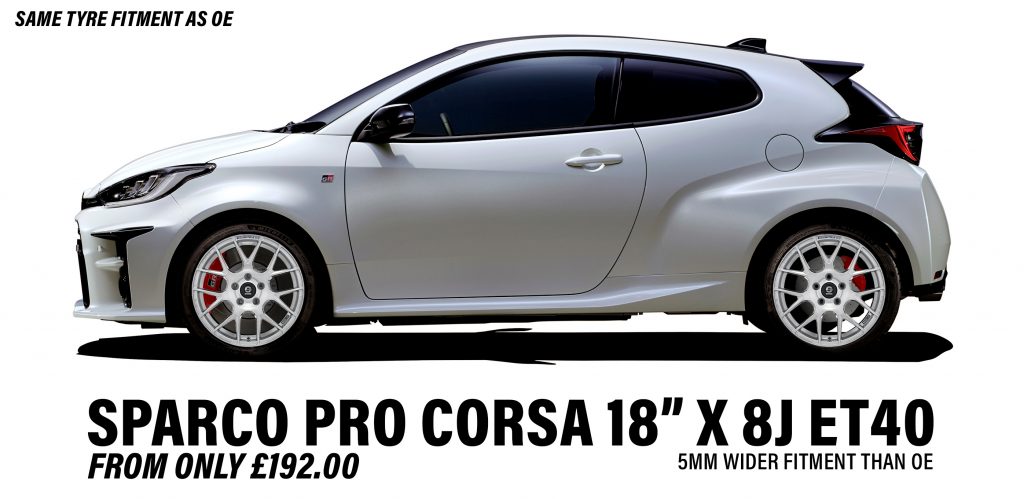 WedsSport
Our favourite in the WedsSport Racing Navigate series are the RN-105M. In WedsSport's relentless pursuit for weight reduction, they remove unnecessary material from the wheel but without affecting its strength and increase air volume for better tyre stability and load weight.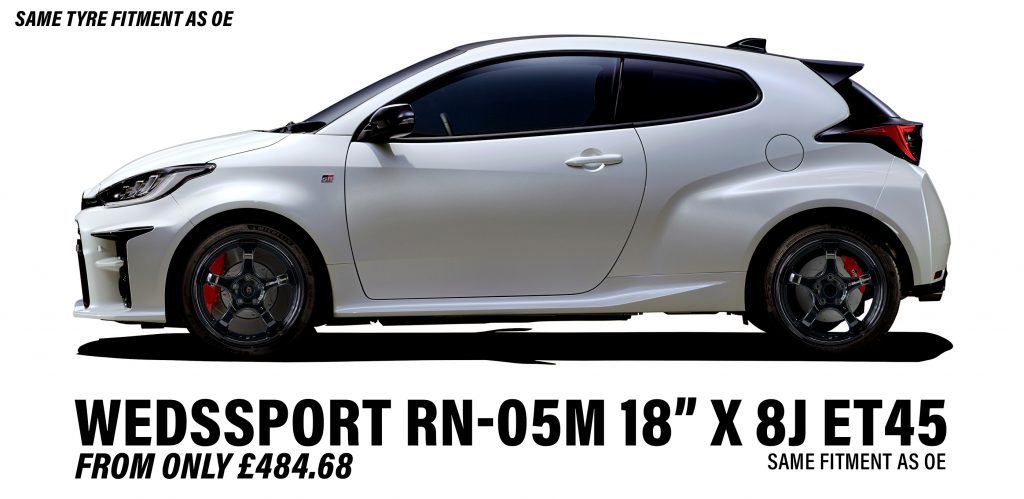 If you want the ultimate weight saving then look no further than the WedsSport TC-105X. Weighing in at a mere 7.3kg per wheel, the TC-105X is a staggering 4.3kg lighter per wheel than the cast 15-spoke design and 1.5kg lighter than the BBS's! Maybe we're biased as we run these wheels on our Honda NSX, but we believe these are one of the best-looking wheels on the guide!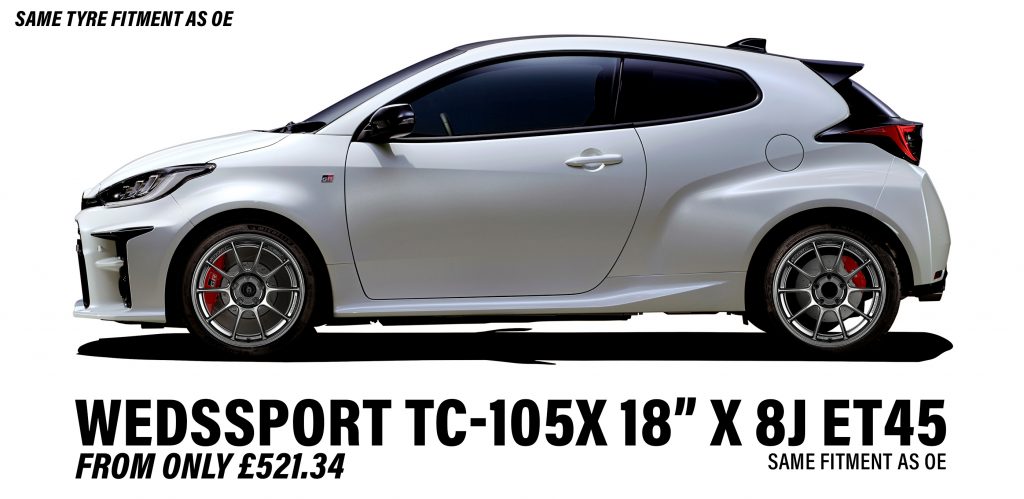 If you fancy upgrading to an OEM wheel then we can supply the Genuine Toyota BBS forged wheel 10-spoke wheel. Not only do these wheels look much better than the standard cast wheels that are mandatory on the convenience pack, but they also weigh a lot less too. The standard wheels weigh in at 11.6KG per alloy whereas the BBS wheels weigh 8.8KG per alloy.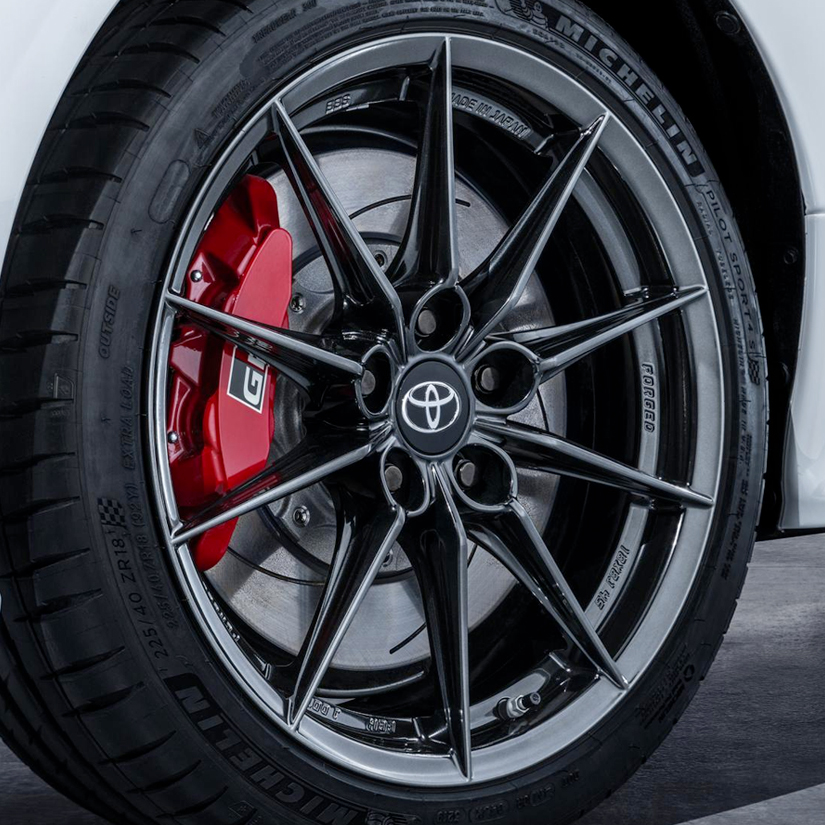 When it comes to wheel accessories then we recommend installing a set of Muteki wheel nuts. Made from cold-forged steel, Muteki nuts are lighter, smaller and thinner and will ensure that they'll keep them tight against your wheel.

If you'd like to learn more about modifying your GR Yaris or need any advice, then please get in contact with us and we'd be more than happy to help! Who knows, maybe one day the Tegiwa Fast Fleet will have their very own GR too!