The K-Series Cam Test – V2 – Ultimate Drop-in vs Ultra 1!
Good news K-Series fans, we're back with another cam test on Mike's K20A2 powered Civic EK race car!
Last time out we saw the battle of the drop-in cams take place. You can check out our findings from the previous test, here. Plus, if you like seeing Jesse nerd out about drop-in cams, you can watch our YouTube feature on the previous test, here.
So, this time around we took the highest scoring DIC (in terms of peak HP), and pitched them against the Skunk2 Ultra 1 camshaft! These are the smallest out of the latest line of camshafts from Skunk2 Racing. Skunk2 quote these cams as being, "designed to optimise midrange and top-end power", so we shall see how they fair against the popular DIC.
These camshafts do require a valve spring and titanium retainer upgrade, so they ARE NOT classed as a "drop in cam". Our goal here is to show you guys the results and compare the two, leaving you to come to your own conclusion on the value of this upgrade over just drop in cams.
It's worth reminding ourselves of the spec of the test vehicle. Mike's K20 swapped Civic EK has a host of basic bolt on parts including the Skunk2 Ultra Intake Manifold and Skunk2 Velocity stack intake that you may have seen in our other tests. It also features a Tegiwa K-swap manifold; this has relatively large runners and is a 4-1 style manifold with a megaphone 3" exit. This then mates to a 3" GReddy cat-back system from there. Fueling is taken care of with Grams 550cc injectors and of course, the Skunk2 Tuner Series Drop In Cams, we also have the Haltech Plug and Play ECU that manages the car.
First things first
We began by rechecking the current setup, firstly to get a true, back-to-back, exact spec for spec, on the day comparison. Plus, we needed to ensure the engine was still as healthy as it was previously after a minor gearing issue at Time Attack. So, after an initial run we saw 249.2hp. Eagle eyed readers might notice that WHP (wheel horsepower) is lower than it was before, this is because the car now has bigger, wider and stickier tyres on it than it did at the time of the OG cam test! Good job we ran it up to check, eh!?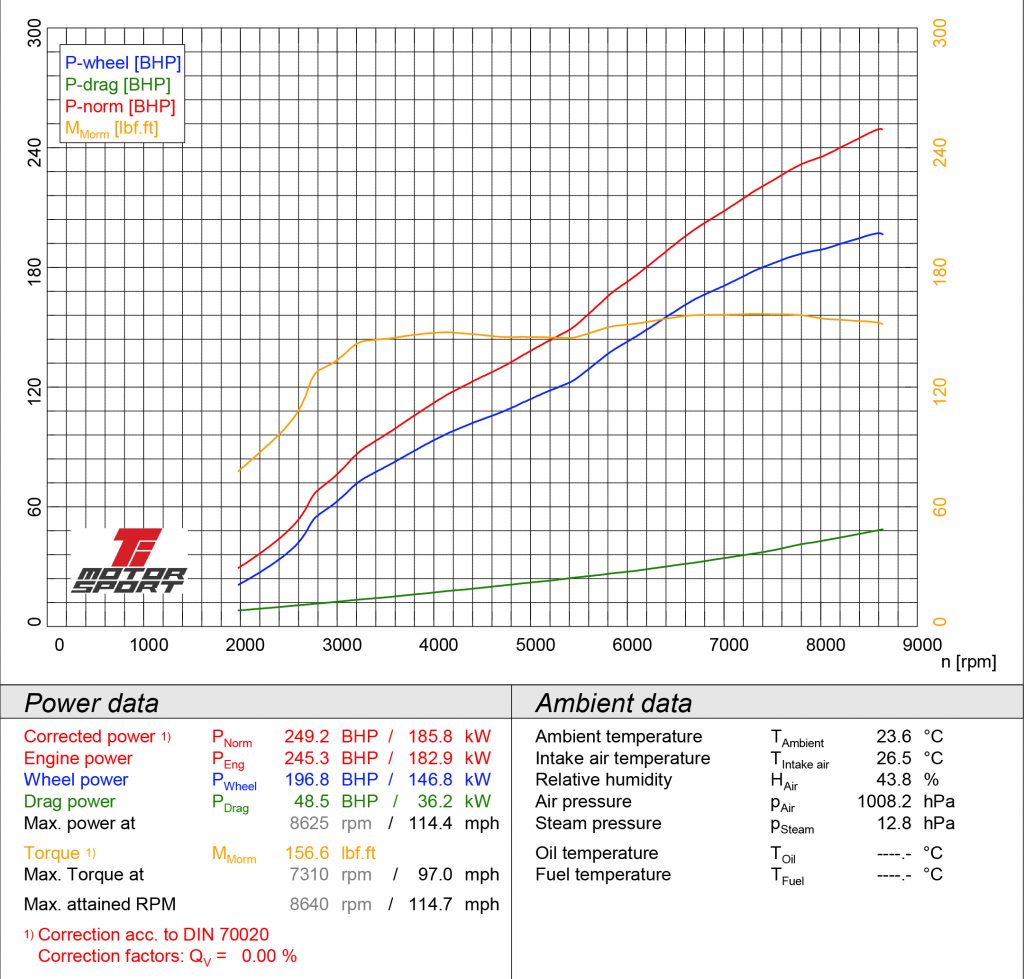 So, the Skunk2 drop in cam does, as we see before, strong, low cam performance and hits VTEC at 5500 with the rev limit set at 8600rpm. The reason for this is due to running stock valve. Of course, we could take a risk and run more RPM on the stock valve spring but with DIC, Jesse tends to air on the side of caution. I guess we could even say that upgraded valve springs on the DIC's could be a potential benefit to allow a higher RPM to be used safely. With the "before" test complete, this essentially backs up the results we saw last time with the Hondata K-Pro.
249.2hp and 156.6lbft
Naturally, we had the guys at Motion Motorsport install our springs, retainers, and camshafts for us. They installed the parts with the head in situ, saving a good chunk of labour costs. Motion suggests that this kind of job would usually cost the customer around £180 more than it would to have this setup fitted over the DIC's.
Onto the good stuff
Now it's time for the exciting part, Skunk2 Racing Ultra 1's!
Low cam performance seems to be stepped up again over the DIC's, potentially a little weaker sub 3500rpm but a good bit stronger in the 5000-6000 area. The Ultra 1's make a good 7lbft more torque at 5500rpm which is where the DICs got criticised in the last test. The low cams hold good power up to 6500rpm on this setup with a seamless VTEC crossover. This won't be to everybody's taste, having a seamless crossover, but technically making the car faster.
We can see the high cam comes into its own after 7000rpm with peak torque of 159lbft at 7800rpm and holds a consistent 6-7hp over the drop in cam in this area. Here is where the value of the valve spring upgrade comes in. Holding a strong power curve from our old rev limit of 8600 up to the new 9000rpm limit. The car makes 260hp, but power is still climbing so Jesse suspects it'll go another 3-4hp or so if we had an oil pump that could sustain prolonged high RPM use and a slightly higher rev limit.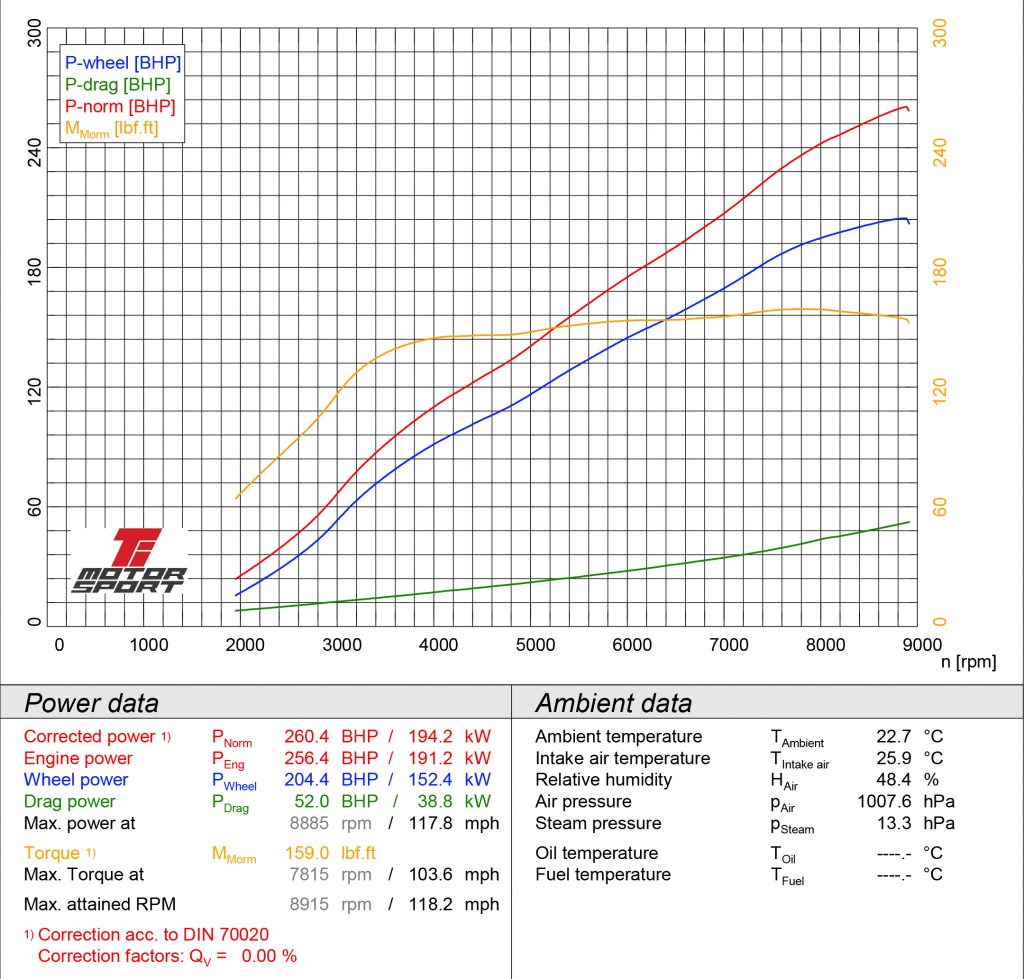 260.4hp and 159lbft
260+ horsepower on this dyno is a good result. Bear in mind this setup on stock cams only just scraped 240hp. That's an increase of 20+ horsepower (with oil pump) which on an already, very good naturally aspirated, 2 litre engine is very impressive. It proves that Skunk2 Racing have come good on their quote of midrange and top end gains, with the gains over DIC coming in mainly between 5000-6000rpm and then 7000rpm upwards.
As always, a big shout out to the master himself, Jesse Halford, for carrying out the test and documenting the results for us. If you're looking at getting your Honda equipped with a tune, make sure you check him out! A big thanks to the lads at Motion Motorsport too for installing the upgrades and working with us on this test. Finally, a big thanks to Mike for letting us use his K-swapped Civic EK as a test mule for these tests, and good luck for the rest of the 2021 Time Attack season!