As much as we like to think we're petrolheads and might not like to admit it, fossil fuels aren't going to be around forever, and as such a plethora of EV's (electric vehicles) have now made their way into the market. Remember how much of a revelation it was seeing the first Tesla's on the road in around 2008? Nowadays, you're pretty much guaranteed to see at least one on the road every time you leave your house.
You might be wondering why we're talking about electric vehicles, well, let me answer that for you. We've recently welcomed two of Stuttgart's first full EV's into the Tegiwa Fast Fleet, in the form of the Porsche Taycan 4S.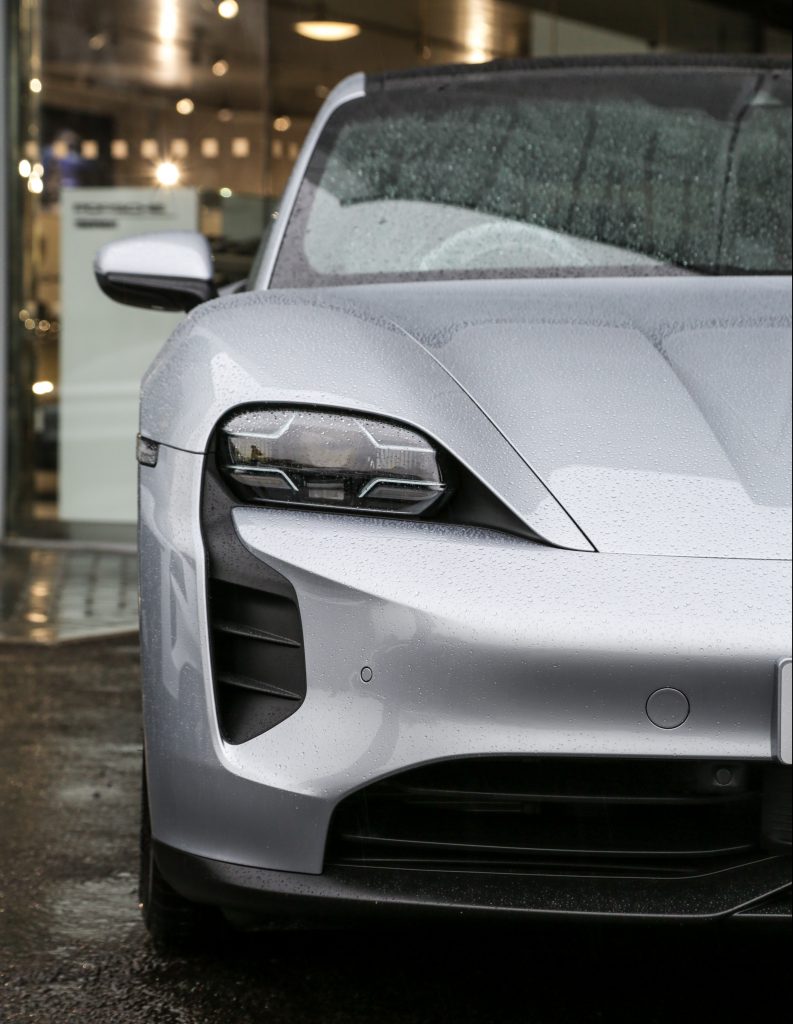 Let's talk a bit about what the Taycan is capable of. With a book figure of 570bhp for models with the optional Performance Battery Plus and an eye watering 3.8 second 0-60 time, the Taycan is very much capable of destroying a lot of supercars out there. Although 570bhp might not be an enormously high figure of power that we're used to these days, don't forget that all 570 horses are instant, with absolutely zero lag compared to a more conventional petrol-powered car.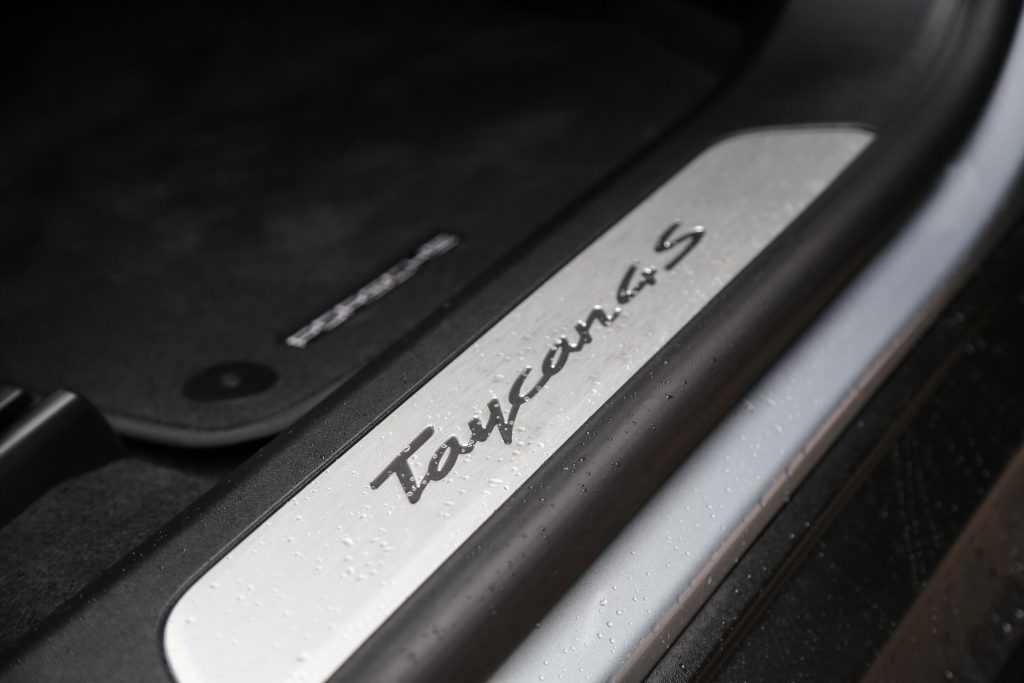 A hot subject that's seen a lot of discussion when it comes to EV's is the range that the batteries are capable of. Porsche quote that the 4S has a combined range of 242-288 miles, but obviously this can vary drastically depending on whether you're lighting up all 4 wheels everywhere.
Johnny and Luke, the directors of Tegiwa, placed an order for their Porsche's earlier in 2020 and got the call at the start of November that they would soon be ready for collection. An early start from Tegiwa HQ saw us head out from Stoke and make the relatively short journey to Porsche Centre Wolverhampton. The British weather certainly left a lot to be desired as well.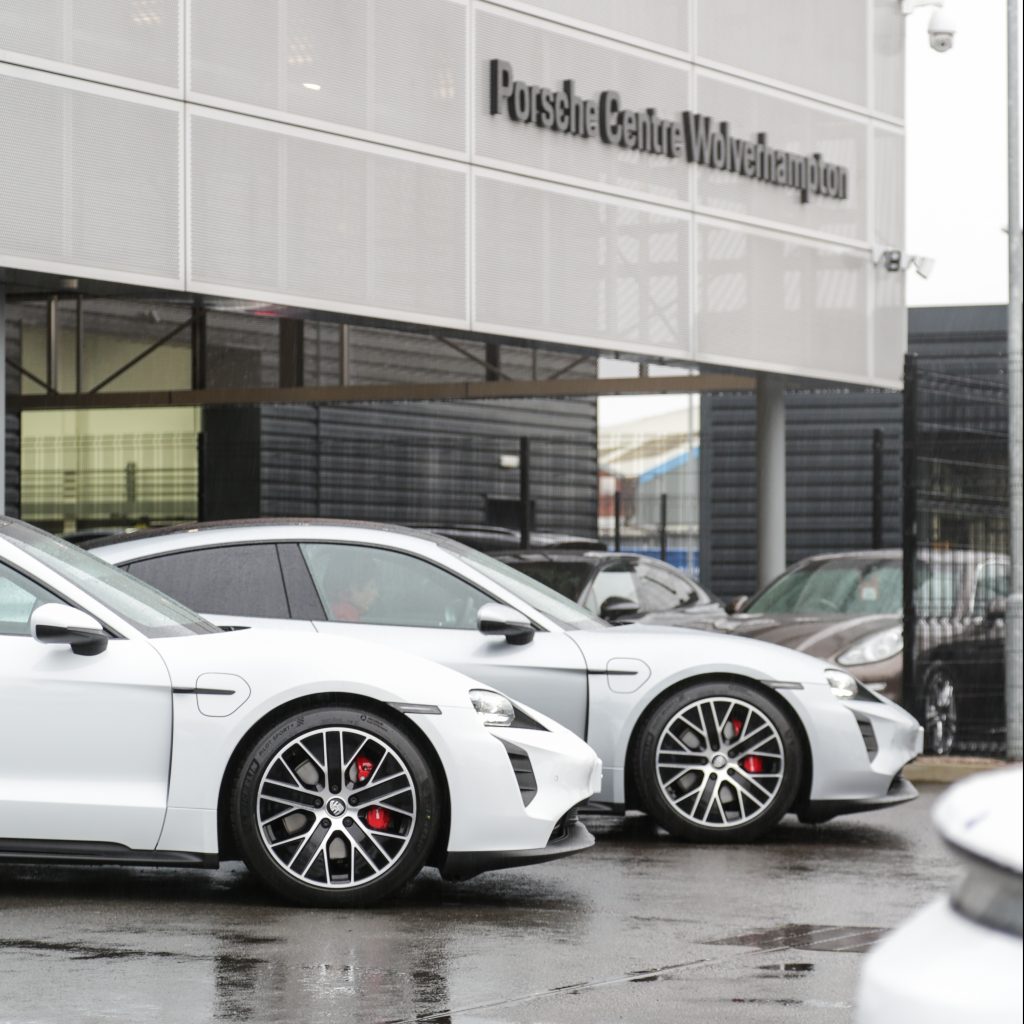 With the UK being in lockdown at the time of collection, the handover was pretty much a case of here's your keys, off you go. Although the weather was relentless, they looked pretty damn good, as they came round the corner and into sight with the Exclusive Matrix LED headlights piercing through the rain. Luke had opted for the Carrara White metallic paint and Johnny had spec-ed the Dolomite Silver metallic.
Now, with a car being in the Tegiwa Fast Fleet, it's not going to be standard for very long. Maybe the understatement of the year that is, as we arrived at Hot Hatch Corner ready for the brand-new 20" OZ Racing Hyper XT wheels to be fitted after only 43 miles! Potentially the shortest a Taycan has remained factory standard. It's got to be said that these wheels look absolutely mega and fill the arches nicely. If you fancy getting your hands on a set of these, then you can check them out, here.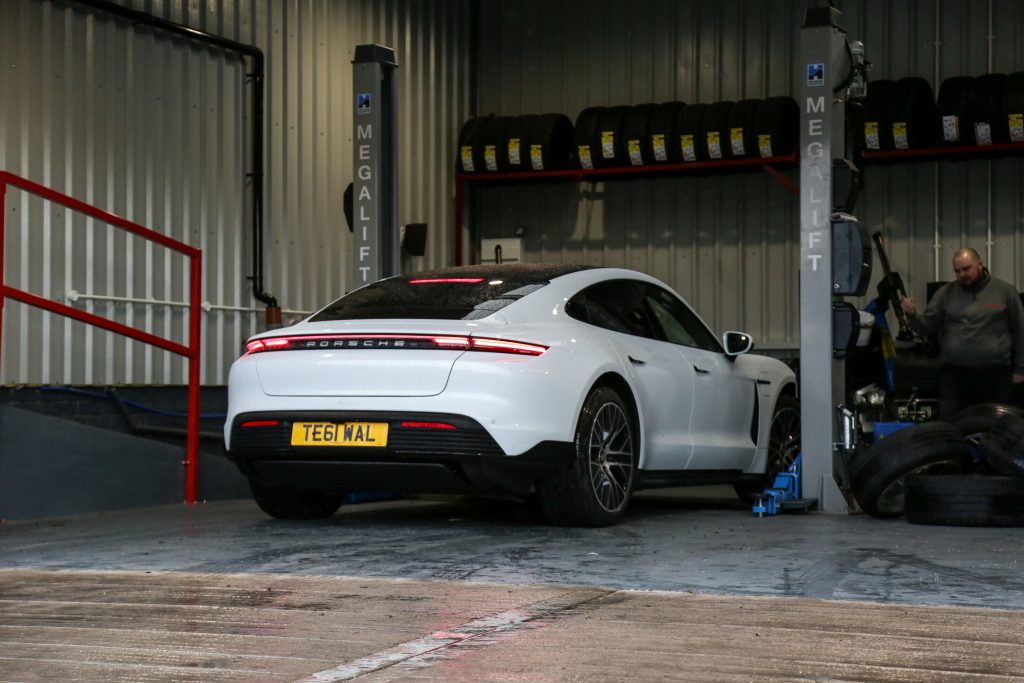 Our journey wasn't finished there, as we jumped back into the Taycan's and headed over to Signature Car Care. It was here that the cars were going to be treated to a ceramic coating and PPF (paint protection film) that will help protect the paintwork from stone chips and other debris in the future.
If you're into your cars, then Signature Group is an enthusiast's heaven. Run by like-minded folks, their unit is full to the brim with some of the most rare and exclusive cars on the planet. Check out some of the metal that was on display for us to check out!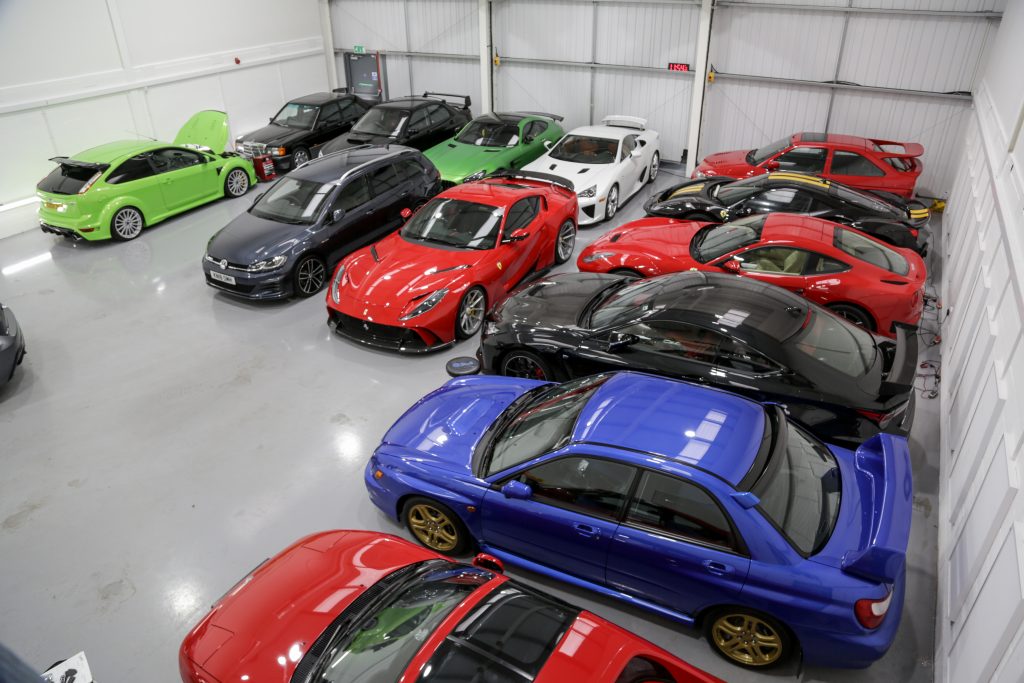 Two cars stood out to us the most, the first being the infamous, Lexus LFA. Somewhat of a modern Japanese icon in the supercar world, the LFA boasts a 4.8 litre V10 that screams all the way to 9,000 rpm.
The second of the two cars that jumped out was, of course, the Ferrari 812. Now an 812 is special in its own right, being 1 of 18 built worldwide, this one is even more special. This one is tuned by Novitech, a renowned German tuner in the world of supercars. They develop and produced the spectacular widebody for the Superfast which then offers space for the 21- and 22-inch NG-10 hi-tech forged wheels. Further features include a revised suspension system with Front Lift and a performance upgrade for the 6.5 litre V12, which sees the car make 840bhp and achieve 0-60 in just 2.8 seconds.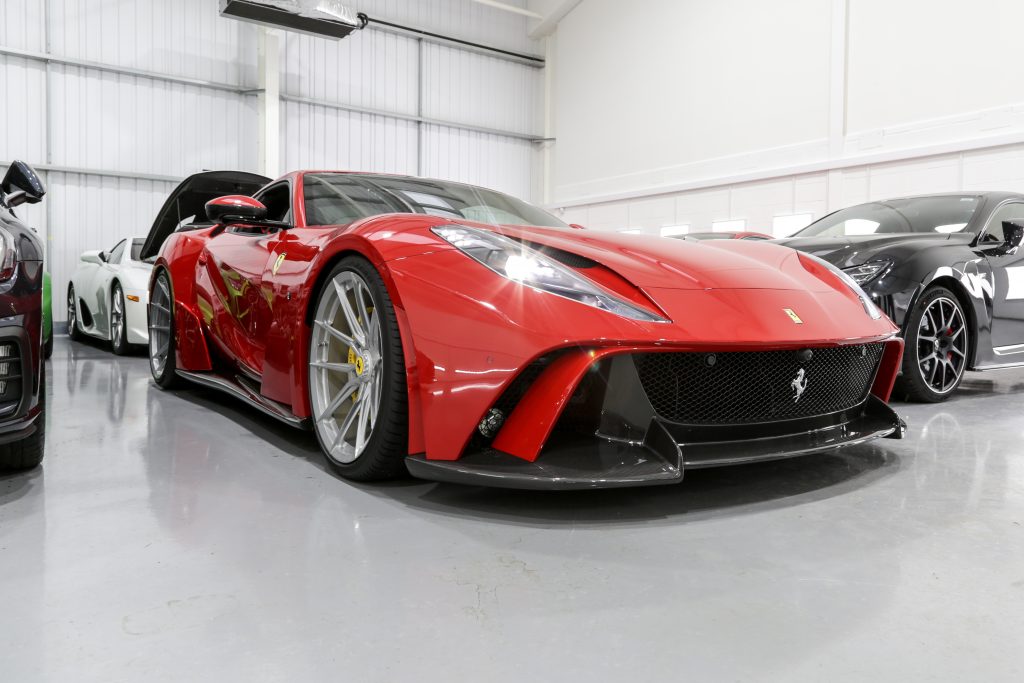 When we collected the Taycan's we were once again greeted by these incredible cars, but this time we were fortunate enough for them to be fired up for us! We'll be releasing a video on our YouTube soon enough, so you'll be able to hear exactly what they sounded like.
The guys had done a stellar job of applying the PPF and ceramic coating them, with both cars looking absolutely magnificent under the bright white detailing lights!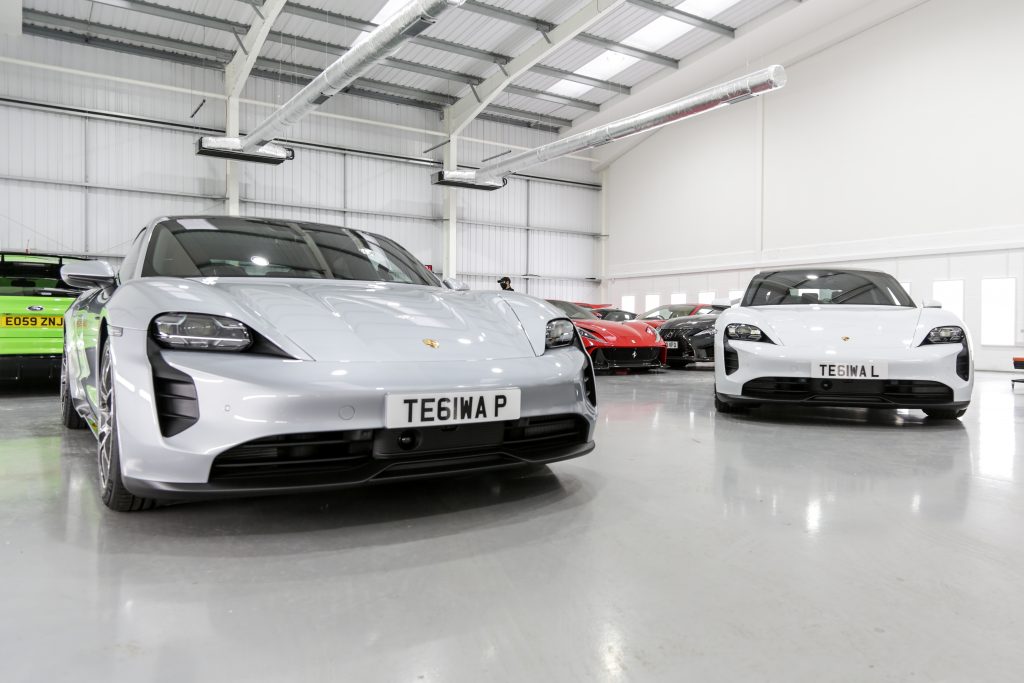 Next up on our agenda is to give them a subtle yet aggressive drop in the ride height department. Being as they utilise a trick air ride system, we don't need to overcomplicate things by changing struts and dampers like a conventional car. Instead, we use these neat lowering links to drop the cars to our desired height, in this case 20mm lower than standard. These are a decent bit of kit as you can lower the car in summer and heighten it in winter!
When it comes to tuning these cars, it's obviously a whole different ball game compared to your petrol-powered counterpart, with the majority of modifications being suspension and wheels.
What is apparent though, is the blistering acceleration that the Porsche is capable of launching with. It really is indescribable compared to anything else as the seats hug you in and the seat belts tighten the faster you get. When the throttle is pressed and you ooze off, the noise from the Porsche Electric Sport Sound can only be described as something like a 'oooooooooo', which is strangely addictive. It's fair to say that the majority of the Tegiwa Team weren't overly keen on the idea of electric vehicles when they first came onto the scene, but I think we've all been truly converted now. Whether you like it or lump it, this is the future of transport, and we're all for it!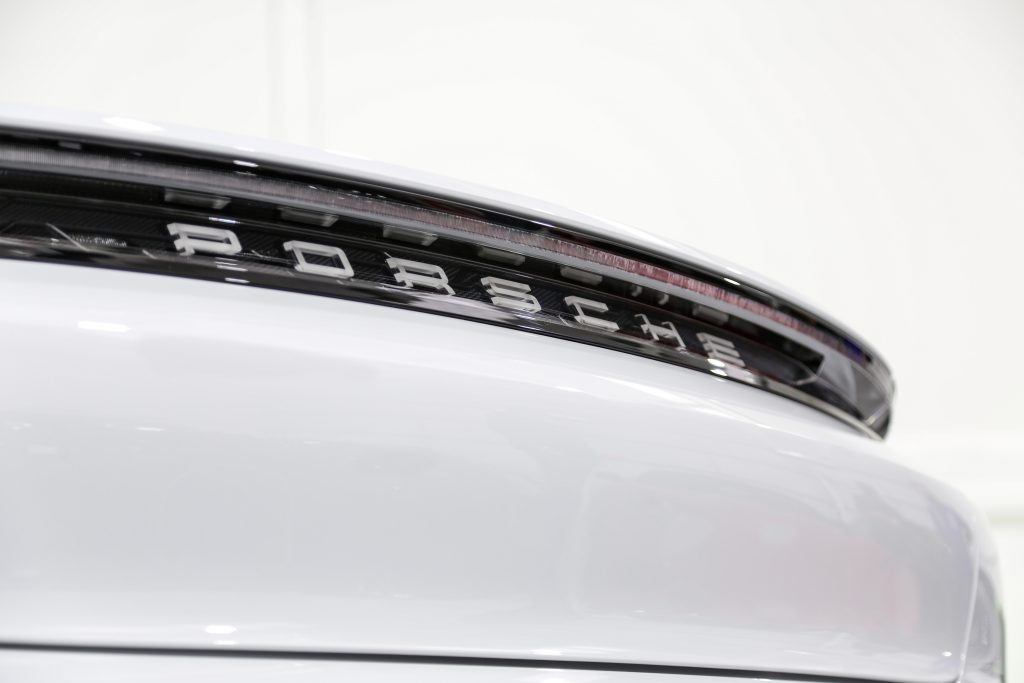 Make sure you stay tuned to our blog and socials for more Taycan content in the near future!