After running our Tegiwa Carbon Fibre Airbox for a while (which is awesome!) we decided to trial fit the latest offering from Skunk2 for the later generation civics to see how it compares. Although not a direct fit for the FN2 and originally designed for the US market (Civic Si), with a little custom fabrication, we fitted the kit with no issues. The kit as you can see from the snaps below looks right at home in the FN2's engine bay. It has OEM quality and feel combined with the usual highest standard embellishments you would expect from Skunk2 such as the silicone connectors and included Coolant hose featuring the Skunk2 Race Track logo.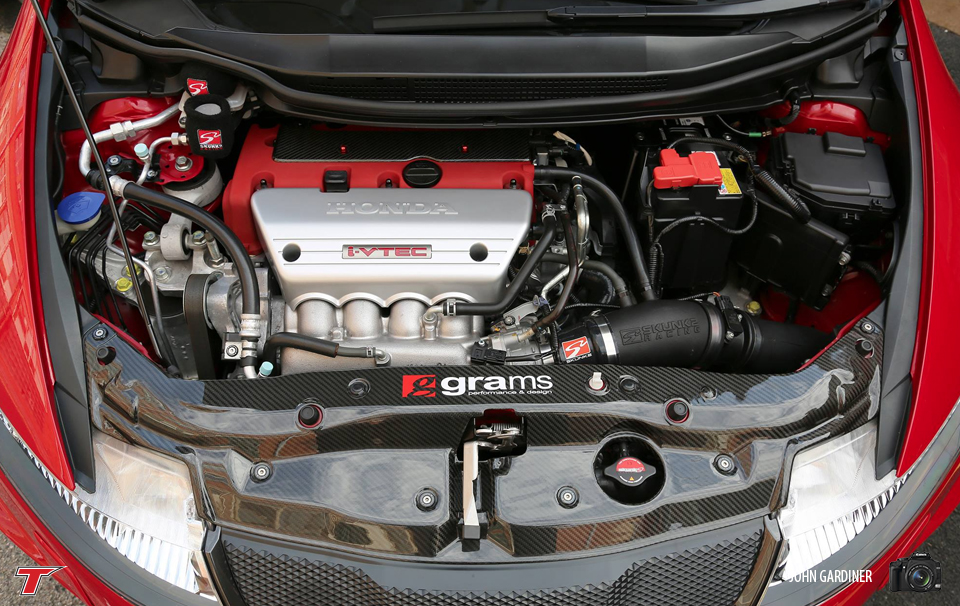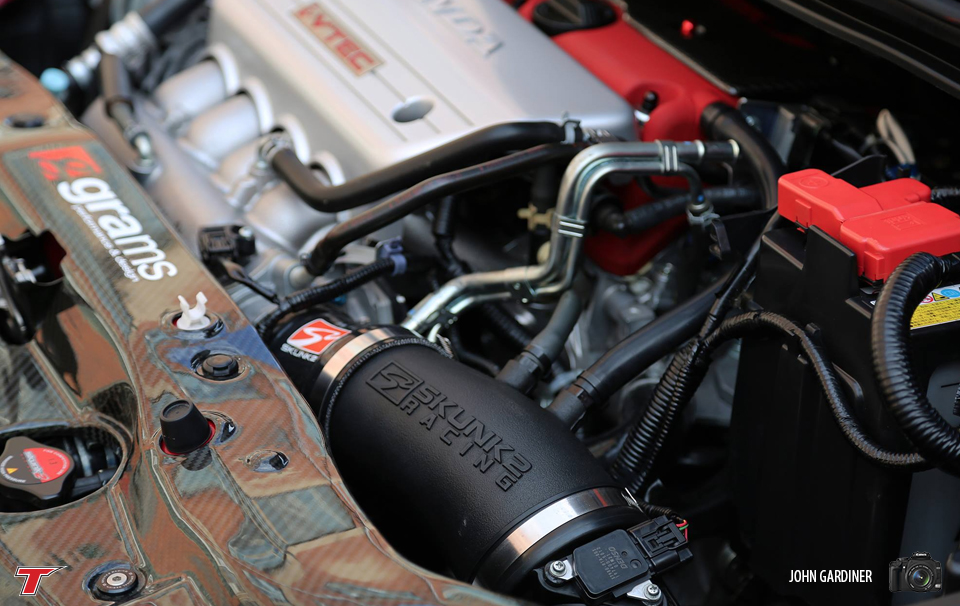 So a bit about the Skunk2 CAI..
Skunk2's Cold-Air Intake is manufactured from moulded polymer plastic for superior intake air insulation when compared to aluminium as well as for a smooth, continuous taper. When compared to aluminium, the thicker polymer material results in a superior thermal barrier and lower intake air temperatures. Each kit includes a 3.5-inch internal diameter lower tube and a tapered, 3.5-inch to 3.0-inch internal diameter upper tube that connects to the factory throttle body with a high-quality, silicone connector (larger diameter connectors for use with Skunk2 throttle bodies or similar sold separately). The two piece design and supplied MAF sensor adapter allows for compatibility with vehicles utilising the factory ECU. A silicone coupler featuring a smooth, tapered transition between the two tubes is also included for vehicles equipped with aftermarket engine management systems that don't utilise MAF sensors.
In an effort to reduce the possibility of submerging the air filter during wet conditions, Skunk2's design positions the air filter downward-facing for approximately two inches of additional ground clearance when compared to competitors' designs that locate the air filter from the side. That, combined with a design that doesn't require cutting or modifying the factory fender liners, greatly reduces the chances of water entering the intake during wet conditions.
Kit includes
SKUNK2 Cold-Air Intake Kit
SKUNK2 Coolant Hose
TEGIWA Battery relocation kit.
TEGIWA Fitting kit
Fitting Instructions.
A few things to note
Not a direct fit.
No engine check light.
No major flat spots.
Requires inner arch to be dremelled/cut.
Fitting time approx 2hrs.
Can be fitted with all inlet manifolds.
To order this kit, please click here
If you have any further questions regarding fitting this kit please call +44 (0) 1782 33 44 00 or email [email protected]