TYPE R TROPHY BUILD – PART 3
With a few more late nights under our belt and many bloody knuckles later we've made some more progress on the EP3 as our track day slowly creeps up on us. At the time of writing this current update, we've got just shy of 2 weeks until the car makes its first outing at Oulton Park so time is now of the essence.
Bucket Seats
If you read our last blog post, you would have seen that we began to gut the car and strip as much of the interior as possible to make way for some lightweight bucket seats and a Safety Devices roll cage.
With that job being ticked off our list we could set about sourcing a set of seats for both ourselves and passengers. Weight played an important part to us when deciding on a set of seats. We knew that we wanted them to be as light as possible, thus, steel seats were out of the equation. Another factor that was prominent when deciding on what we'd go for was budget as we didn't want to break the bank either. Taking these factors into account we opted for a Motamec GP-1 for the driver's side and a Motamec Evo-One for the passenger's side, both made of fibreglass. Both seats are FIA approved with HANS compatibility too, and they have a combined weight of around 17kg which is a fantastic saving over OEM.
In case you're thinking that the GP-1 might be a bit overkill for the car and why didn't we just go with two Evo-One's, we wanted to think ahead and future proof in case we end up racing it competitively. The GP-1 incorporates a wraparound design which provides better neck and head protection and features a higher profile bolster than the Evo-One which gives better body protection should we find ourselves suffering an impact.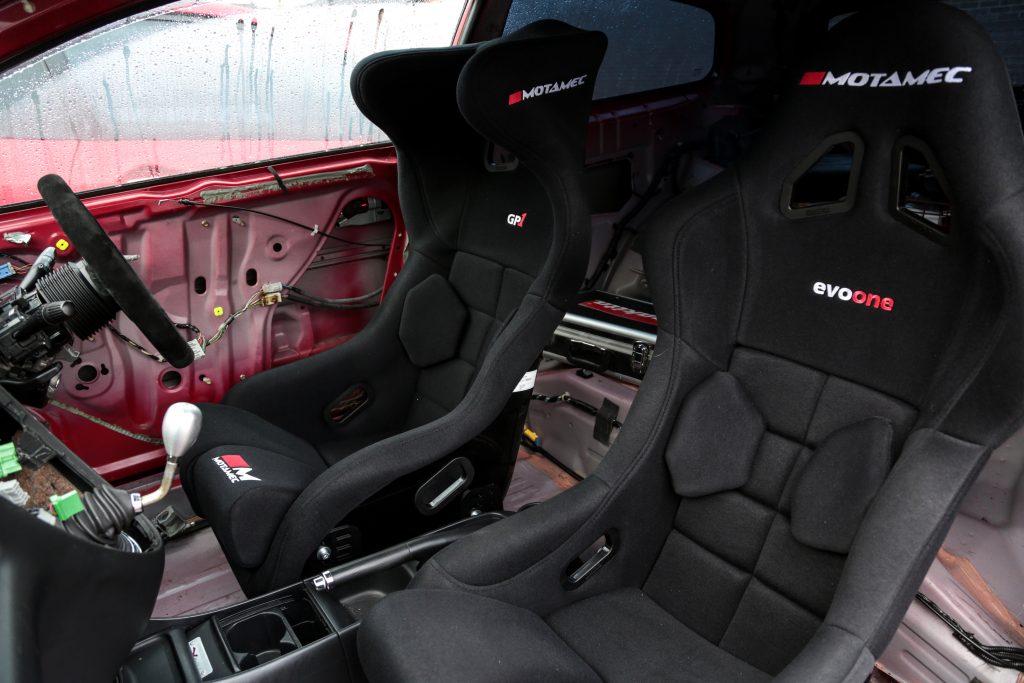 With Mike and I having a similar seating position, we didn't need to worry about moving the seat so we strapped the seats to the Tegiwa fixed mount bases and side mount frames.
Harnesses
Whilst many people assume harnesses offer more security in the event of a crash over a conventional inertia reel belt, in which they'd be correct, they also help secure you in place when travelling really quickly out on track too. So, with good bucket seats and harnesses strapping us down, it allows us to concentrate more than ever on the task in hand without getting slung from pillar to post whilst doing so. We've gone for a set of Raemco 6-point harnesses to keep everything in order, which we'll be installing later on this week.
Steering Wheel
Next up was replacing the steering wheel with something aftermarket. Although there isn't any real performance gains to be had with changing the steering wheel, it all comes down to driver preference. After trying a few out, we both decided on a Personal Neo Grinta Suede 330mm, with red stitching to match the car. We chose the suede over the leather finish as during summer the car will get super-hot when left out in the sun making it horrible to touch, and there'd be more chance of our hands slipping off the wheel with the smooth, leather finish. The 330mm diameter will also provide us with a better and quicker steering response too and we should reap the benefits when on track.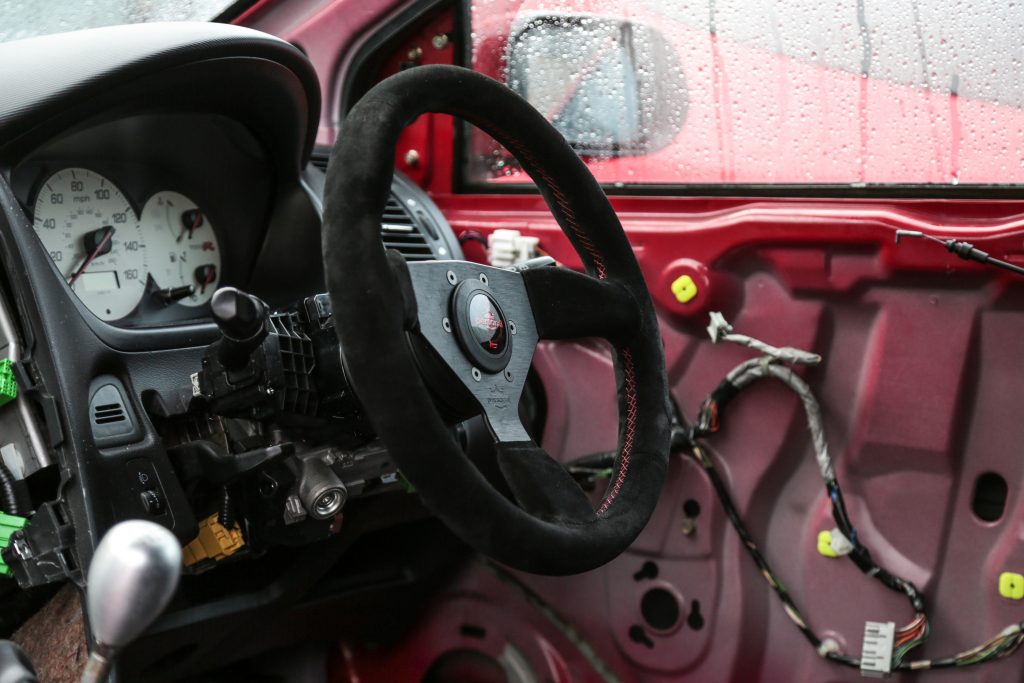 When replacing your OEM wheel for an aftermarket replacement it's important to take into account a steering wheel boss too, in this case we went for a HKB boss kit.
Tegiwa Airbox
If you've ever been involved or owned an EP3 then you'll with no doubt be familiar with the Tegiwa carbon airbox that is commonly found on these Type R's. Not only do they provide an immense induction noise, they also provide for some excellent performance gains over the OEM setup. We've seen gains of around 5-10 horsepower on these cars before mapping and steady improvement in the mid-range RPM too. Plus, with this and the Tegiwa silicone intake and breather pipe it makes our engine bay look pretty jazzy now too!
Tyres
With our track day being in February, one thing is for sure, we won't be able to guarantee the weather. So we've got to make sure that we're prepared for everything. Hence, we got our standard EP3 wheels wrapped in some Nankang AS-2+ which are designed for maximum performance in wet conditions. Although, these might not be renowned wet weather tyres, we're sure that they'll perform way better than NS-2R's in the wet should the heavens decide to open on the day.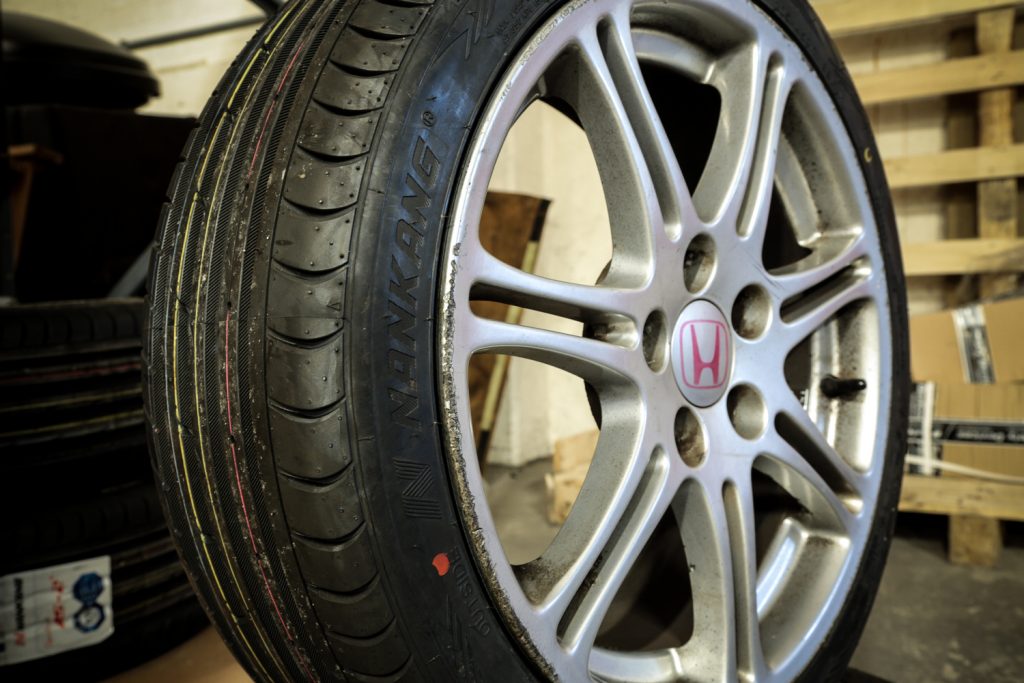 Next we'll be sending the car next door to Motion Motorsport as they install our MFactory differential, Tegiwa roll centre adjusters ball joints and adjustable steering arms, Clockwise baffled sump, Genuine Honda timing chain and tensioner, followed by checking our valve clearances.