Finally.. we have managed to put together the remaining pieces of the puzzle to complete Project Tegiwa CRX, which has now been revealed at 'JAPFEST', a Japanese Performance car show held at Castle Combe race circuit in Wiltshire, England.
So, straight to the updates.. Working our way up from the bottom end of the b16A2, we start with the sump which now sports a Tegiwa B-Series Baffle Kit to prevent the oil slushing to one side leaving the other side dry whilst cornering hard. The block has been rebored and honed to OEM specification restoring it back to its full race bred glory. Once the block was back in our possession, Tegiwa in-house guru of all things mechanical 'Saint Matt' set about building the engine with an extensive list of reputable parts. New Piston Rings, ACL bearings, Skunk2 Stem Seals and Ferrea Valve Guides have all been fitted alongside a full Genuine Honda Gasket Kit including a head pressure test. As this is more of a no expense spared project and sponsored by Skunk2, we had to throw in some Skunk2 Dress-Up goodies too! The Cam Cover has had a respray in OEM wrinkle black, finished off with a Skunk2 Black Billet Plug Cover, Skunk2 Black Series Oil Cap, Skunk2 Cam Seal and a Skunk2 Solenoid Cover. These better than OEM quality additions make for an A+ build and are requirements for that all important 'Skunk2 Certified' plate which sits in the engine bay.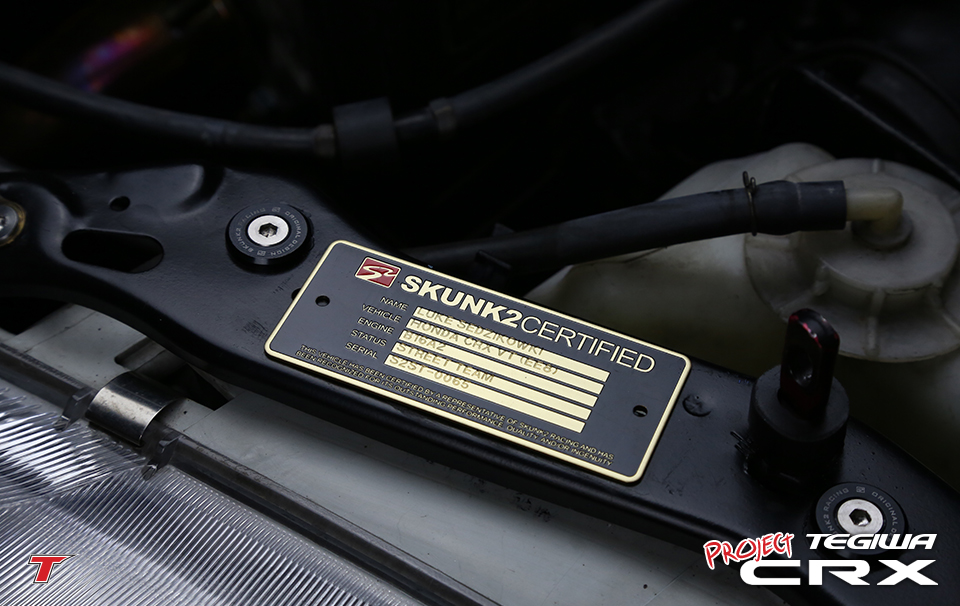 Prior to the engine being slotted back into the car onto the new Innovative Steel Mounts, Andy our in-house 'whittler' gave the engine bay a full respray in black to suit the colour scheme of the build along with fitment of Skunk2 Black Fender Washers. After an intense late night in the workshop the engine was placed back into the CRX which meant we could focus on fitting the remaining parts to get this track slaying pocket rocket back on the black top. Cooling is now taken care of by a Tegiwa full length radiator hooked up to the heart of the CRX by Skunk2 Coolant Hoses. Our tegiwa 4-2-1 Stainless manifold is now fitted to our decat, joining up to the Skunk MegaPower cat-back. Lubricating the engine is no other than Tegiwa Civic Cup sponsors Millers Oils Nanodrive.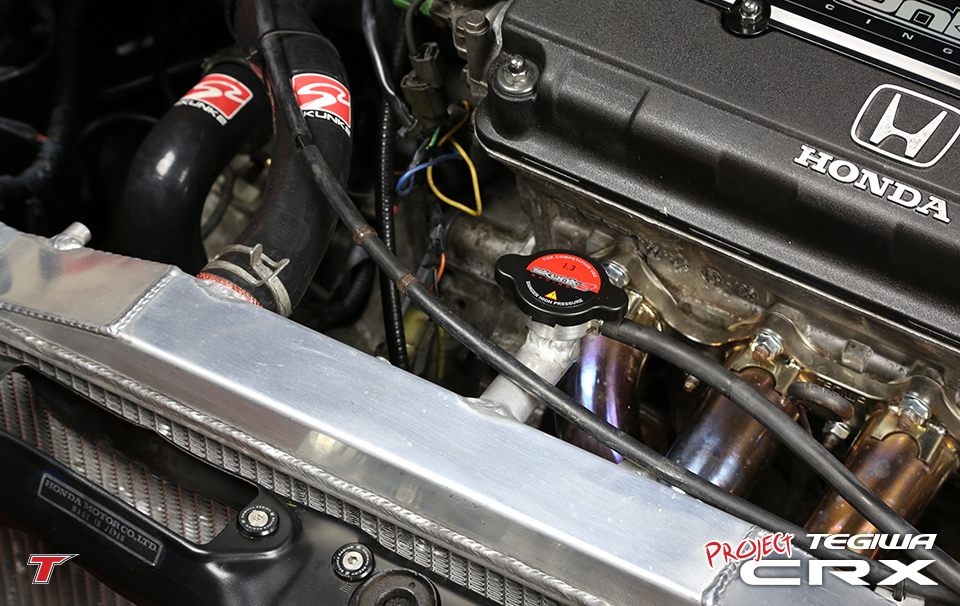 Moving onwards to the drivetrain, an RPC (Racing Performance Clutch) Stage 2 Clutch Kit and RPC 3.6kg Lightweight Chromoly Flywheel have been fitted. Newly listed on www.tegiwaimports.com are Insane Shafts, which were a no brainer when it came to choosing driveshafts for this build. Rated to 500bhp, they were more than sufficient for the power output of this Tegiwa Civic Cup car. With all the engine and chassis upgrades, it would be rude not to fit a shiny new set of coilovers. Tegiwa have recently been appointed Sole European Distributors for 'Yellow Speed Racing', so again, the decision here was simple, a set of adjustable Yellow Speed Coilovers have been fitted which not only perform extremely well, but look great too in the Black and Gold finish. Stopping power has been taken care of by RPB (Racing Performance Brakes) vented and grooved discs with EBC YellowStuff pads to withstand and perform well throughout the harsh conditions that come with racing. Juicing the brakes is Millers Oils Racing Brake Fluid, fed through a set of Tegiwa custom HEL stainless braided brake lines.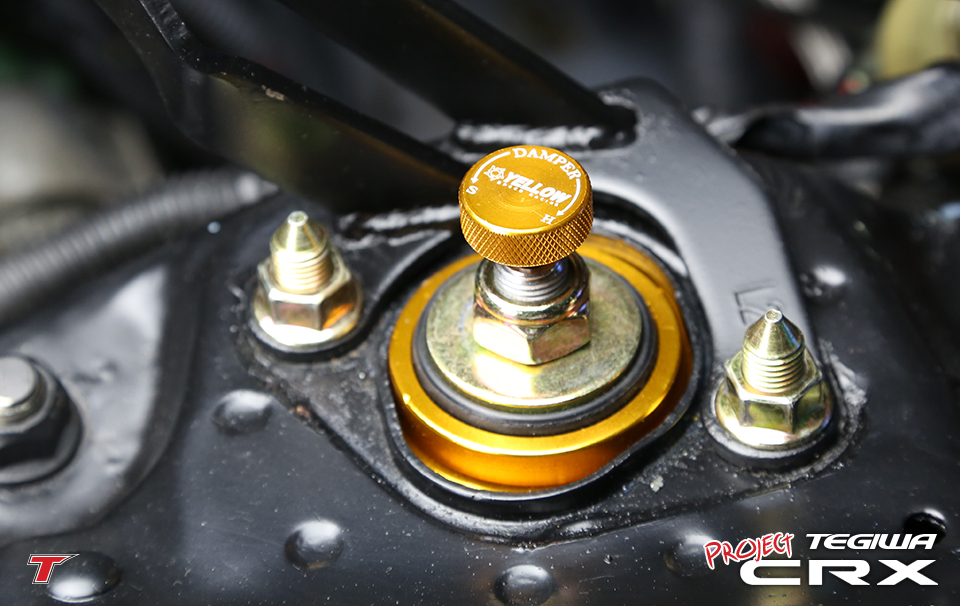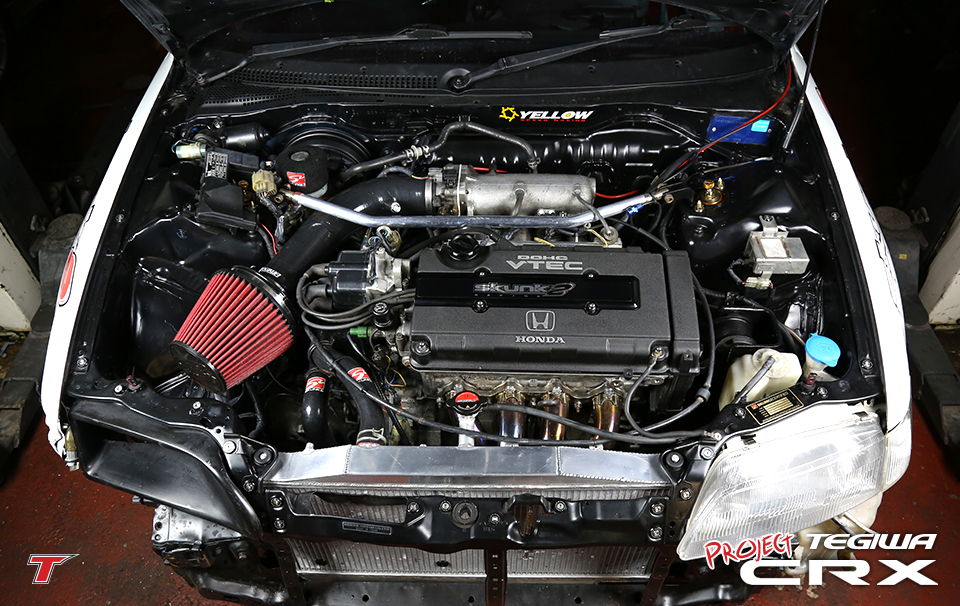 As mentioned at the beginning of this article, Project CRX will have made its racing debut by the time this goes to print, which means the next issue will feature a full report of the cars first track outing. As you can see in the photos we were fortunate enough to be able to take some snaps of the CRX at Japfest alongside the current Honda Yuasa BTCC Team Honda Tourer as driven by 'Gordon Shedden'. All of the parts we have used to build the CRX are available via www.tegiwaimports.com and remember, if it isn't listed we can source the part! Keep them peeled for the next article, Click Here for event information and be sure to come and check out Tegiwa Civic Cup for close, vtec filled, adrenalin fuelled racing.