This month, Project CRX has gone through some radical changes. There were a few objectives this time round, all of which have been accomplished thanks to the 'can do' and 'will do now' attitude of Tegiwa boss man Luke. First on the long list of things to do was update all aspects of the chassis where possible, with adjustable items required for race prep. There are a number of upgrades that have been thrown at the underside of the CRX and to kick the transformation off were a host of Skunk2 parts including Front Camber Arms, Rear Camber Arms and Rear Lower Control Arms. Not only does this combination of road holding goodness let us make adjustments to the geometry setup for various circuits, but they bring the car up to date and look awesome too! Finishing off the chassis upgrades are a set of Tanabe front and rear Anti Roll Bars. So far we have been able to source parts that lend themselves to the aesthetic route in which we intended with a colour scheme matching both Skunk2 and Tegiwa; White, Red and Black. Amongst these parts you will find a newly fitted Skunk2 MegaPower exhaust system, allowing those gases to rip straight to the back of the car unleashing pure listening pleasure.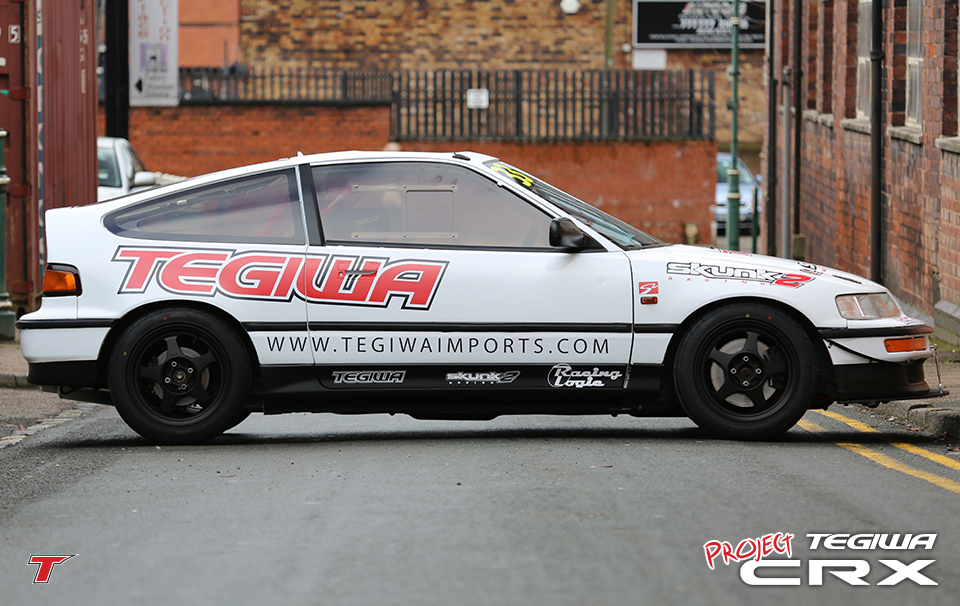 Although we would have loved to run a set of Mugen, Enkei or Rays wheels on this car, the aim here is to remember this is a race car, not a show car. Damage is almost certain to occur with the Civic Cup hot hatches battling it out for the podium. The perfect choice for this build was a set of Rota Slipstreams, providing a great appearance thanks to the black finish and classic design which are sure to stand up to whatever is thrown at them. Contrary to their name (Slip), this race honed circuit slayer will be sticking to the black top like its hooked on rails, but fitting 15×7 wheels to the CRX isn't just a bolt on process. Oh no… with a low offset and chunky tyres, arch rolling and paint touch up was required by our in house whittler Andy.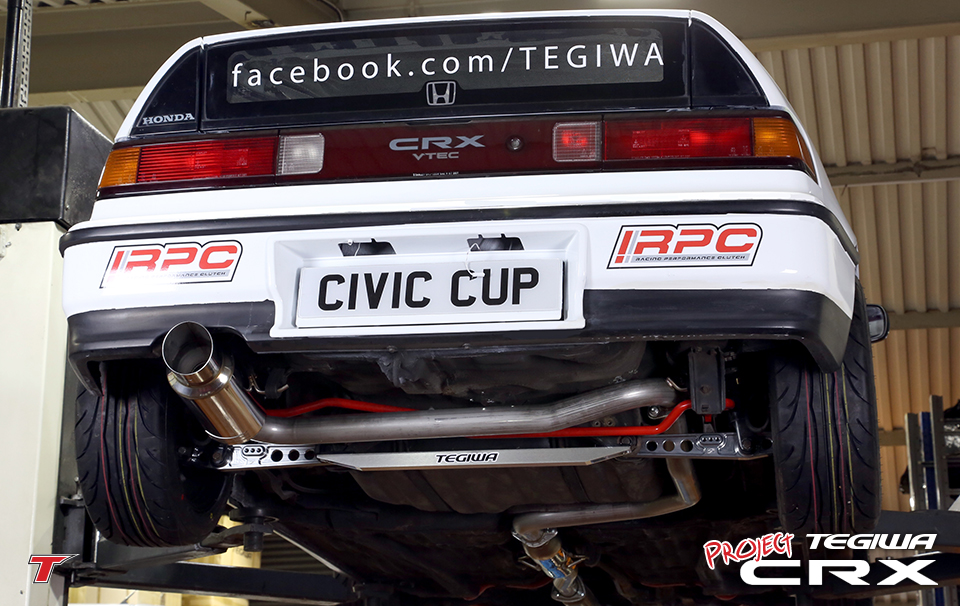 Moving on through the interior, you can now find one of our new Race spec Shifters, bringing the Skunk2 Billet weighted Shift knob higher and closer to the newly fitted 290mm OMP Alcantara clad steering wheel. Keeping flames at bay should the worst happen is a Lifeline Fire Extinguisher kit which brings us to a really neat feature both inside and outside the car. The interior kill switch and Fire extinguisher switches are seated on a pre-built triangular shaped platform, which bolts straight to the car wherever you wish to position it. Externally we have tried something new, mounting the switches using Tegiwa custom fabricated brackets, which bring them away from the usual position on the scuttle panel, up inline with the A-Pillar.
[su_lightbox type="image" src="https://www.tegiwaimports.com/blog/wp-content/uploads/2014/05/1.jpg"][/su_lightbox]

The final and most obvious updates to the build as you can clearly see from the photos, are the livery featuring he all new Civic Cup logo on the windscreen banner alongside the über bright driver number '33'. To finish off the external aesthetics we are fitting a Tegiwa Prototype Rear wing designed to add to the CRX aerodynamics and promote down force simultaneously with the custom front splitter and canards.
Remember, all of the items listed in this article are available via www.tegiwaimports.com, if there is an item you require for your build that isn't on our website please call 01782 334440.