Welcome back to the Tegiwa blog for the last time this month as we show you everything that's been happening at Tegiwa HQ during February. As always, let's dive right in and take a look at some of the exciting new products that we've been listing on our website.
New Products
Take your GR Yaris's suspension and alignment to the next level with the latest release from Polybush. These bushes are available as a full kit or individually and have been expertly crafted allowing you to replace problematic bushes or tailor your GR Yaris for the track!
We were delighted to introduce the latest release from
Apex
; the
SM-10RS
. This is now one of the lightest wheels that Apex produce and offers greater stiffness too. Just like all the Apex Sprint Line wheels, the new SM-10RS features:
10,000 Tonne Forged 6061-T6 Aluminum
I-Beam Spokes for Reduced Weight
Stronger Sprint™ Spec Inner Lip
Massive Brake Clearance
Paintless Knurled Beads
Unmatched Replacement Program
Lifetime Structural Warranty
These wheels are currently available in 18″ and 19″ diameters, 9J to 13J width, a wide range of offsets and an awesome range of colour choices!
That's not all though, it's not very often that we get to bring you price drops so when we do it's worth shouting about. Thanks to a drop in production costs, you can now save up to 13% on selected Apex Wheels, including the popular ARC-8, SM-10, EC-7 and EC-7RS.
Manufactured right here in the UK, we're delighted to annouce that we now have stock of the eagerly anticipated Milltek Sport exhausts for the Integra DC5. These 3″ systems are available in a choice of resonated and non-resonated applications as well as with a polished or black tip.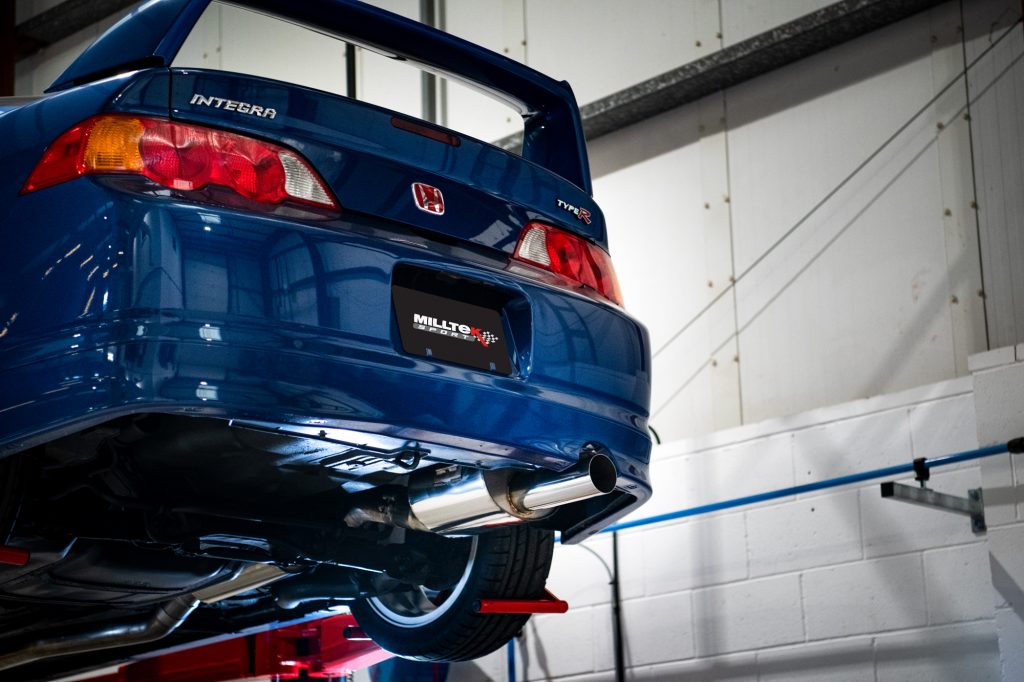 Speaking of Milltek, the guys and girls there have had the opportunity to borrow our new Civic FL5 for the past couple of weeks to develop an exhaust for it. These systems are now available for purchase on our website and we're sure you'll agree that it's lovely upgrade compared to the OEM exhaust.
Our latest projects
Moving onto our winter project cars. Many of you will have seen that we've been busy building another Honda NSX ready to go endurance racing in 2023. Well, we shared the news with you about its engine and gearbox combination and it nearly broke the internet! Our Honda NSX will making use of a K24 powerplant, equipped with a Rotrex supercharger and the gearbox of choice is a DQ250 DSG box from a MK7 Volkswagen Golf R. You can read all about our plans for it, below.
We published the fifth and final blog of the Area Motorsport Golf GTI build too. The MK7 GTI now resides in its final form as an all out track car. It's now utilising a set of Nitron R1 suspension, AP Racing big brakes and the power has been cranked to 11 by Ti Motorsport as it now boasts a staggering 360 horsepower thanks to the HPA Motorsport IS38 Hybrid Turbo.
There's been an abundance of new blog posts published during February. One that were sure will prove useful to potential 8th generation Type R buyers, with our FN2 buying guide. This guide takes a look at the common problems of the FN2 as well as how much you should be looking to pay for one!
February Cars & Coffee
We held our first Cars & Coffee morning of 2023 this month and it turned out to be more popular than ever. We had a wide variety of cars which was great to see and we're all set for our next one on Sunday 2nd April.
Our YouTube channel has been busy too, as we finally got round to making a feature on Tsuki, our K22 turbocharged Honda NSX. It arrived to us as a rolling shell back in 2019. We realised late last year that we'd never actually done a proper feature on it, documenting its various guises with different engines over the years. Well, before it undergoes its next phase of development we thought we'd share with you the story of Tsuki so far and look back on how far she's come since those days of sitting on steel wheels!
Coming soon…
We're sure next month is going to be a pretty busy one once again. As many of you may have seen, we're working with Jenvey to develop a set of plug and play ITB's for the EP3 platform. Hopefully we'll have some updates on this at the back end of March so make sure you stay tuned as it won't be one to be missed.