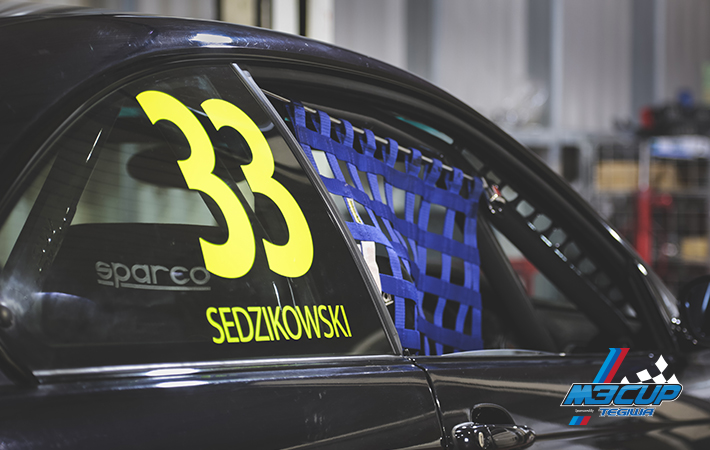 A new club level one make GT Series is to debut in 2016. If you like rear wheel drive cars, a lot of horsepower and the unmistakable sound of a straight 6, M3 CUP is the race series for you!
Luke Sedzikowski, Director of TEGIWA IMPORTS & TEGIWA EURO has built and raced 3 generations of Honda Civic in CIVIC CUP throughout the past 3 years with great achievements. (Just checkout the trophies in our reception area.)
Thanks to the blood, sweat, tears and talent that has been combined to achieve great results, Luke had no hesitations when deciding to move on to M3 CUP, setting out to continue the success for both driver, race series and business.
First things first, source a donor car! [ CHECK ] A Carbon Black example was found when trawling through eBay and shortly after, we were on our way to Bath, Somerset to pickup the M3. First impressions were, cosmetically it needed some major TLC, which isn't a problem since new panels will be fitted with a full re-spray in BMW Arctic White to boot. Mechanically the car is sound, standard maintenance is to be carried out including a VANOS refresh to ensure the engine is race ready. Again interior wise, this didn't matter as it was to be stripped entirely. As for the chassis, suspension and brakes, there is no issues since we will be upgrading a bunch of parts.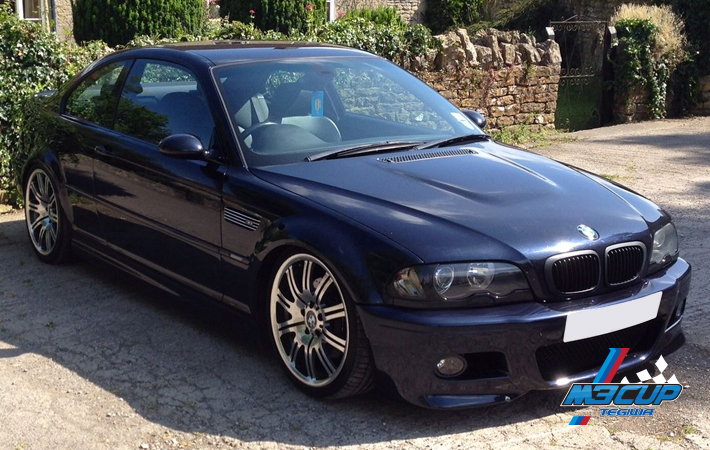 The M3 sat in our workshop for no longer than 12 hours before we got cracking on battling the interior. Seats, carpet, roof lining and door cards, you name it, it was removed. The dash was cut apart, deleting the glove box area.. Because race car… and fire extinguisher. This was all in preparation to be picked up by Shaun at SW Motorsports. The car was to return 5 days later with some major changes.
Back in our workshop, the M3 now housed a full SW Motorsports bespoke designed and built roll cage, coated in a fresh layer of paint. Shaun also flocked the dash to prevent any unwanted reflections/ glare whilst terrorising tarmac. Due to the pillar less design of the M3 windows, window nets were also fitted. Now additions could be made to the interior, starting with a Carbon Fibre Sparco bucket seat paired up with an alcantara Sparco steering wheel and snap off boss, retaining the rake adjustment.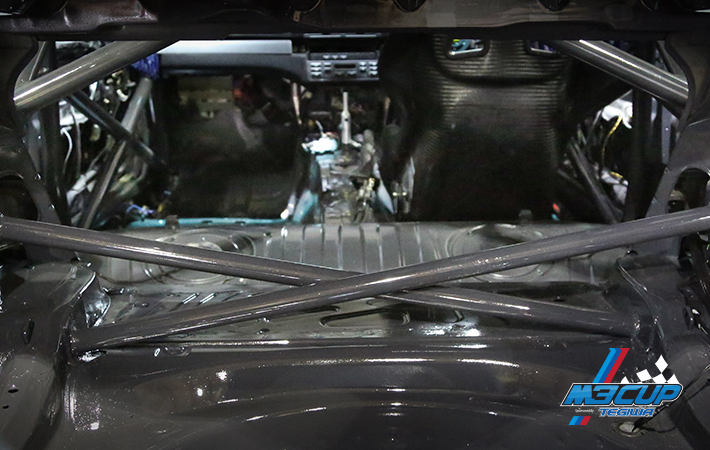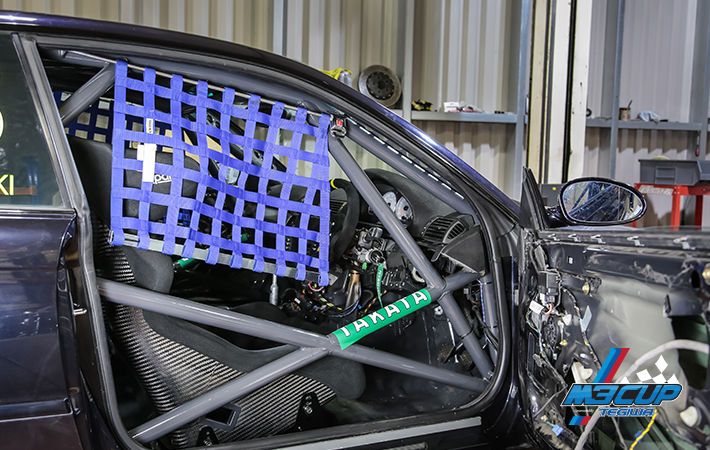 Luke and Team Tegiwa are a busy bunch, this time round although we wanted to transform the M3 into a track slaying, muscle bound brute, this was not going to be feasible. Introducing fast road, track and race car specialists TI-Motorsport. TI-Motorsport offer the best in race car builds with only the highest attention to detail. Exactly what we require! The M3 is eagerly awaiting collection by TI-Motorsport to begin the transformation.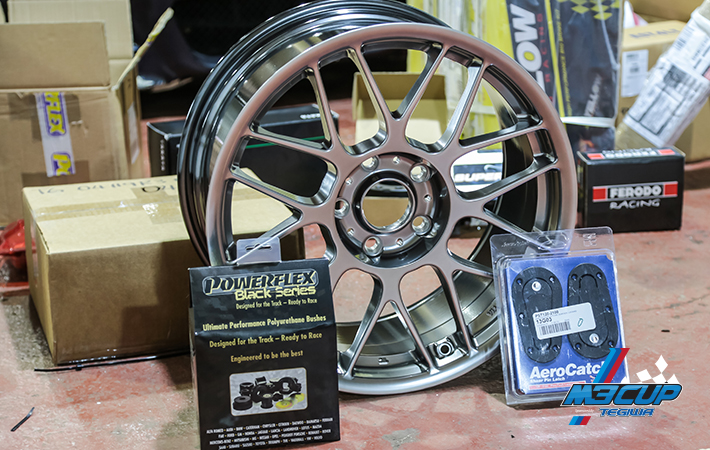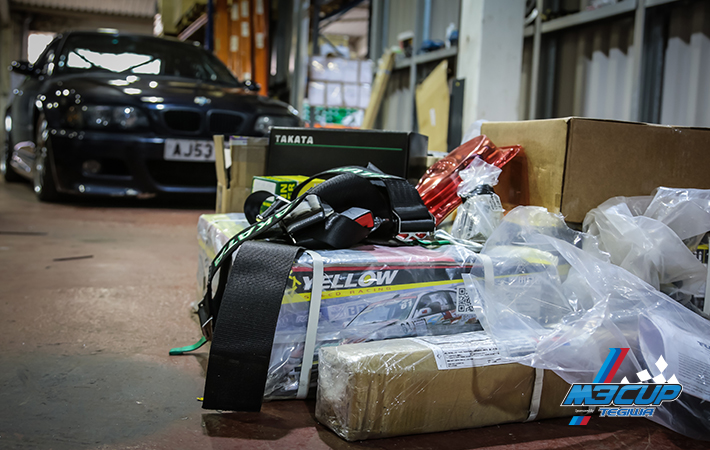 Listed below are the parts to be fitted. Additionally the car will be re-painted in our chosen colour scheme.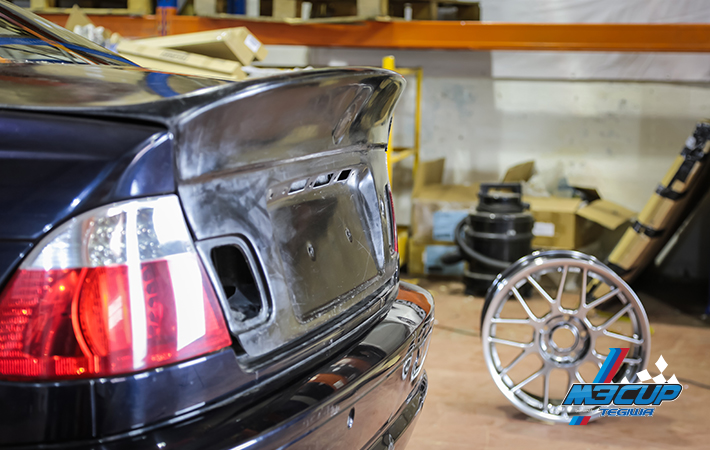 EXTERIOR
M3 GTR Vented FRP Bonnet
Aero Catches (Bonnet)
M3 CSL FRP Bootlid
Tegiwa Rear GT-Wing
Tegiwa Front Splitter
Tegiwa Canards
Rain Light
Kill Switch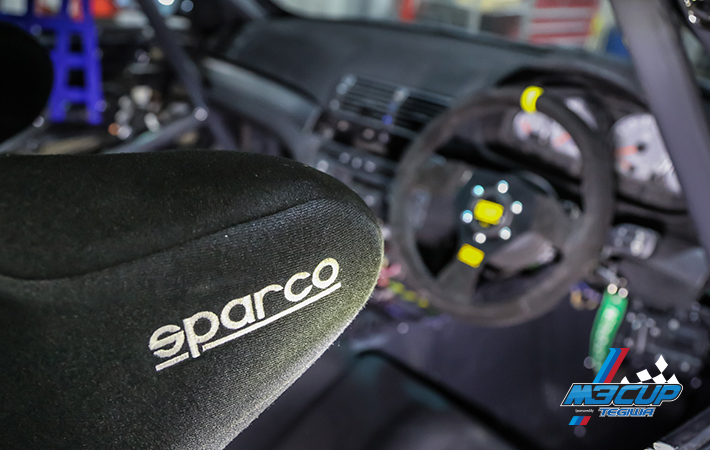 INTERIOR
SW Motorsport Full Cage & Paint
Race Safety Window Nets
Sparco Carbon Fibre Bucket Seat
Takata Race 6 Harness
Sparco 300MM Alcantara Steering Wheel
NRG Snap-Off Steering Wheel Hub (Rake adjustment retained)
Sparco Fire Extinguisher
Tegiwa Quick Shifter
ENGINE
Tegiwa Carbon Fibre Airbox
Tegiwa Aluminium Radiator & Slim Fan
Tegiwa Exhaust Manifold
Tegiwa Full Exhaust System (inc Race Cats)
RPC Stage 3 Clutch
RPC Single Mass Alloy Flywheel
Super B 15P Battery
CHASSIS
APEX ARC-8 18×9 Square Setup
Nankang NS2R Tyres 265/35/18
Tegiwa Hubcentric 20MM Spacers x4
Tegiwa Extended Wheel Stud Conversion Kit
Yellow Speed Pro Plus Racing Coilovers
Yellow Speed Rear Camber kit
Powerflex Black Series Full Bush Kit
Tegiwa 30mm Front Anti Roll Bars
Yellow Speed Front BBK 356mm (with Grooved & Floating Discs)
RPB Grooved & Ventilated Rear Brake Discs
RPB Braided Rear Brake Lines
Ferodo DS2500 Rear Brake Pads
Tegiwa Subframe Reinforcement Kit
Be sure to keep up to date with the build, we will be posting updates via our Facebook page. You can also keep up to date with the latest M3 CUP news, update & events here.