We're back with a round up from the action at Donington Park, one of our local tracks, where the Tegiwa Racing team were hopeful of collecting another haul of points and some silverware too. Again, Luke Sedzikowski, wasn't racing but we had a full house otherwise, complete with Adam Shepherd representing us in TCR UK. Let's look at how the guys got on!
Mikey Birch – K­-Swap Honda Civic EK
Donington was a very familiar circuit for Mike, having done several track days here over the past few years so was hoping to put it all to good use! His PB from last year was a 1:19.345 so it was a good target to aim for. His car ran faultlessly throughout the day and Mike went faster in each session until the final when he knocked it out the park with a blistering 1:18.00, which secured him a 1st place finish in the Pocket Rocket class!
Michael Hume – K-Swap Clio 182
Following on from Oulton Park, Michael Hume was in great form in his K-series Clio slowly building on his times and confidence throughout each session. Michael managed to get a 1:22.28 around the Donington Park National Circuit!
David Lawrence – Leon Cupra
It's no surprise that fast Dave put in the times at Donington Park for round 6 of the UK Time Attack Championship in the Club 2WD class! He had a target that he wanted to achieve which was a 1:14, but unfortunately, he wasn't able to achieve that, even though his Garmin Catalyst optimal lap said he was on the right track to get it. However, he did secure himself a 1:15.40 which is 2.5 seconds faster than his previous PB. This was enough to earn a podium finish, eventually ended up in 3rd place. Well done, Dave!
Aaron Adams – BMW M4
Aaron was hoping to turn his luck around after Oulton Park, and that he certainly did. Achieving his fastest lap in the warm up session with a 1.15.1, Aaron unfortunately didn't improve on it. However, a 1:15.390 in the final was enough to secure a 2nd place finish in the Club 2wd class and another big haul of points too.
Ilya Kyrlov – Turbo Renault Clio
RuskiWeldFab a.k.a Ilya Krylov put his turbocharged Clio through its paces at Donington Park for round 6 of the UK Time Attack Championship, competing in Club Pro. Ilya secured a best time of 1:14.8 around the National Circuit, however, this was disallowed due to exceeding track limits (naughty naughty Ilya!) so his second best lap time was a 1:15.21! This meant that Ilya finished in 4th place, and for the first time this season, not on the podium. Ilya will definitely be hoping to change that when we visit Brands Hatch at the end of the month!
Ian 'Bizz' Phillips – LS3 Nissan 350Z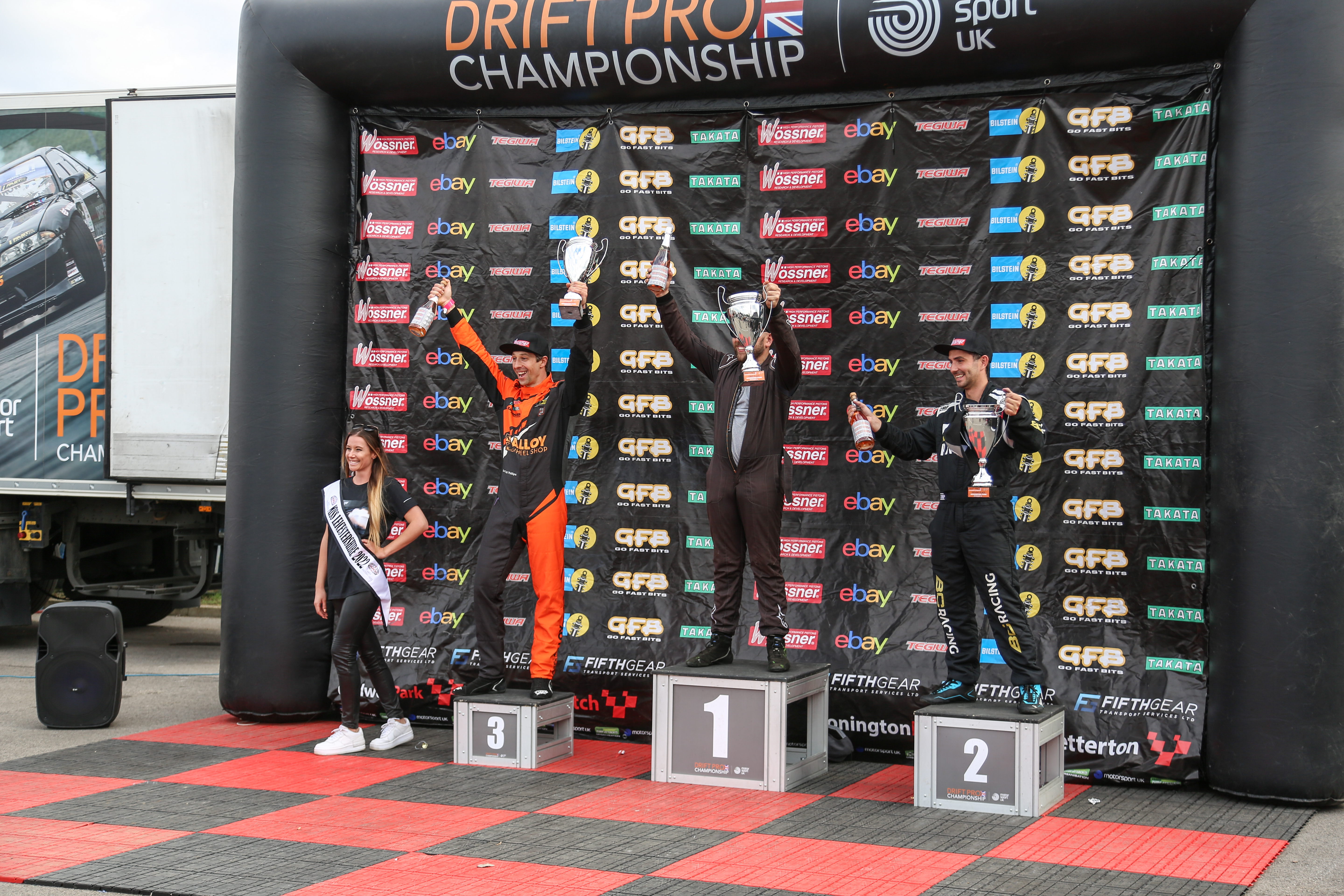 After an awesome trip to Germany for the Nurburgring Drift Cup, Bizz was hopeful to continue his fine run of form heading into round 6 of the Drift Pro Championship. Plus, his LSZ was now equipped with a Quaife Engineering sequential gearbox that was sure to turn his car right up to 11! After causing some absolute carnage in the practice by destroying a cone, shredding some rubber and heading backwards into the tyre wall (a great advert for the tyre section on Alloy Wheel Shop we must say), Bizz was driving the hell out of his car, eventually making it into the top 4! Bizz earned himself a 3rd place for all his hard work and finally got a chance to show his custom OMP One-Art suit on the podium. Well done Bizz, a trophy that was thoroughly deserved.
Adam Shepherd – Hyundai i30N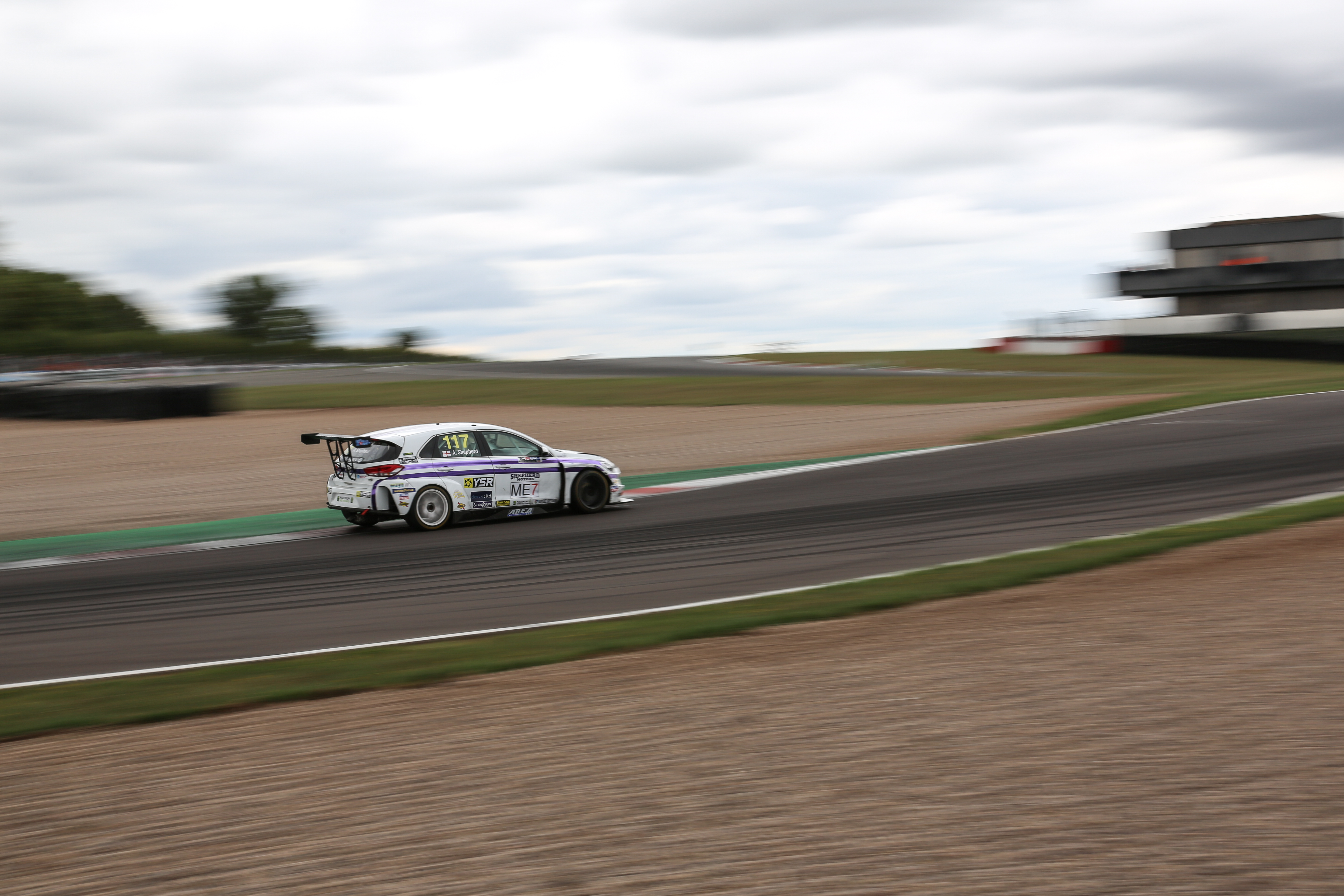 What a weekend for the penultimate round of the TCR UK Championship at Donington Park for Adam Shepherd. Adam started the weekend strong, qualifying P1 by over 2 tenths of a second and also breaking the record for the fastest ever lap in a TCR car whilst carrying 30KG of success ballast. Converting pole position into a lights to flag victory in Race 1, taking the win, lap record and fastest lap along the way. Race 2 saw Adam start P10 for the reverse grid. Lap 1 Turn 1, Adam took a large hit damaging the balance of the car and slowing him down but he still managed to fight back to P3 and an eventual P2 finish after a DSQ for the on-road race winner.
You can check out all the images from the weekend, as always, over on our Flickr page.
Catch us next time out…
The next Tegiwa Racing outing will be at Brands Hatch on Sunday 25th September for round 7 of Time Attack and Drift Pro. This will also be the iconic Go Japan! 3vent too, so make sure you look out for our trade stand!