Donington Park Track Day – Volkswagen Golf GTI MK7 Build – Area Motorsport x Tegiwa
Welcome back to the latest thread in the Area Motorsport MK7 Golf GTI build series. With a host of chassis and upgrade parts already installed, it was time to head over to Donington Park to put the Golf through its paces. If you've not seen what we've been up to so far, then you can check it out here.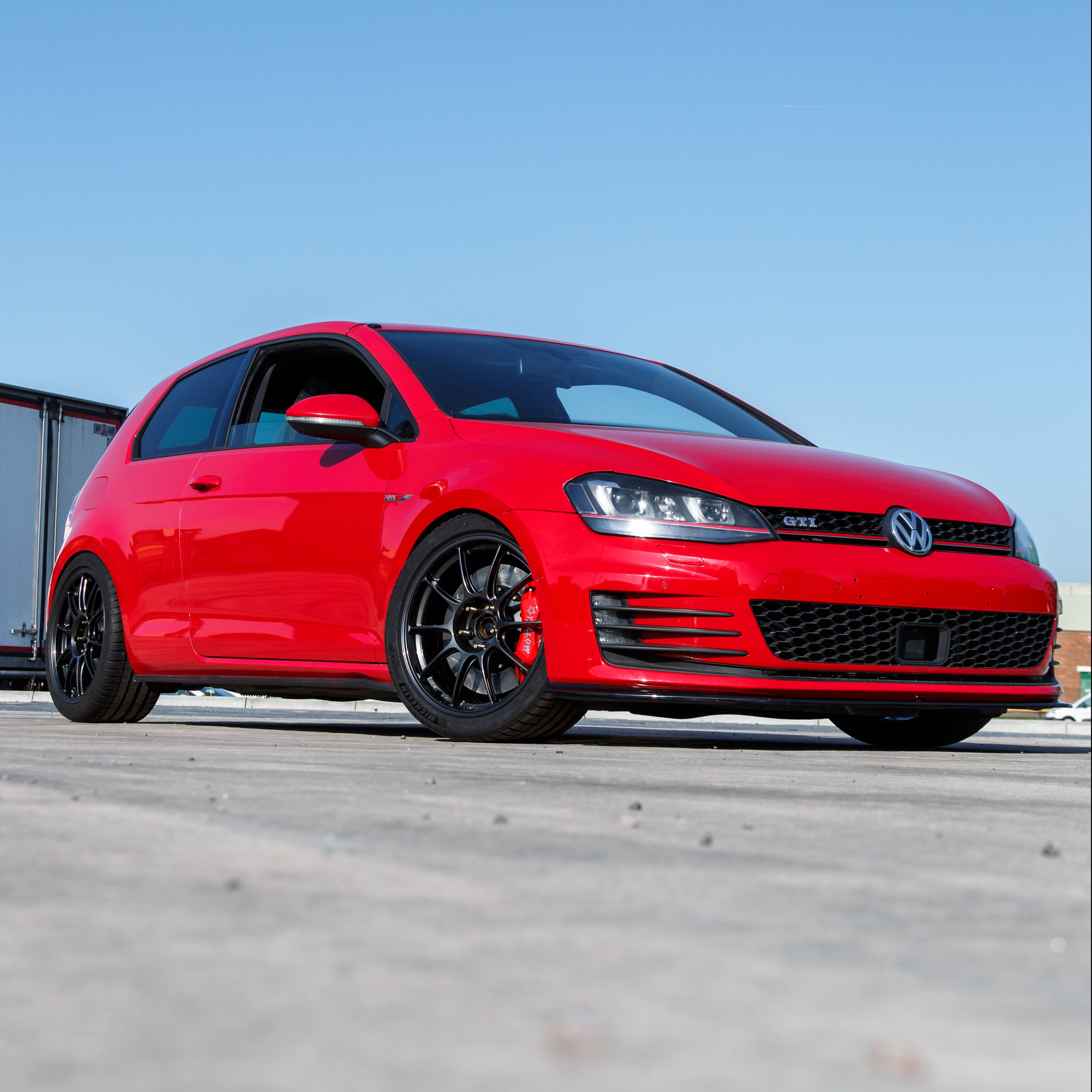 Prior to the track day, Rob had also fitted a Racingline Performance oil catch tank system. This routes undesirable oil and moisture vapours through a system of internal baffles and into a fully baffled catch can. This helps to keep a purer air/fuel mixture and avoids slowly filling the intercooler with oil. The engine breather plate, which is also included in this kit, also protects the engine by helping to eradicate oil starvation in very high G braking.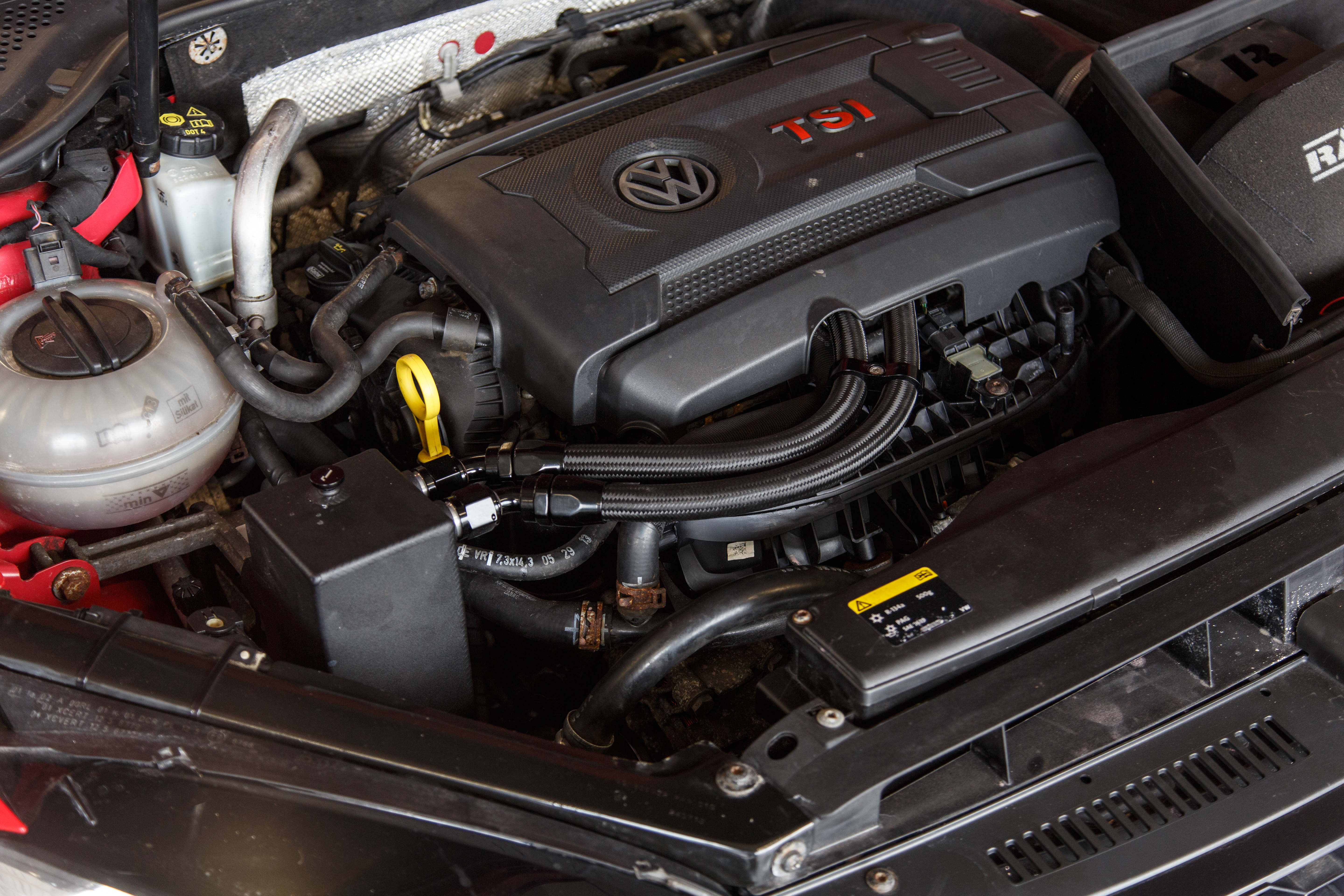 The boys at Area Motorsport had also fitted a host of exterior dress up parts which helped to give the Golf an even more aggressive appearance. These upgrades comprised of a front splitter, side splitters, finned rear diffuser and a replica GTI Clubsport spoiler.
'Road Tyres'
The first test of the day was to see what time was possible in its road going guise. For this scenario we had 18×8.5 WedsSport TC105X fitted with 255/35/18 Michelin Pilot Sport 4's. This tyre is suitable for both wet and dry conditions on the road and is often deemed as the go to option for a fast road, all round tyre that's up to light track work too.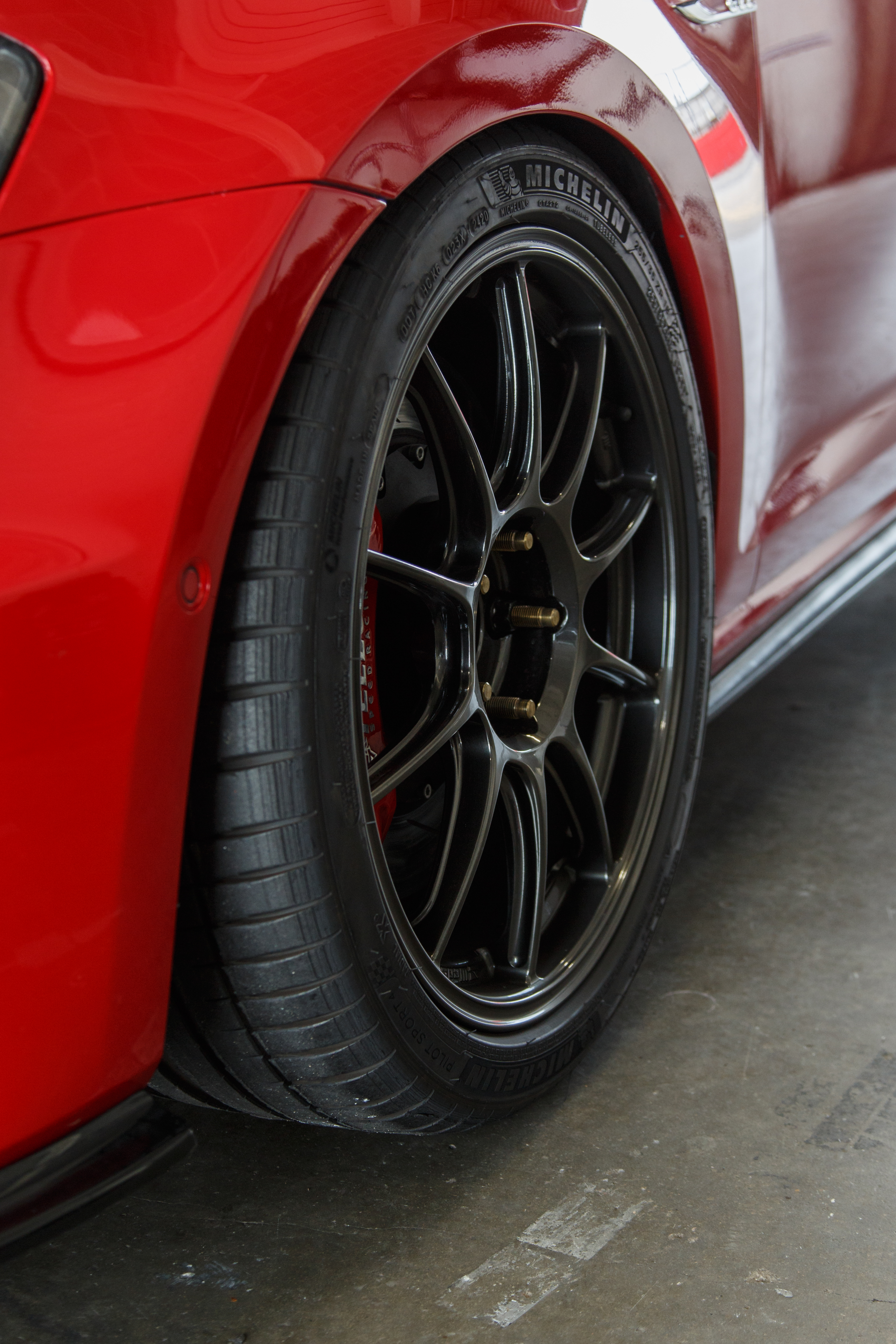 With this wheel and tyre combination, Rob achieved a time of 1:21.6 which is pretty rapid for the Donington Park national circuit! Here's what Rob had to say on this setup:
"The PS4's felt very good on the car and the balance of the car was really nice. Obviously the tyre will never have the grip of a true track tyre but in terms of pure enjoyment they felt fantastic. After around 12-15 minutes you could feel them really start to overheat but aside from that they performed really well and wear wise you'd definitely get many track days out of them no issue."
'Track Tyres'
Next up, Rob swapped the wheels over to a set of 18×8.5 Rota Strikes which were wrapped in 235/40/18 Yokohama A052's. We knew from the get-go that these were going to offer miles more grip, after all, they're a performance semi slick designed for track use specifically. With all the extra grip on offer, Rob put in a best time of 1:18.8 which shows just what the MK7 chassis is capable of in the right hands with some mild tuning.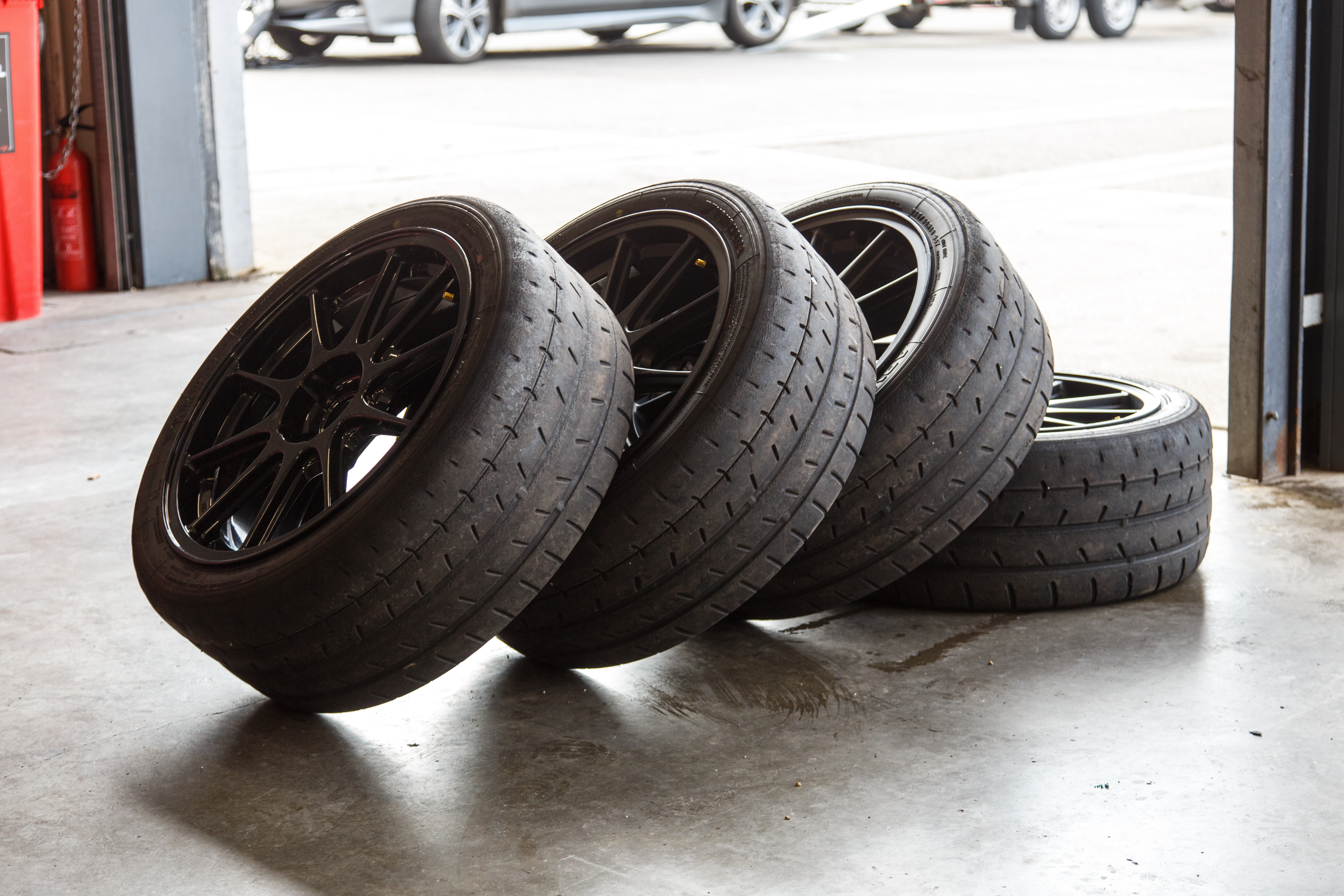 "The A052 is generally what we use on our race cars, so we knew the tyre and how it performs. The balance of the car really stayed the same as it was on the Michelins but the overall grip was much higher, as was the longevity of consistent performance without any drop of grip throughout a 15-20 minute session."
Also on track was Rob's good friend and fellow Club Enduro racer, Luke Handley, in his MK7 Golf GTI race car. Although they might look fairly similar, Luke's Golf is kitted out with Nitron race suspension and a bunch of spherical bushed suspension components as well as a plethora of super racey parts. To give an idea of how the two cars compare, Luke's fastest time around Donington is 1:16.2.
One notable addition to the car that Rob was super impressed with was the Cobra Nogaro seats. Although they offer an OEM+ look and don't look like a fully-fledged track day seat, Rob couldn't get over how well they held him in place during the twists and turns of the track.
Summary
We were really pleased with how the chassis components performed on circuit with both the "Road" and "Track" tyres. The balance of the car was great on both tyres, with the car compliant over bumps and undulations which inspired confidence from the get go. In general, even for someone who has raced for over 10 years, it was a very enjoyable and fun experience, even more so that the car is still very comfortable on the road too.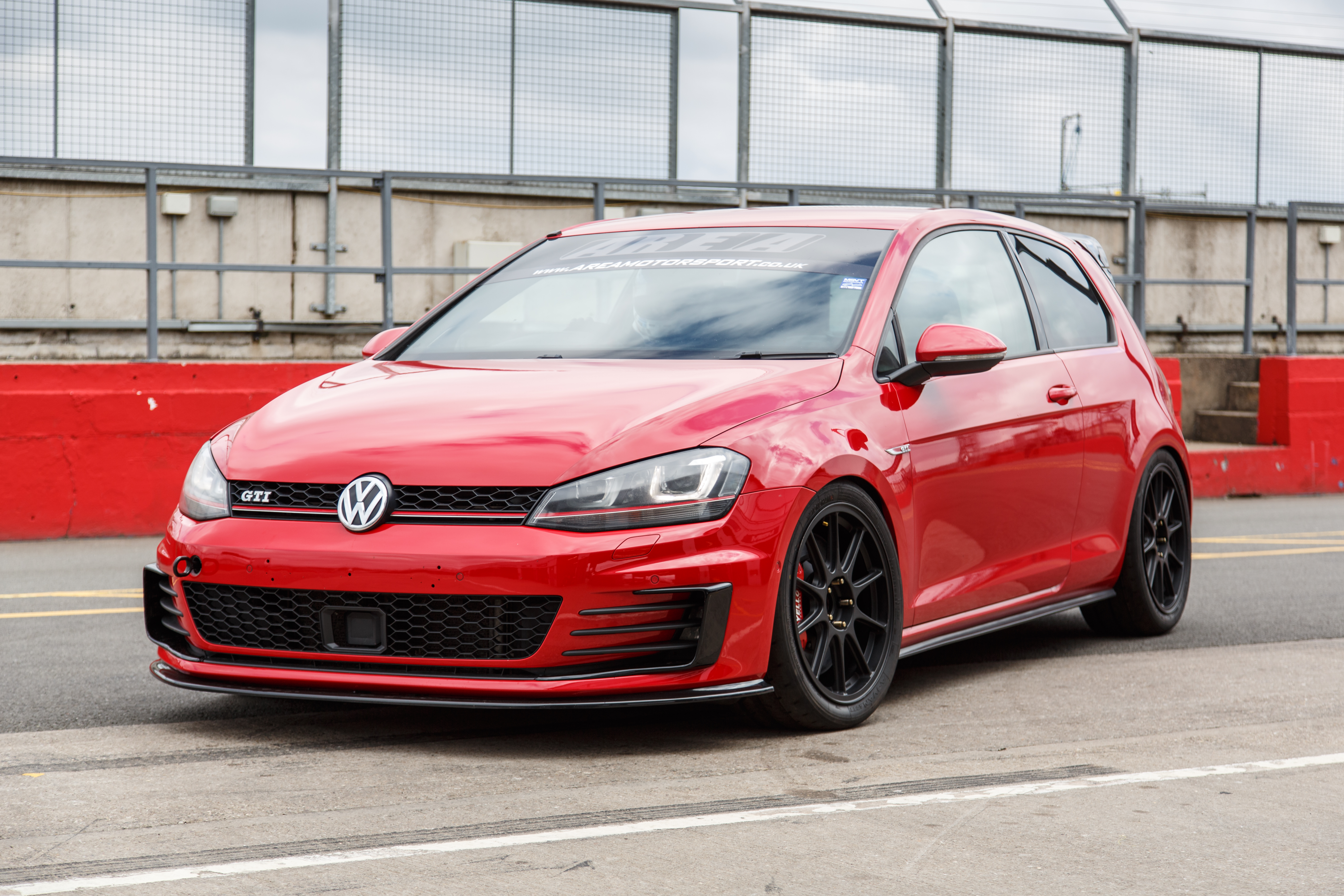 We ran this day without an oil cooler kit, and with an ambient temperature of 16 degrees and after a 15-20 minute session we were seeing engine oil temperatures hitting 130 degrees and coolant temps rising to 110. Being a racer, the car was driven extremely hard but we would certainly suggest installing an oil cooler kit on any car that does regular track days, especially in summer months.
The cars top speed at Donington was down the back straight hitting 119 mph thanks to the TI Motorsport remap. The map felt really good on track, with plenty of throttle modulation available and smooth linear power. The IS20 stock turbo certainly ran out of steam at high rpm as expected, but we'll be addressing that in the next episode with a whole host of HPA Motorsports parts and some more cooling modifications. In comparison to our race cars which are 308bhp and also lighter by 70KG than this car, they regularly hit 124-125 mph down the back straight.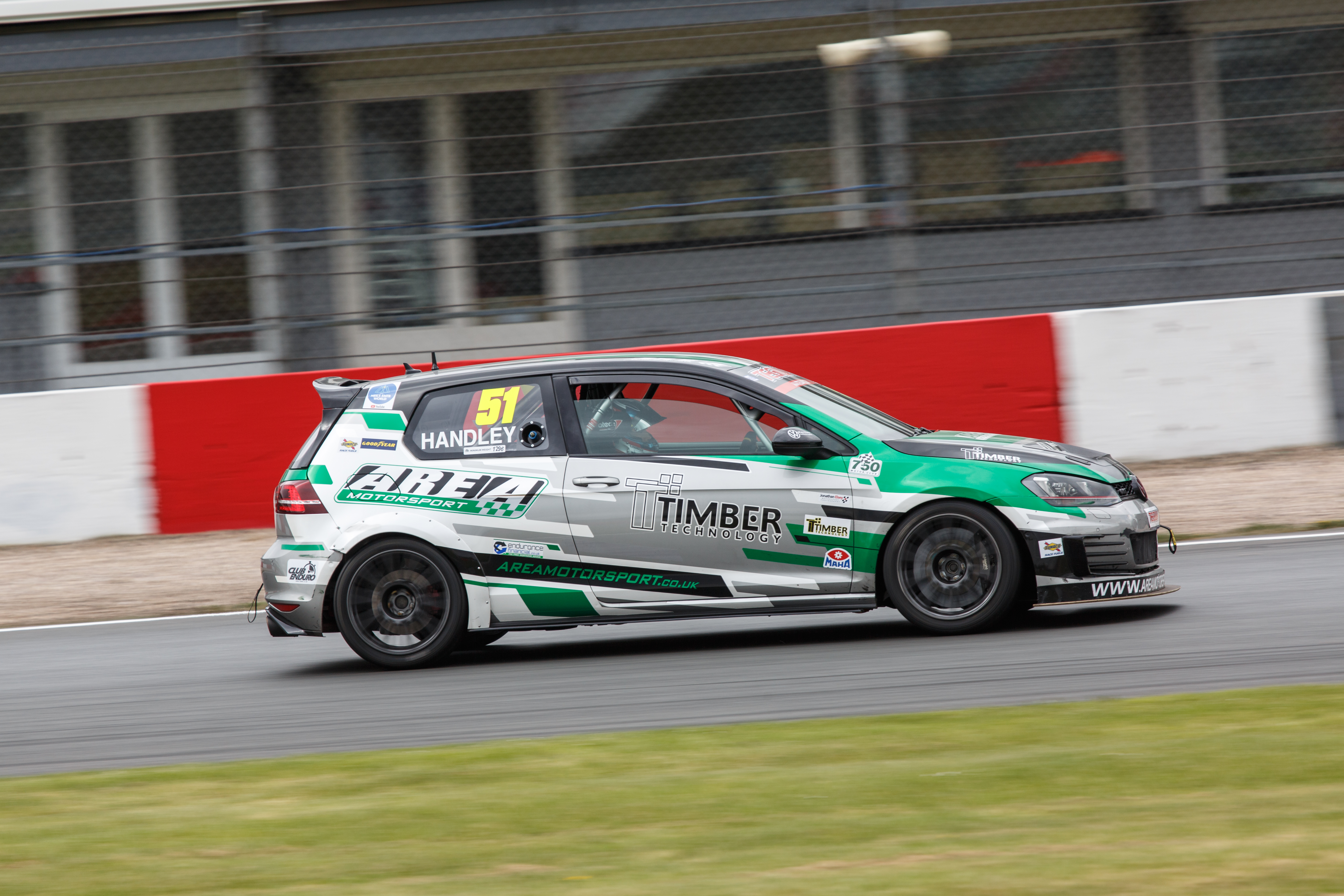 The TI Motorsport gearbox map also took care of all the annoying features of the stock DSG gearbox map on circuit with no auto up or down shifts and much improved shifting. We did notice and already knew that on track the GTI DSG gearbox ratios are extremely long (4th Gear does 132mph), which does take away from some of the enjoyment and gear availability through corners. Again, this is something that we can take care of with a different DSG Box like we have done on the race cars.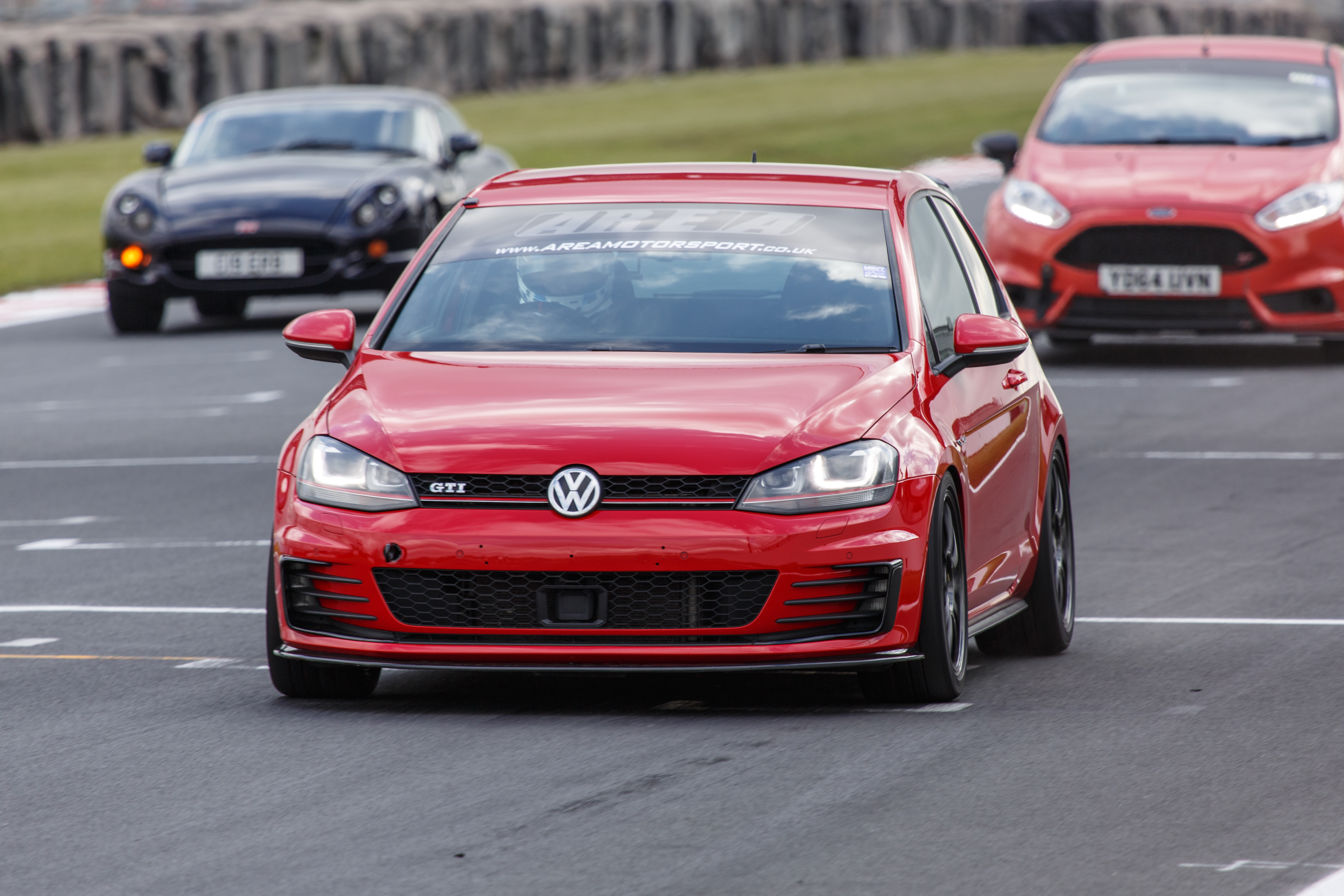 Next up in this build series, we'll be heading back to Area Motorsport as the chaps fit the HPA Motorsports parts in a bid to maximise engine performance and turn up the power as well as a bunch of cooling solutions from RacingLine Performance!  As always, you can check out this build on our YouTube channel too, and all images are available on our Flickr page too!