Tegiwa Civic Type R FN2.0
It's been a while since we've had an addition to the Tegiwa Fast Fleet. In fact, the last time we had a new vehicle introduced to the fleet was back in July 2020! Anyway, here it is, our brand-new race car, the FN2.0.
For those of you that have been following Tegiwa over the years, you may remember our first FN2. Built for the Civic Cup in 2014, that car had a whole host of performance parts that were relatively new to the market at the time including our exhaust manifold, cat-back exhaust system and air box.
7 years on and we're back with another FN2 that's ready for the racetrack! The car originally came to us as a development for another project that we had planned, however, that never materialised so we ended up with a Civic sitting in our car park that looked quite sorry for itself. Of course, being Honda enthusiasts ourselves, it wasn't long before a new project was on the cards, and we were compiling an extensive shopping list ready to transform it.
This car has been built specifically for a 1 make championship series, although what series that is remains to be seen. What we can tell you though, is that the FN2 will make its inaugural outing at the end of September at Go Japan! Replacing our Honda NSX in the Pro 2WD class whilst it's being rebuilt at BourneHPP. Until then, you can grab a brew as we delve deeper into the specs!
Engine 
The 8th generation of Civic Type R made use of the iconic K-Series engine in the form of the K20Z variant. Kicking out 198bhp in stock form, our FN2 should be making a little bit more than that as we expect to see 170bhp per tonne from it. Cold air is induced from the Tegiwa cold air intake, which not only helps the engine breathe more efficiently but gives a lovely induction noise too. A Tegiwa 100 cel 70mm race cat downpipe mates up to our 70mm cat-back exhaust, which produces a great note whilst producing relatively low noise levels to accommodate for the track. There's nothing fancy happening here other than the intake and exhaust system, but we have had a bespoke remap to help achieve a bit more power and efficiency out of the modifications.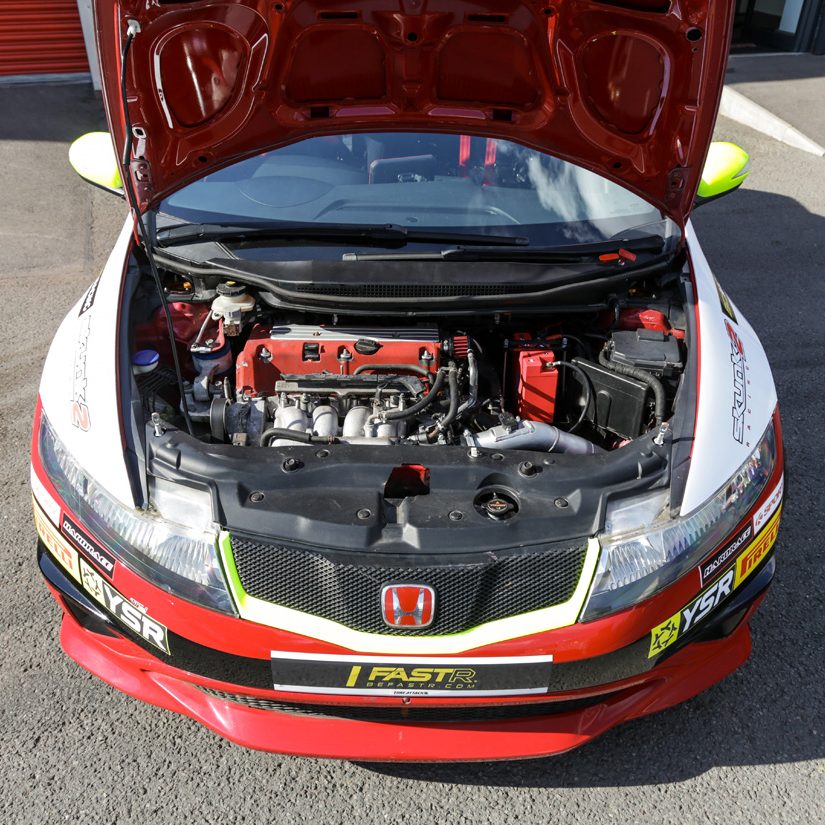 Transmission & Suspension
Although it's not the most powerful vehicle in the fleet, most modifications have been chosen to improve handling. It's no surprise that Yellow Speed Racing was our go-to suspension choice with a set of their Premium Competition Inverted coilovers. Featuring 33-way adjustability, these inverted coilovers are proven in numerous championships and provide the most durable and competitive damping whilst being robust enough to take the rigours of competitive motorsport.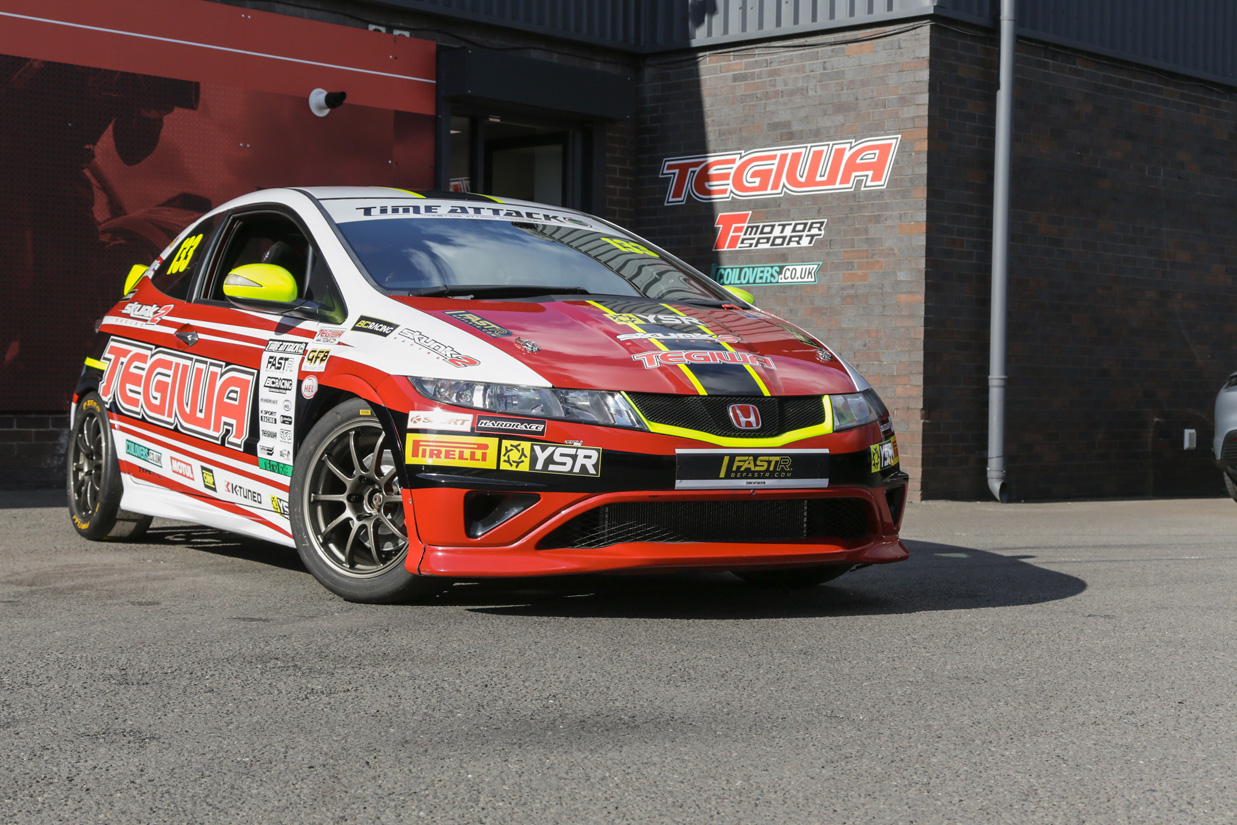 The car has been fully kitted out with new bushes from PolyBush to maintain durability, whilst Eibach camber and toe shim spacers make their way onto the car to help us dial in the perfect geometry. Finally, an MFactory Helical Stage 1 Racepack LSD has been installed in the gearbox to provide smooth and consistent distribution of power to the wheels.
Wheels & Brakes 
Stopping is taken care of by a set of Pagid OE blank discs and PBS ProRace pads up front and ProTrack pads at the rear. We don't need to be overkill on the brakes as it's not pushing too much power and is much lighter than a standard FN2. To eliminate the risk of unreliable brakes on track and giving a much better pedal feel we added a set of RPB brake hoses.
Our wheel of choice for the FN2 were a set of bronze Rota Force alloys. Retaining the OEM 17" diameter but opting for a slightly wider 8J wheel all round means that we can run a set of Pirelli slicks from our BTCC DC5 on the car, perfect to meet the requirements for Time Attack Pro 2WD.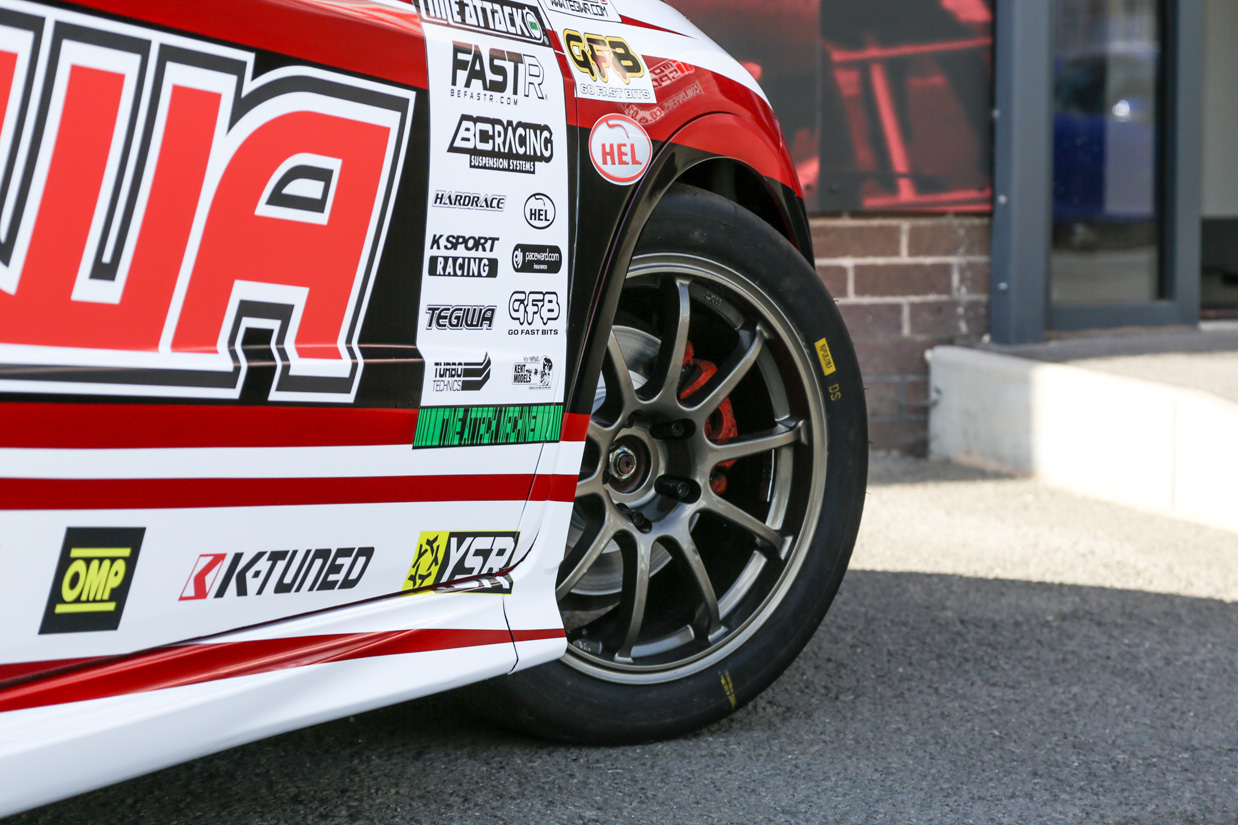 Interior 
At first glance it's fair to say there's not much left of the interior. As its sole purpose is to be as fast as possible, anything that isn't needed has been ripped out on a mission to save weight. A Safety Devices Bolt-In cage has been added to ensure driver safety should the worst happen, and also meet mandatory requirements when racing in most series in the UK.
A RRS Grip 2 bucket seat with an OMP 6-point harness will keep Luke, our driver, firmly held in place. We've also installed a RRS EcoFirex 4.25 litre fire extinguisher to keep in-line with regulations. The interior is finished off with a RRS Traject 330mm steering wheel which is mated to a HKB steering wheel boss kit.
Exterior 
The outside of the car remains largely standard other than the bespoke livery designed in-house here at Tegiwa and installed by Chris and his team from CN Signs. Keeping the original theme of the Tegiwa FN2 from 2014, the new wrap has slightly more going on and an influx of fluorescent yellow accents to make sure it can't be missed on the track!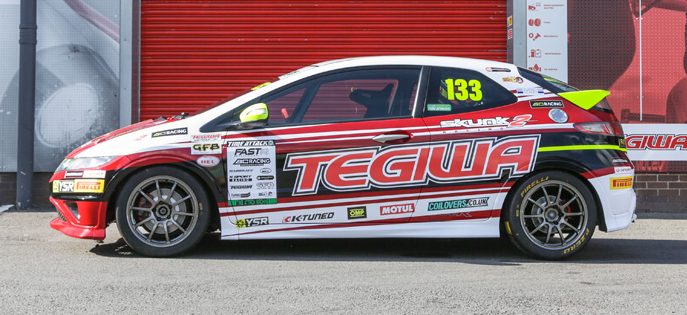 We'd like to give a big shout out to Rob Baker and his team at Area Motorsport for building this car as well as our awesome sponsors who always go above and beyond to help us out: