Get involved in one of the UK's most hotly contested motorsport championships
You'd be hard pushed to find something that gets the adrenaline going like the thrill of racing in motorsport. Even as a mere bystander it's exciting to watch, as you imagine what it'd be like to pilot a race car and hit those apex's at just the right spot to put in the perfect lap.

Well, you don't have to imagine anymore, as we present the 750 Motor Club Tegiwa Type R Trophy Foundation Programme.
Why the Type R Trophy?
Let's start by talking about the Type R Trophy itself. As you may be aware, there's a huge plethora of club level championships out there so it might be a pretty daunting task when it comes to choosing what you'd like to race in. The Type R Trophy is one of the UK's closest one-make hot hatch formulae, with all competitors required to run the same specification of car it gives the drivers a level playing field to prove what they're capable of out on track.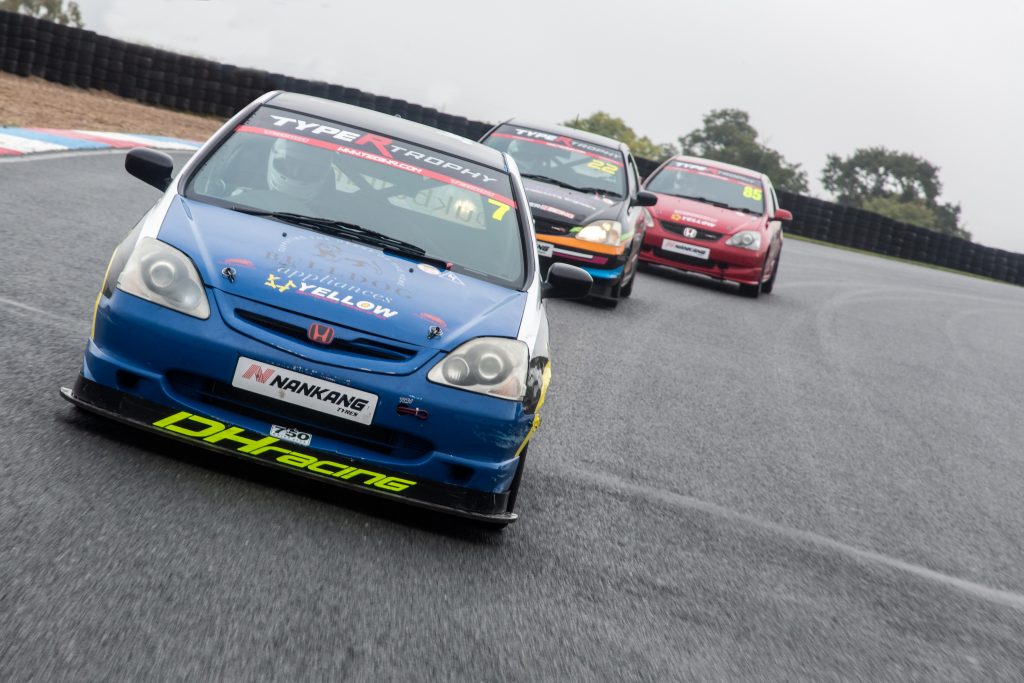 It's also one of the best value for money formulae's too, with the K20 engine of the EP3 being one of the most reliable performance engines ever made and a single control tyre meaning you've not got to buy separate tyres for wet and dry conditions.
As title sponsors to the Type R Trophy, we contribute with giveaway raffles at every race weekend. Prizes can range from a pair of tyres to a set of brake pads, which is sure to help you out over the course of the season!
What's the foundation programme?
The 750MC Tegiwa Type R Trophy Foundation Programme is new for 2021 and aims to provide an easy and cost-effective route into the world of motorsport. What's more is that you don't have to deal with the hassle of purchasing and building the car, as we'll do that for you. Once you've secured your spot on the programme, we'll do the leg work for you and keep you posted with updates along the way until we're ready to hand the car over to you!
There are two packages available, novice and license holder, which one you choose will be dependent on whether you already hold a race license or not.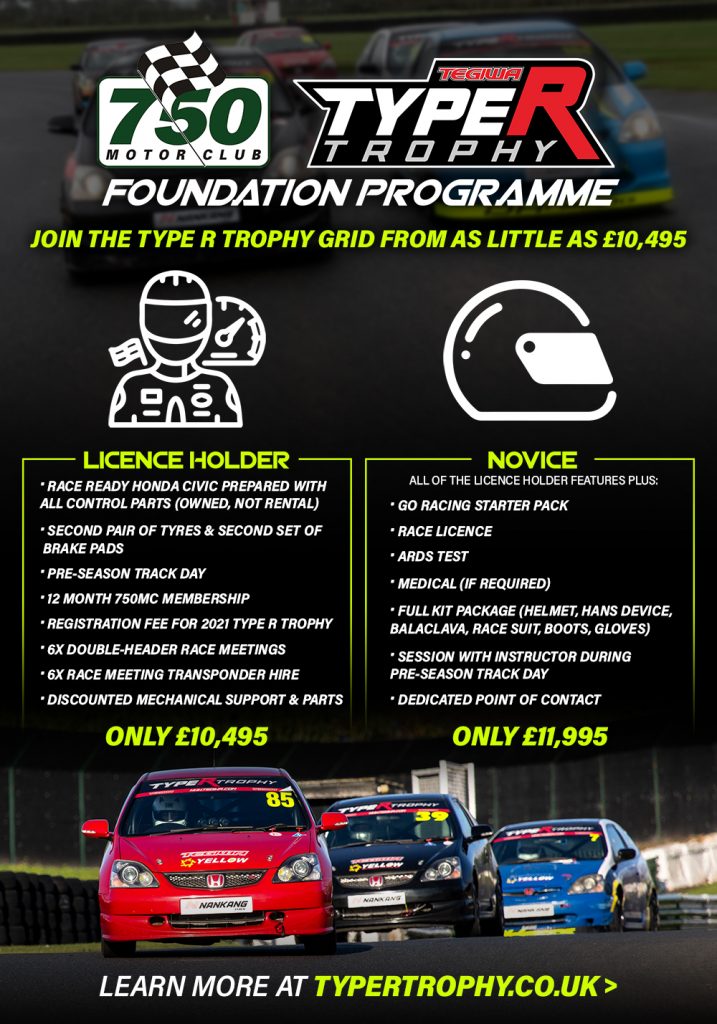 Let's start by taking a look at the license holder package, this is for those of you that have already attained your race license. You'll get your very own race-ready EP3 Honda Civic as well as entry for all rounds of the 2021 season from only £10,495 which represents excellent value for money considering that a decent EP3 will set you back within the region of around £4-£5k plus the cost of buying the parts to get the car to specification and then the labour to get them installed. The work will be carried out by a Honda racing specialist such as Area Motorsport, DH Racing or Motion Motorsport so you can rest assured that it'll be built to the highest of order. Not only will you own a race car at the end of the programme, you'll also get two addition MRF control tyres, a second set of brake pads (both front and back) and a pre-season track day included too!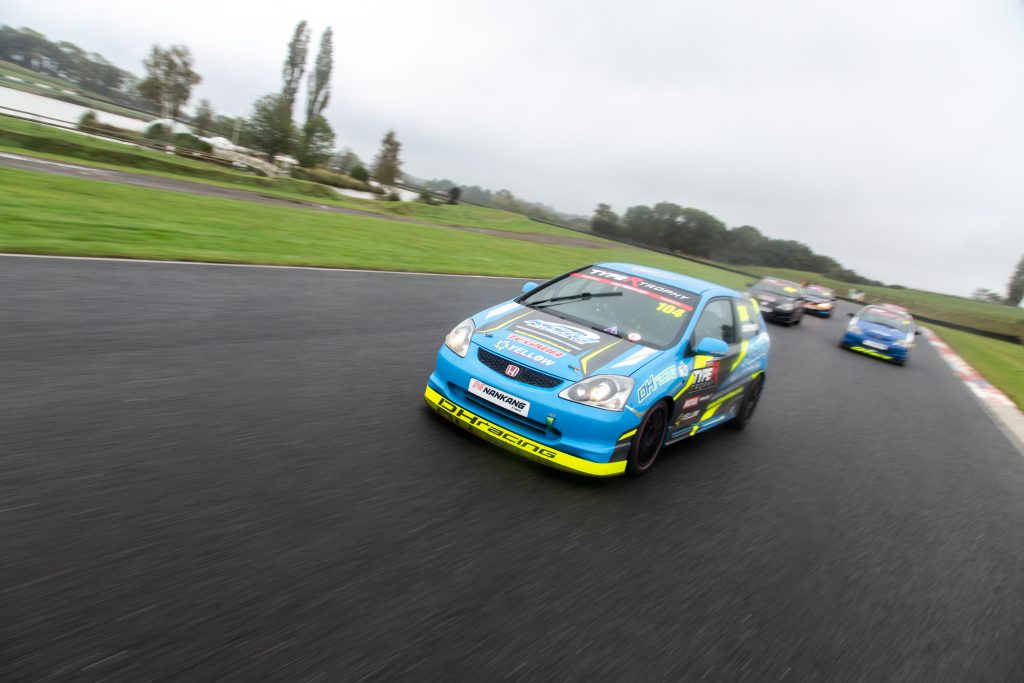 No race license, no problem!
With the novice package you get all of the features listed above for a license holder with the addition of the Go Racing pack, which is the starting point for gaining a 'Race Interclub' license in the UK. You'll also get an ARDS test, medical or eye test, and a full race kit too! With the cost of this package being only £11,995 this is fantastic and stress-free way to get into motorsport all whilst comfortable in the knowledge that you'll have ownership of a race ready car at the end of it!
We've already had a number of competitors take advantage of this incredible programme, with work already well underway on this Nighthawk Black Civic to transform it into a potential race winning car!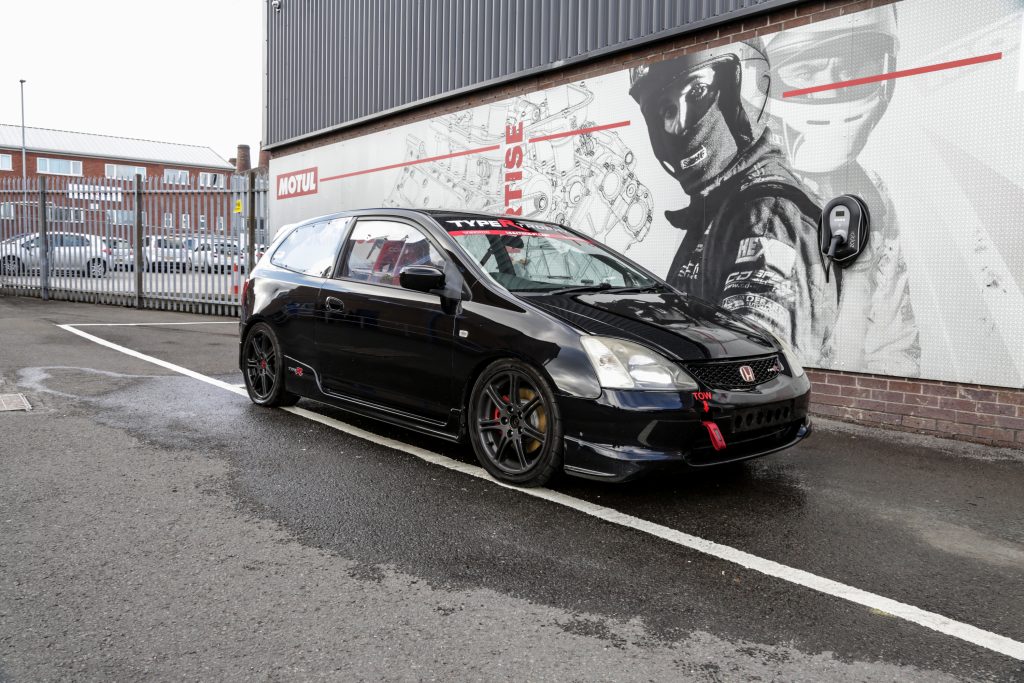 Interested?
Interested in getting involved or want more information? Check out the foundation programme guide here, or get in contact with us to secure your spot.