British GT – Round 6 – Donington Park
This weekend saw us head to Donington Park for Round 6 of British GT. Once again, we'd teamed up with the 2018 GT4 champions, Century Motorsport who were looking after our M4 GT4 for us and making sure it was in tip top condition for our drivers Luke Sedzikowski and Dave Whitmore.
Free Practice Sessions
Saturday saw two official practice sessions take place along with some pit stop simulations for good measure too. Of course, Luke and Dave were super excited to get back behind the wheel and with a test day under their belt prior to this weekend, that really helped them get back up to pace quickly.
FP1 saw the M4 of Tegiwa finish a mere 0.02 seconds behind the other Century Motorsport ran M4 that was piloted by Ben Hurt and Adam Hatfield. Every session that our drivers were out on track, saw them gaining valuable knowledge of the handling characteristics of the car and learn the grip levels of driving on slick tyres, as it's worth noting that neither Dave nor Luke have any real experience of driving on these tyres previously.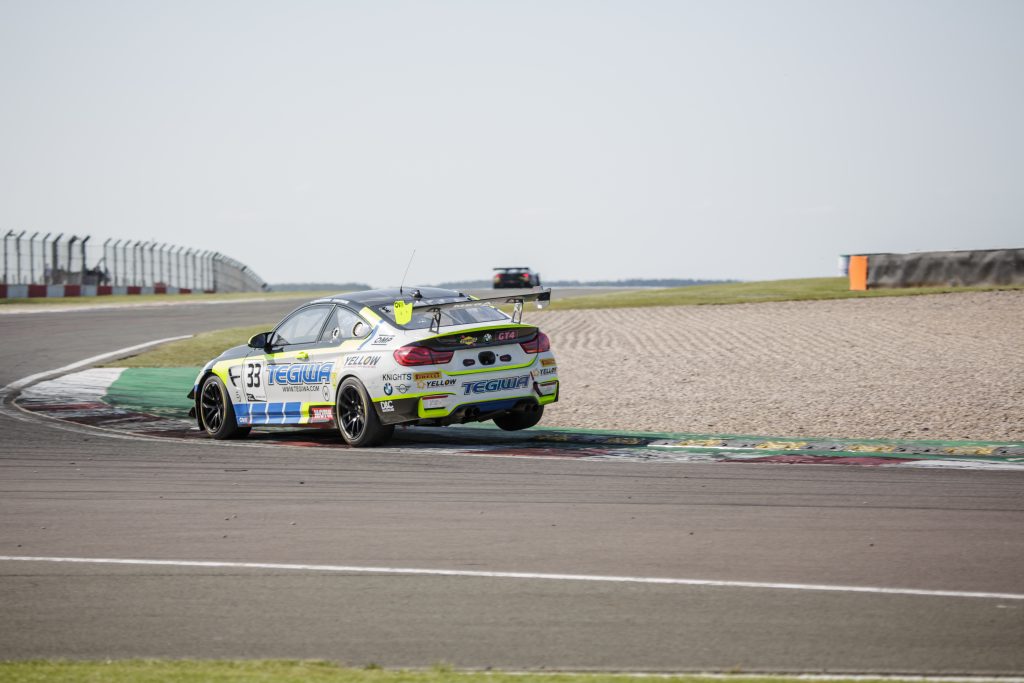 FP2 proved even more promising with the guys shaving a whole three tenths of their previous fastest lap and now well into the 1:37's after having a fresh set of slicks fitted. Luke jumped back in for the end of the session and got stuck in, commenting on how great the car felt and topping his time from FP1 and finishing within 2 tenths of the other M4.
Qualifying
British GT qualifying is always a challenge compared to club level qualifying sessions due to only having 4 laps to get up to pace and put a decent time in. On the final lap of qualifying Luke was 0.6 seconds up when one of the McLaren's engine blew up in front of him and dumped all of its oil over the track heading into the Melbourne Loop. With an entry speed of 118mph into the chicane and the brakes being as good as useless over the oil laden surface, Luke soon became a passenger as he skimmed across the gravel trap and into the barrier with a 5G impact. Fortunately for us, BMW Motorsport had a lorry full of M4 and M6 spares that they'd sent over from the factory in Germany, so sourcing the parts was easier than expected.
A massive thanks has to go to the Century Motorsport team who worked tirelessly until 3am to get the car straight and back out for the Sunday morning warm up session.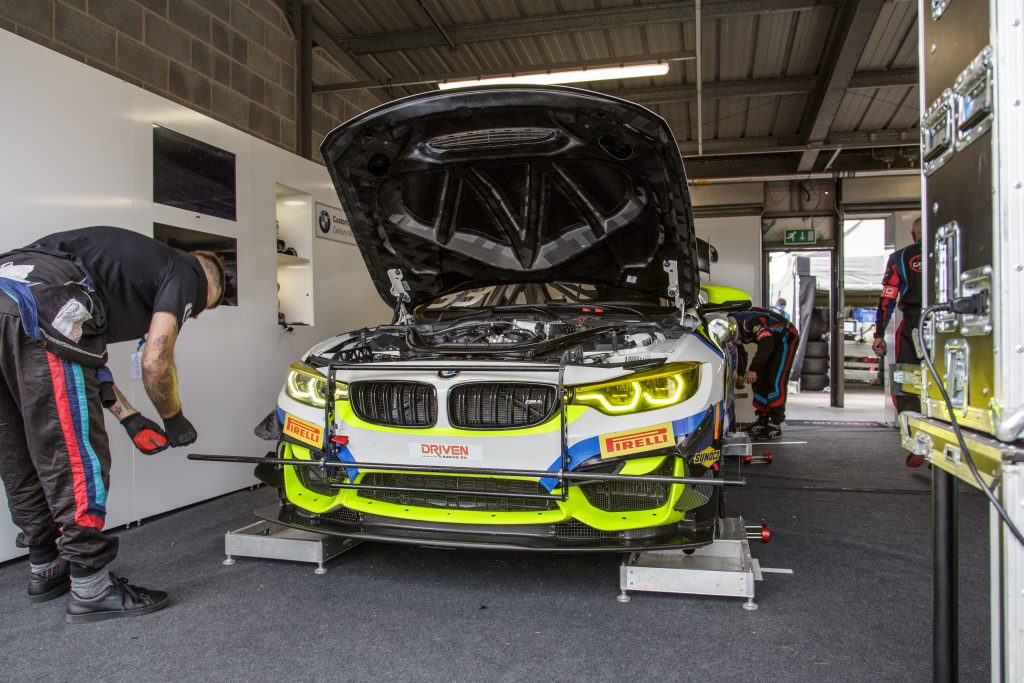 Race Day
With a quick warm up session on the Sunday morning, both Luke and Dave commented on how great the car felt again despite the damage it had taken the day before. Dave was the selected driver to carry out the first stint of the 3-hour race and headed out onto the track to take up his 8th place position on the grid, just ahead of the Toyota Supra of Speedworks Motorsport.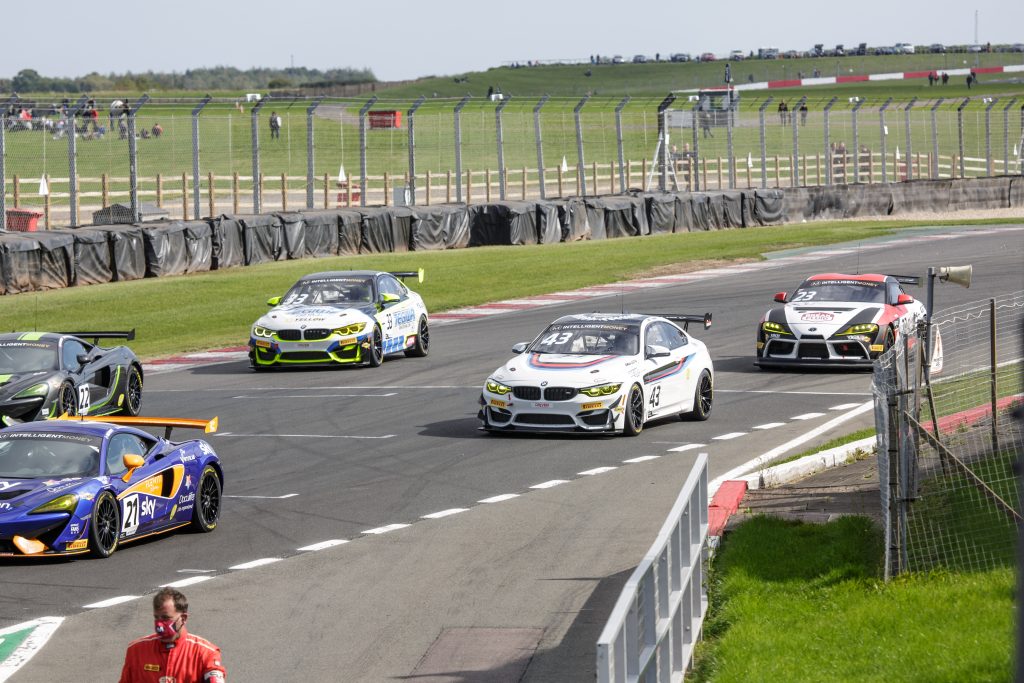 Both Luke and Dave were getting quicker and quicker, with the lap times dropping throughout the duration of the race. However, two thirds of the way through, a driveshaft issue meant that the car had to return to the pits for the problem to be resolved which meant that we lost 22 laps to the car in front. The team at Century managed to rectify the problem and get the car back out for the final 40 minutes or so left of the race.
We eventually finished in 22nd place overall and 9th in the GT4 class. The pair didn't go home empty handed – check out these awesome trophies that they were both presented with.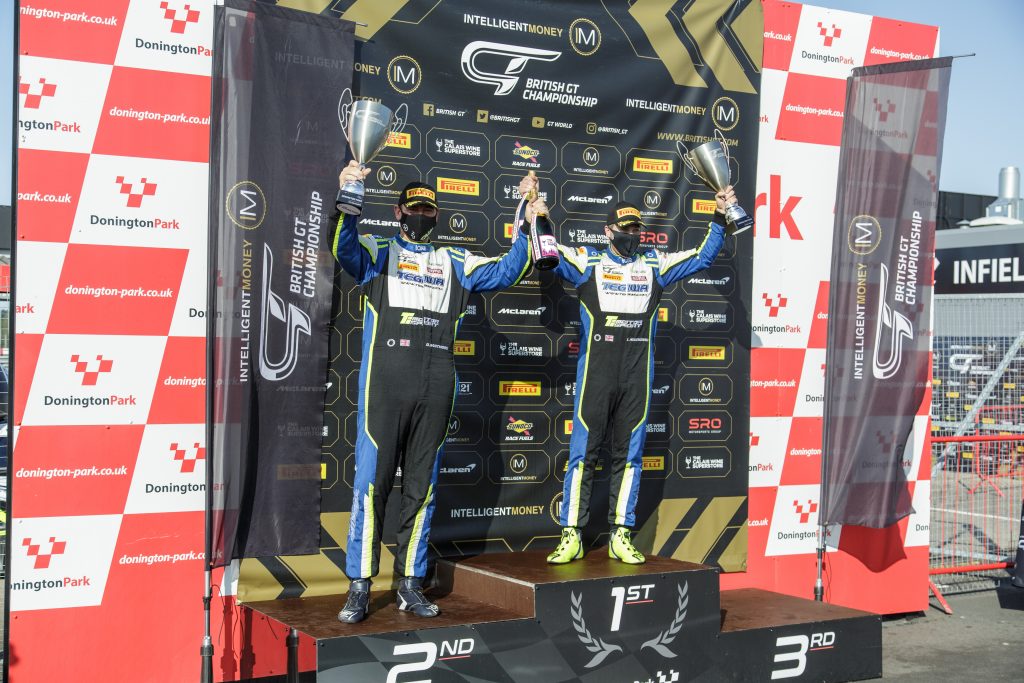 Thanks to…
It truly is a great experience and honour to be involved with such a prestigious championship and everybody involved had an incredible weekend. Again, a massive thanks to the guys and girls at Century Motorsport for all their hard work and late-night efforts getting the car ready to race again!
Finally, we'd like to thank our incredible sponsors; Yellow Speed Racing, Coilovers.co.uk, Motul, OMP and Knights BMW, without whom it wouldn't be possible to go racing. If you're interested in getting your brand exposed to hundreds and thousands of people and being involved with the pinnacle of motorsport in the UK, then get in contact us to discuss how we can make this happen.
If you're keen for more Tegiwa British GT content, then stay tuned to our YouTube channel to see the upcoming highlights and on-board video footage from Donington Park! As always, you can check out all of the photos from the weekend in the Flickr gallery below.