Tegiwa BMW M8 GTE Championship – R5 Snetterton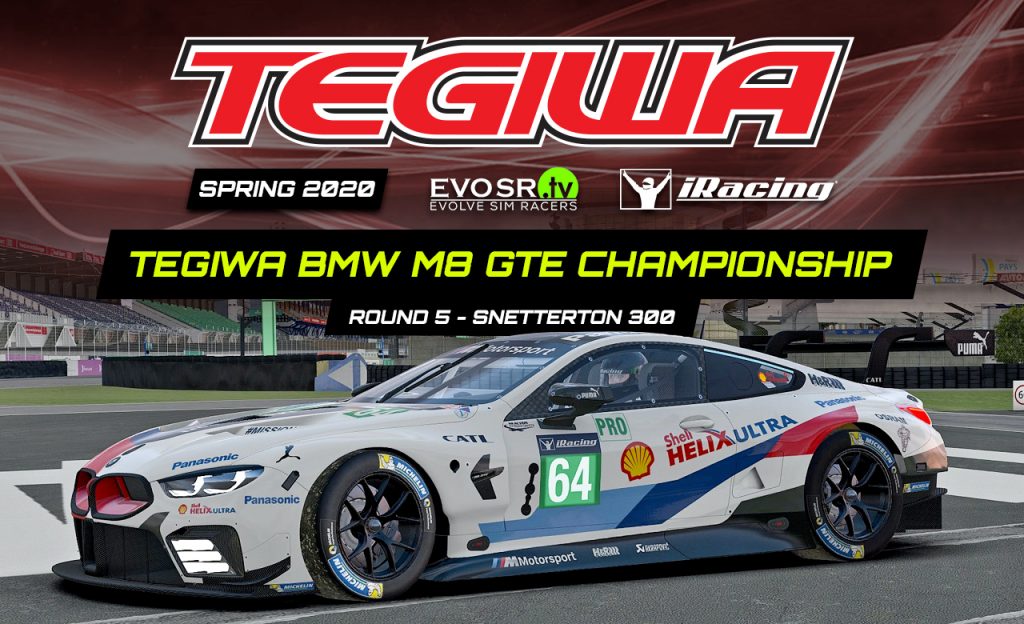 We've just watched the final round of the season in the Tegiwa BMW M8 GTE Championship take place at Snetterton. It's been a fantastic season with plenty of action and drama on offer in all 5 rounds. If you'd like to watch the season back, then check out EvoSR TV's YouTube channel with coverage of all rounds. If you missed out on last nights action, then you can check it out here.
Race 1
We kept the same format that we used from Oulton Park last week, with 2 separate qualifying sessions and 2 races which made for double the championship points up for grabs. It was the usual suspects that made up the top 4 places on the grid in race 1, with Lewis Bibby leading from the start to claim his first victory of the evening. Rob Baker managed to climb from 3rd to 2nd but unfortunately an off saw him gift the place to Jake Hewlett who eventually finished in 2nd place. Baker, managed to send his damaged car acroos the line to finish in 3rd place.
Race 2
With all to play for in Race 2 and the championship title still firmly up for the taking, Bibby once again stuck his car on pole position. Rob Baker pulled out a cracking lap at the death to make for an Evo 1, 2 and Hewlett finished closely behind in 3rd place. A relatively uneventful race for the guys up top saw Bibby claim his second victory of the evening whilst Hewlett had got past Baker to take 2nd spot and ultimately claim the championship.
There wasn't much in it in terms of points when it comes to the final championship standings, with Jake Hewlett clinching it by just 5 points from Lewis Bibby. Meanwhile, Rob Baker took 3rd place and Pete Harrod finished in 4th place respectively.
The Tegiwa lads all managed to finish inside the top 20 spots, with Jim Forsyth finishing in 12th spot, narrowly missing out on a top 10 finish by a mere 2 points. Connor Sheldon sits just behind him by 1 point in 13th place, whilst Luke Sedzikowski, the race organiser, ends up in 16th place.
Final Championship Standings
We'd like to give a shout out to Tom and James from EvoSR and all their hard work they've put into the YouTube stream. Finally, thanks to everyone who's taken part in the Spring 2020 season, we hope you've all enjoyed it as much as we have!