Tegiwa BMW M8 GTE Championship – R4 Oulton Park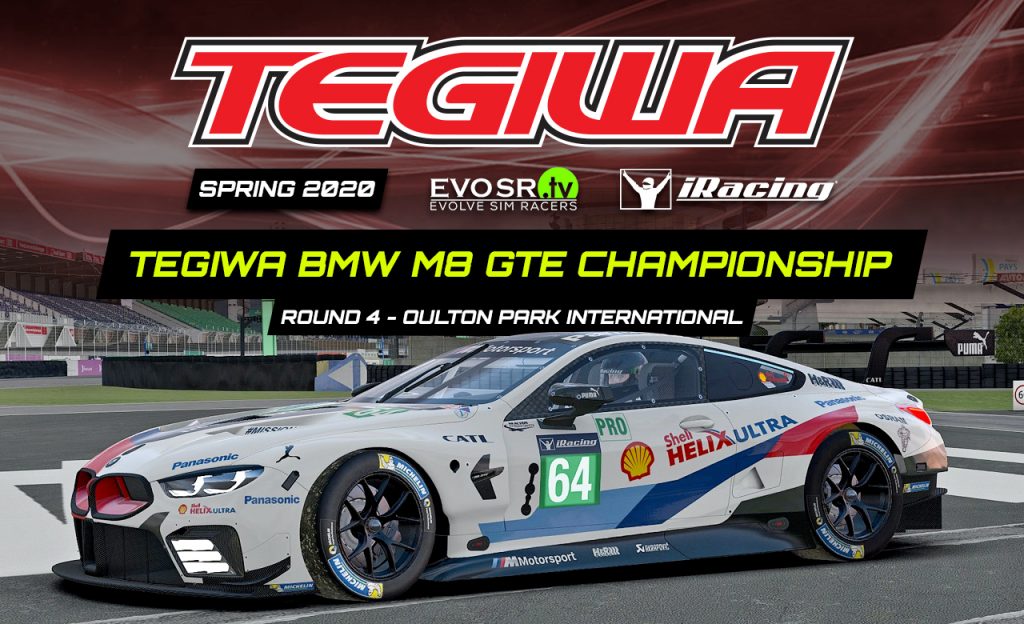 We've just seen the action from the penultimate race of the Tegiwa BMW M8 GTE Championship at Oulton Park and as we saw last week, the standings were as open as ever. We decided to spice it up this week, with 2 separate races meaning that double the championship points were on offer. Unfortunately one of the joint leaders, Pete Harrod, couldn't make the race so the rest of the pack were looking to capitalise and take as many points as they could to make up the gap at the top.
Race 1
The opening race saw Jake Hewlett take pole position and manage the lead to the chequered flag as he took victory. Adam Shepherd put in a storming lap to take 2nd place but got caught in a tangle which saw him drop down the field. It was Bibby who climbed 2 places and eventually took 2nd place, followed by Ben Sharpe in 3rd place.
Race 2
Race 2 saw Rob Baker take the front spot in qualifying with a very impressive 1:30.317, he was closely followed by Jake Hewlett who was keen to take as many points as possible to fight for victory in the championship.
For those that aren't familiar with sim racing, then this would be the perfect showcase of what it's all about. A super clean race between the front 3 of Baker, Hewlett and Bibby made for some real, nail-biting drama with all 3 drivers racing neck and neck and giving each other the respect they all deserved. However, at a track as tight and complex as Oulton Park, contact was pretty much inevitable when racing that closely. A tangle of the 3 front runners saw Bibby drop down the order into 5th place whilst Baker and Hewlett managed to retain their respective positions in 1st and 2nd. This enabled Ben Sharpe to seal a double podium as he eventually finished in 3rd place again and landed himself a decent haul of points.
In case you missed out on the action, the race is available to watch on the EvoSR TV YouTube channel, or alternatively, click here. If you're only going to watch one race from this championship, then I highly recommend you check out race 2!
It was pretty much a day to forget for team Tegiwa, as Luke and Connor had no real luck. However, Jim secured his best finishes of the season, finishing 7th in race 1 and 10th in race 2. With only 2 points separating Jim and Connor in the standings and Luke only 5 points behind, it's going to be interesting to see who comes out on top as we head into the final round next week.
Championship Standings
We're back for the final round of action next Wednesday as the drivers battle it out at Snetterton on the 300 track layout. We'll be streaming once again on the EvoSR TV YouTube channel which you can subscribe to here. See you there!