Well here it is, the M4 is done… mostly.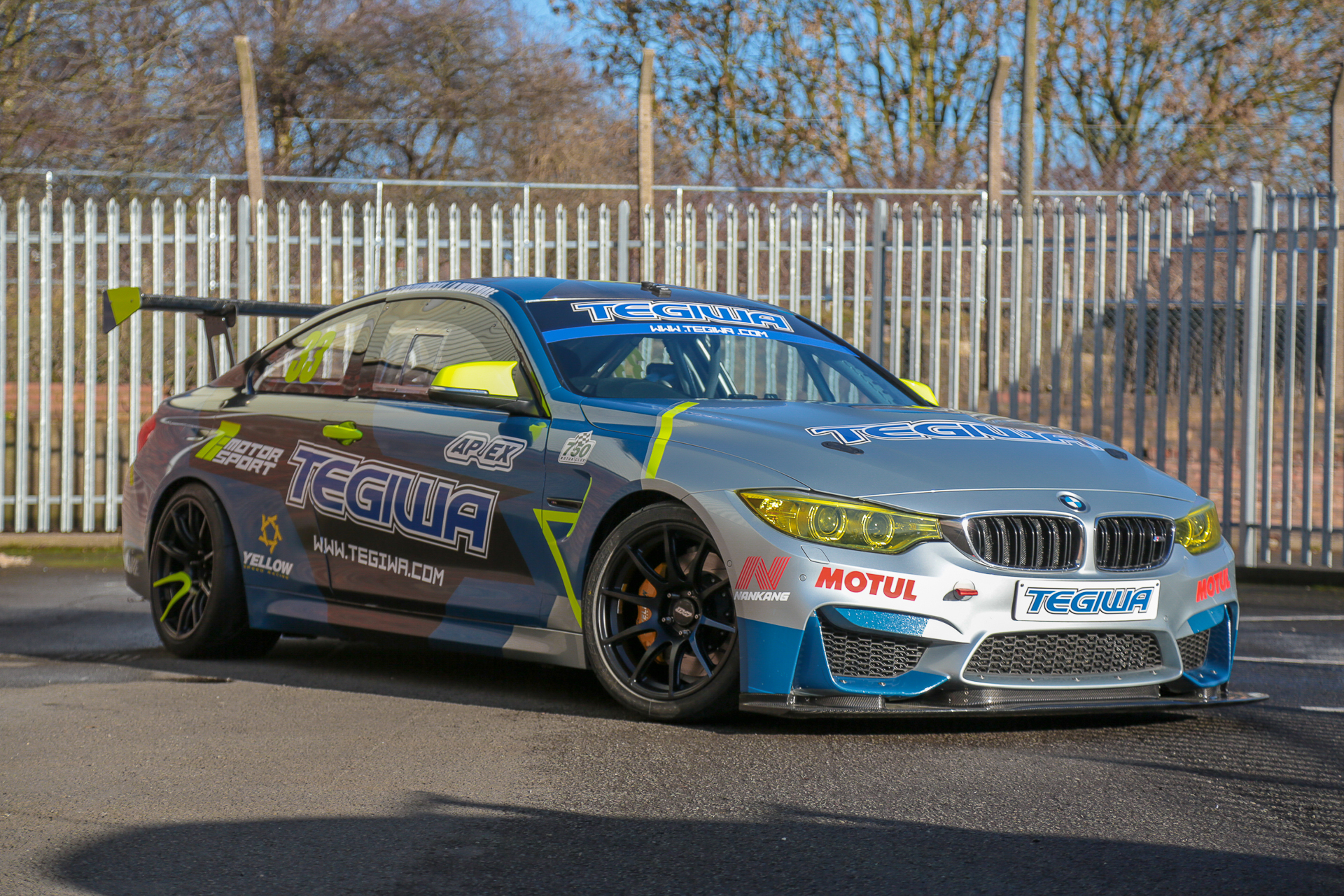 A project car is never done, and the same can be said for a race car. Right now, however, she's sitting pretty with a couple of minor jobs that need doing – otherwise its ready for the track. We'll get to the future, lets talk about the past first.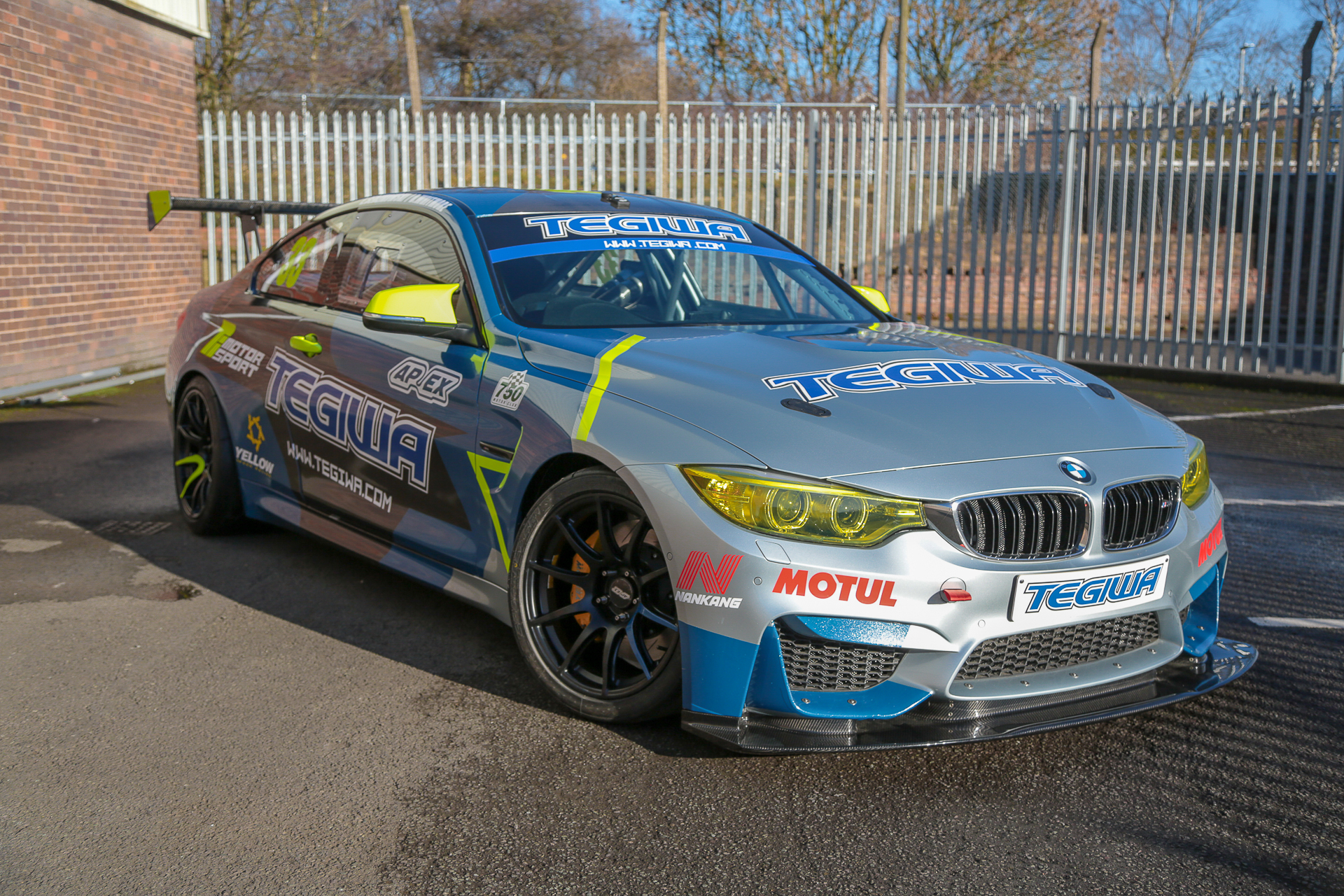 This car has certainly come a long way from a long way from the way it was in part one, even further from how it came to us. What was once your every day BMW M4, is now a bespoke endurance racer.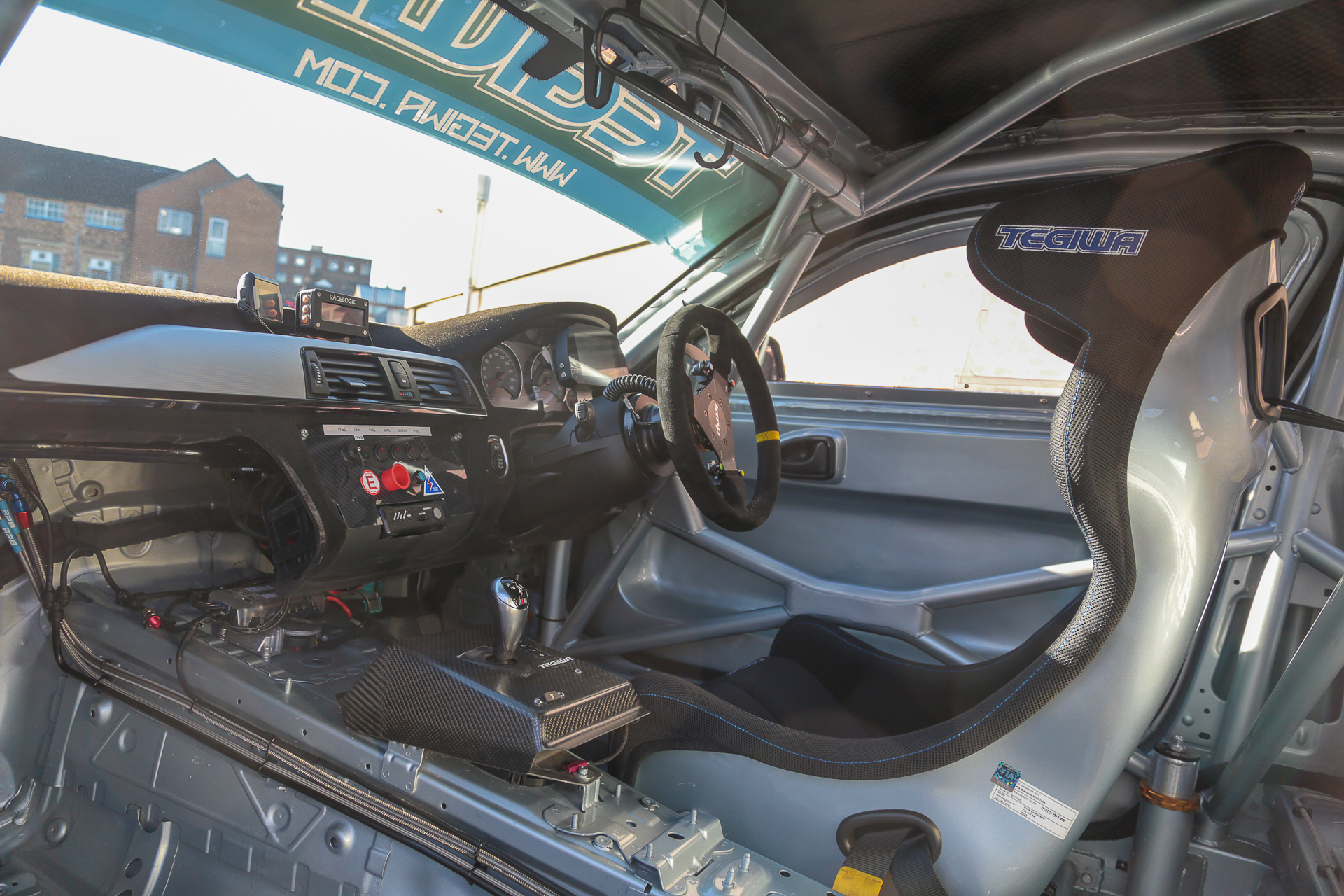 What lies beneath the newly wrapped bodywork is a largely factory S55, though we've been able to squeeze some more power out of it with our own decat downpipes. A lot of the mechanical differences have been on the suspension side of things, which this particular car has served as a testing bed for.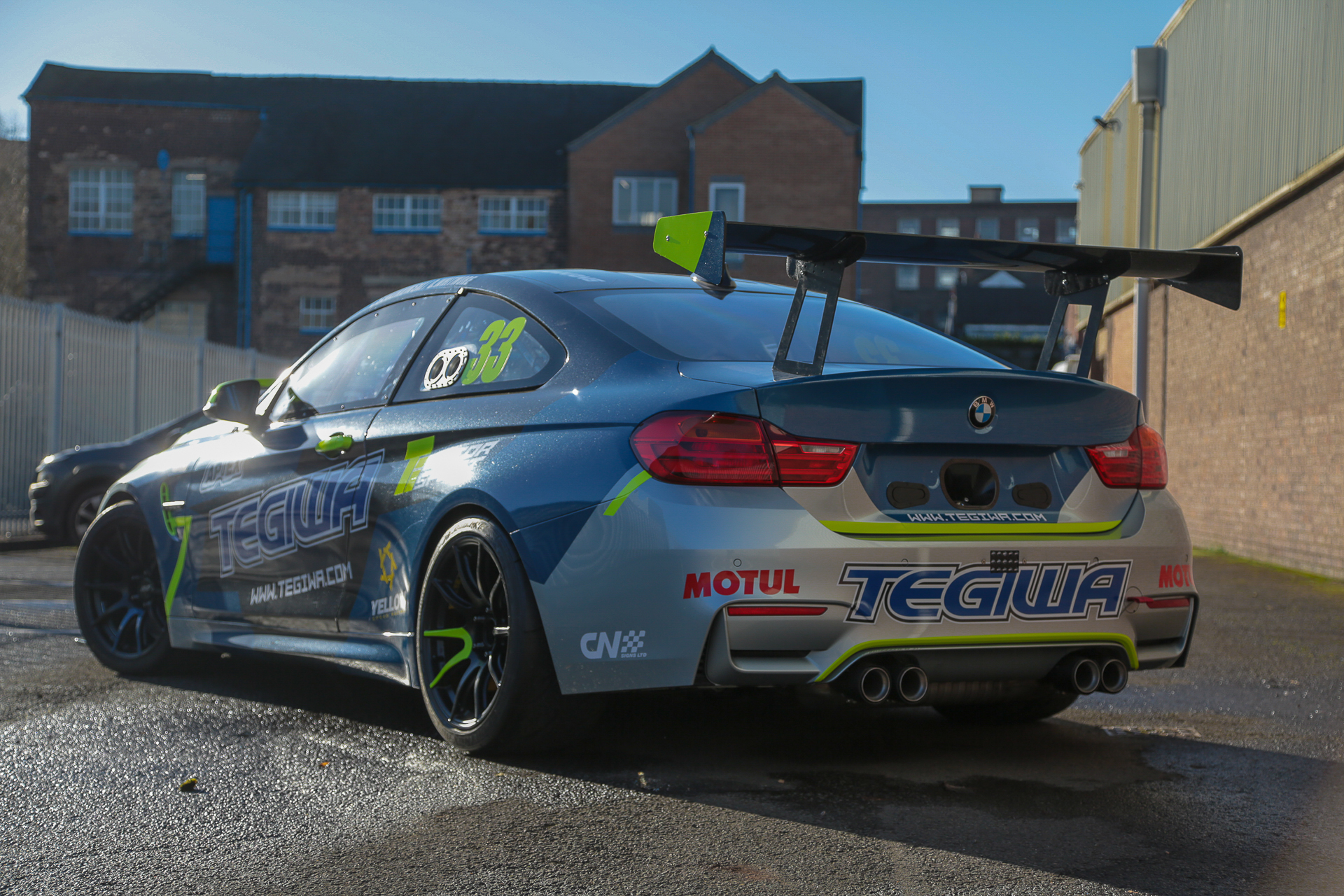 Our own parts extend beyond the decats though; camber and toe arms, tow strap, front splitter, spoiler, GRP doors and exhaust tips. As I said we're still testing some of these parts, but they'll be available to the public as soon as we're satisfied with their performance.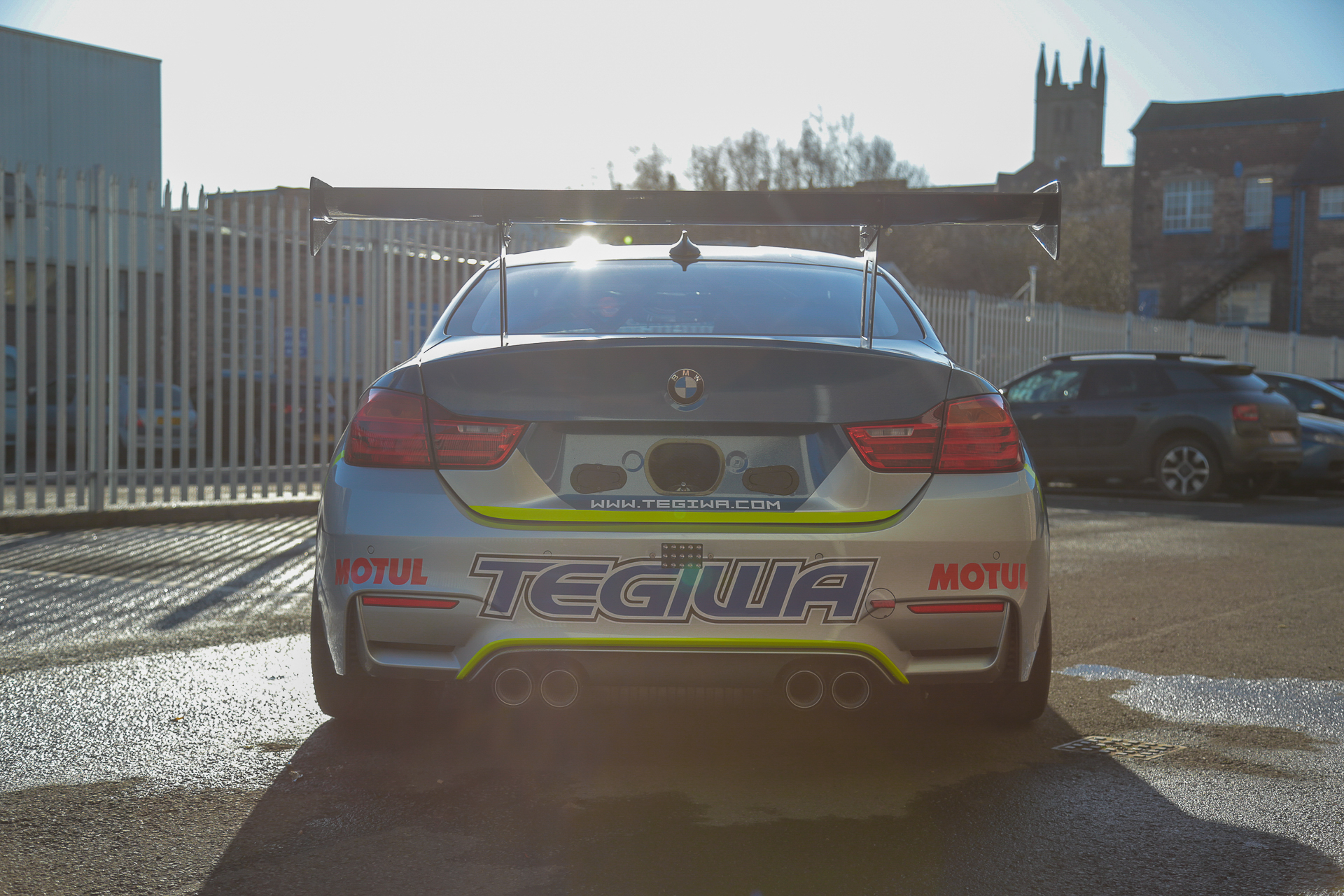 It hasn't been entirely our products exclusively though, you can see the satin black APEX SM-10 wheels adorning the car beautifully – giving the car an aggressive (and still very functional) look. These are wrapped in Nankang AR-1 semi-slicks, we've ran these on the rentals as well as the E92 M3, proving themselves to be very versatile tyres.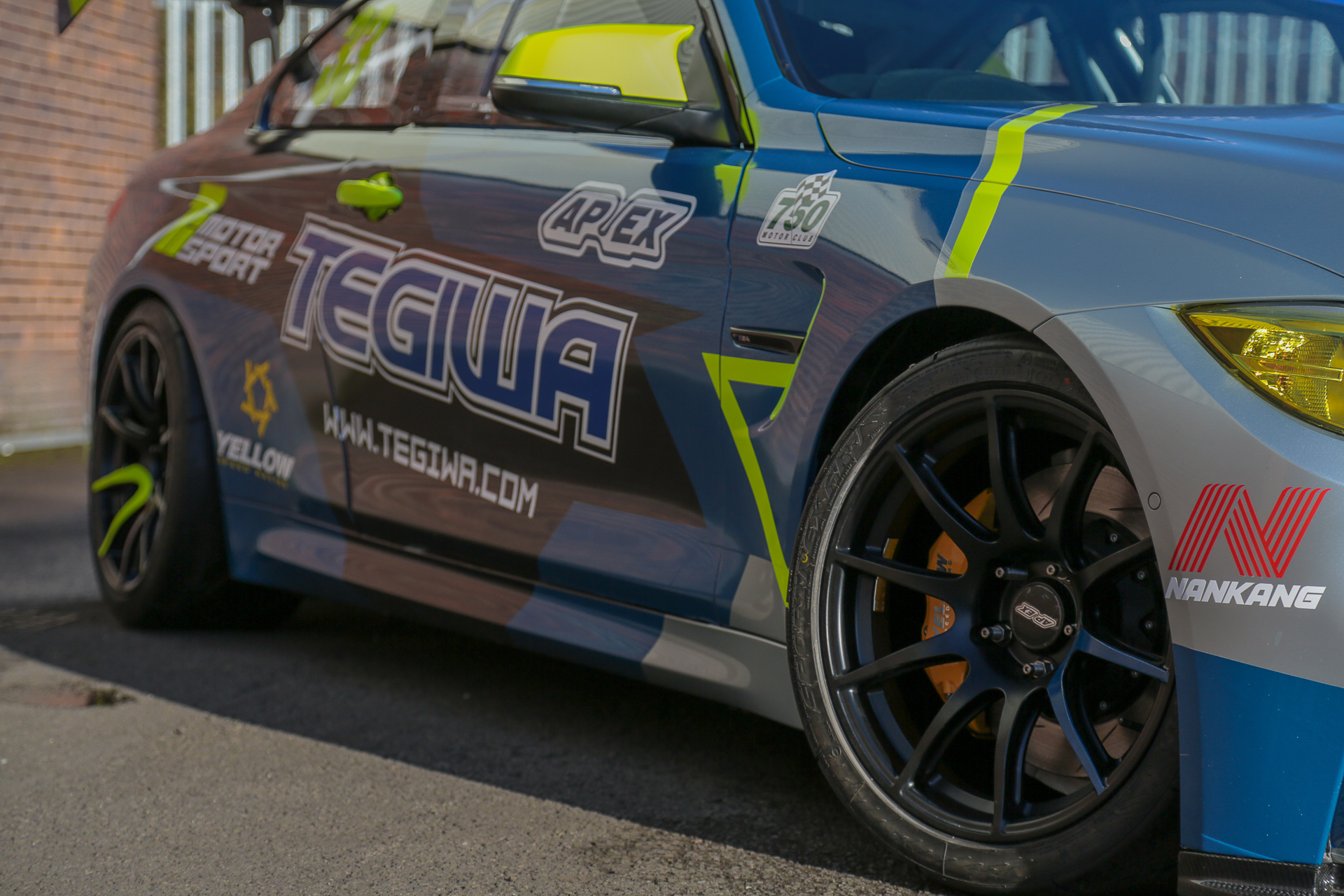 Looking inside we can see that the comfy cozy OEM interior has been stripped and optimized for weight saving, safety and stability. A custom embroidered Motordrive Race seat will keep Luke and Dave seated comfortably for those long stints on track, as well as a Schroth Endurance harness holding them in place.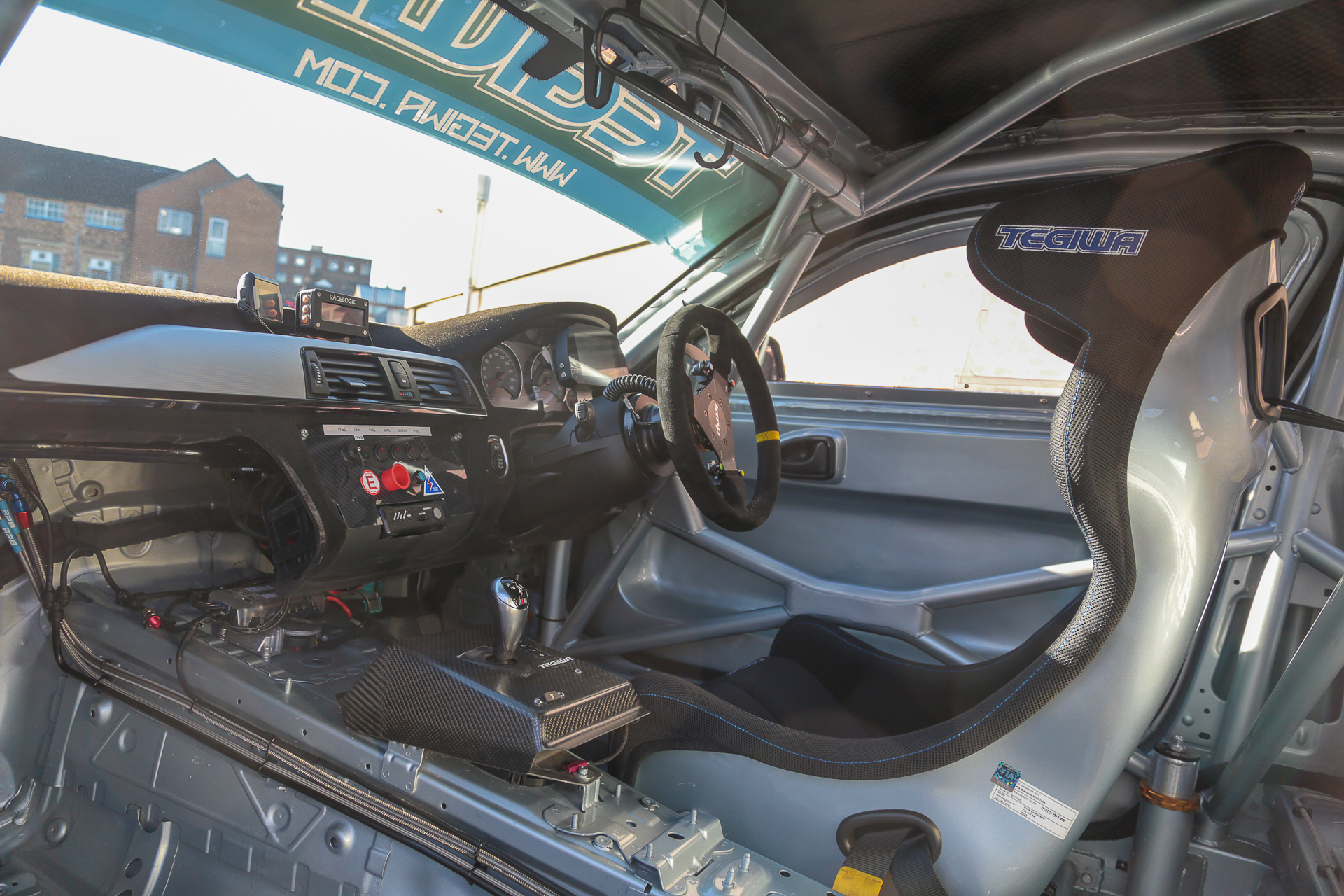 You can see on the steering column is the AIM MXS 1.2 digital dash, this also runs a Racelogic lap timer. This whole system also gives us telemetry in the pits, letting us know exactly how the car is performing on track. Decorating the flocked dash are various manual switches, for the manual controls in the car; rain light, fuel, wipers, etc. The carbon centre console also houses the comms, as well as the cut off safety switches required by 750 Motorclub regulations for Club Enduro.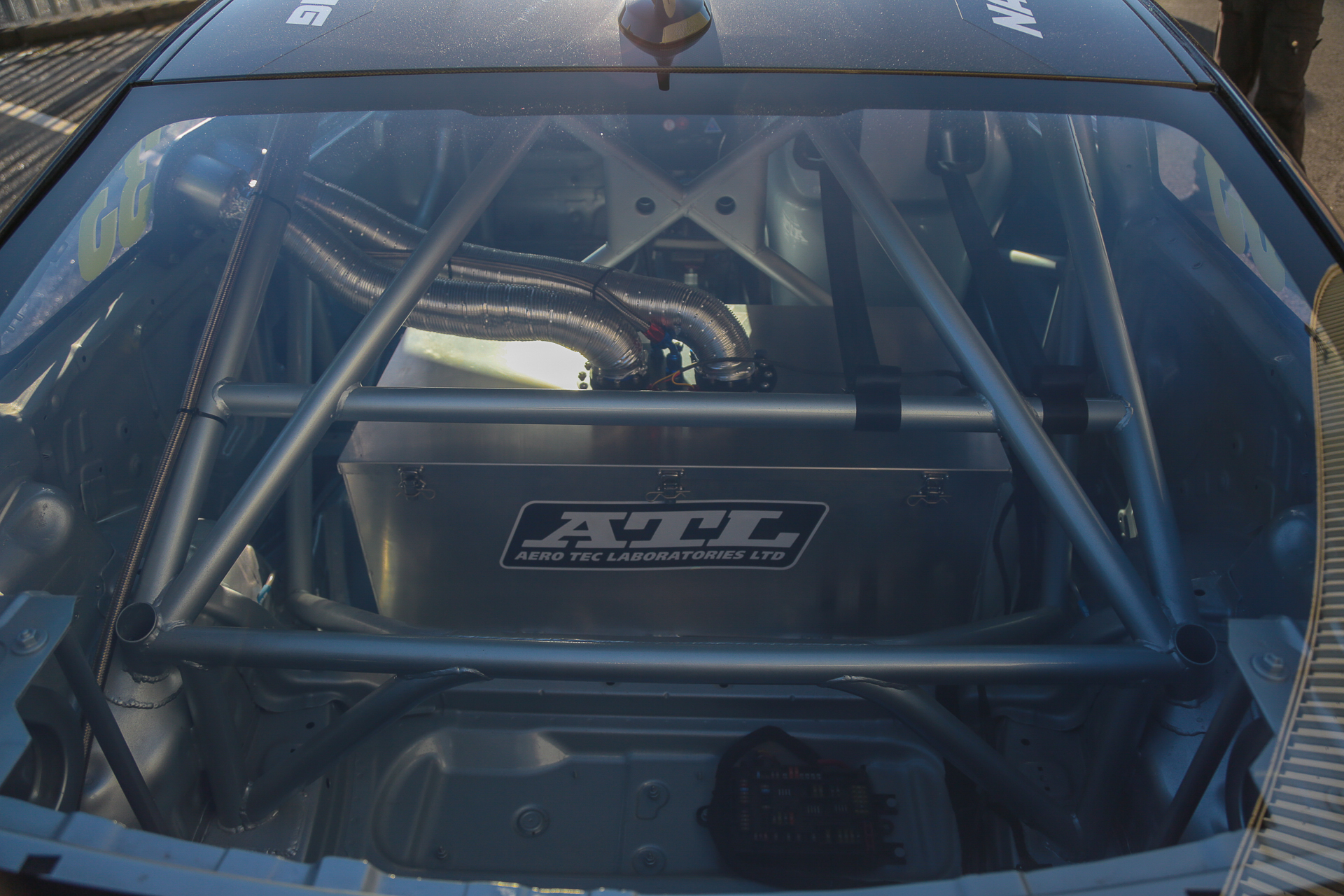 Tucked away in the rear is our Aero Tec Laboratories fuel cell, housing a 120L bladder, obviously fueling is a large part of endurance racing. This will be coupled with ATL's refuel rig, together this will make for efficient pit stops.
You can see surrounding the fuel cell, as well as the rest of the interior, is the Safety Devices roll cage. This cage is fully MSA compliant, and will protect each driver massively should it encounter a love tap on track.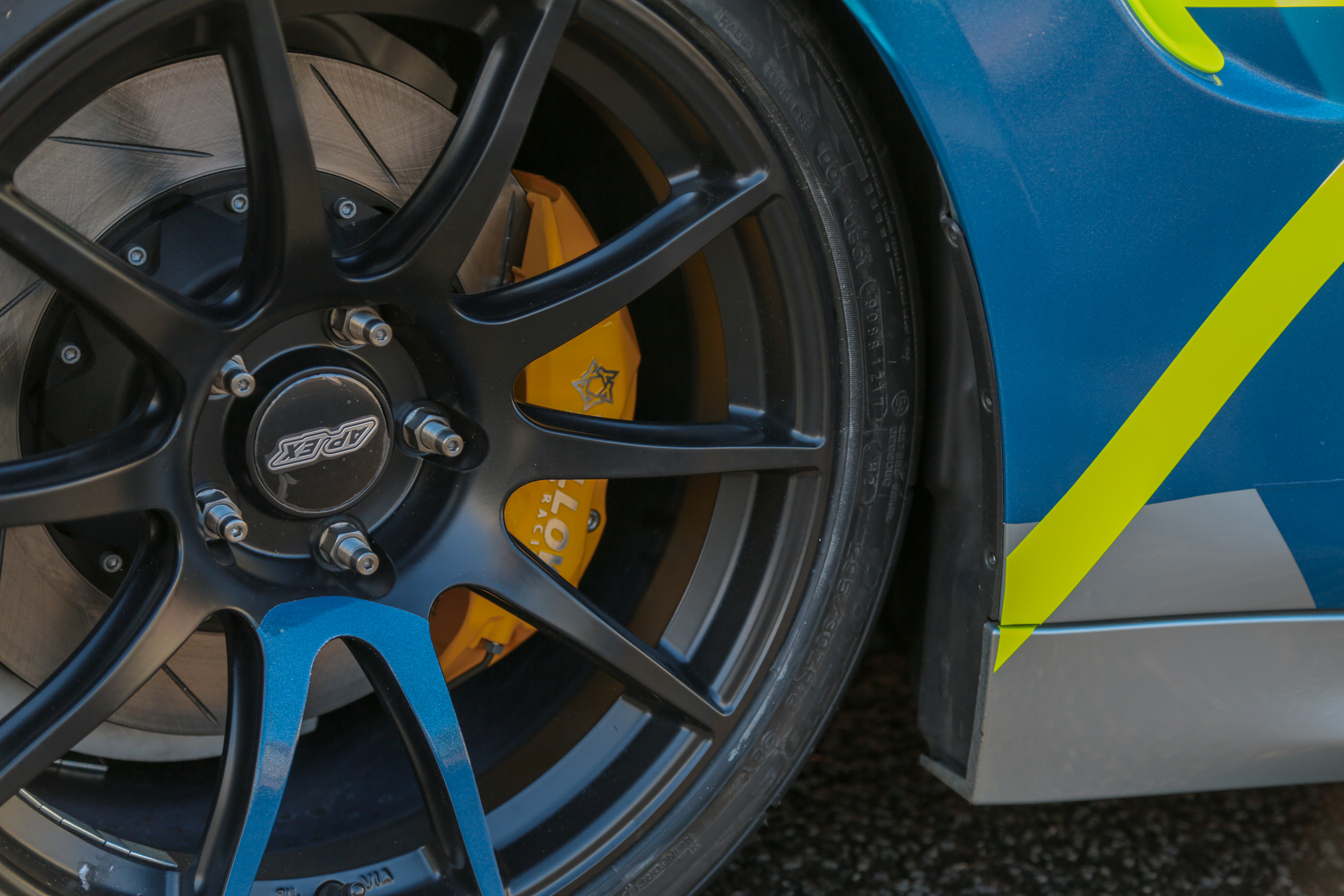 Peeking through the spokes are the Yellow Speed Racing BBK that'll be slowing the car down this season, we've used YSR's brakes for years now on a multitude of different track and race cars. Needless to say they are huge, but the 2-piece design makes them dead lightweight, lowering rotational mass substantially.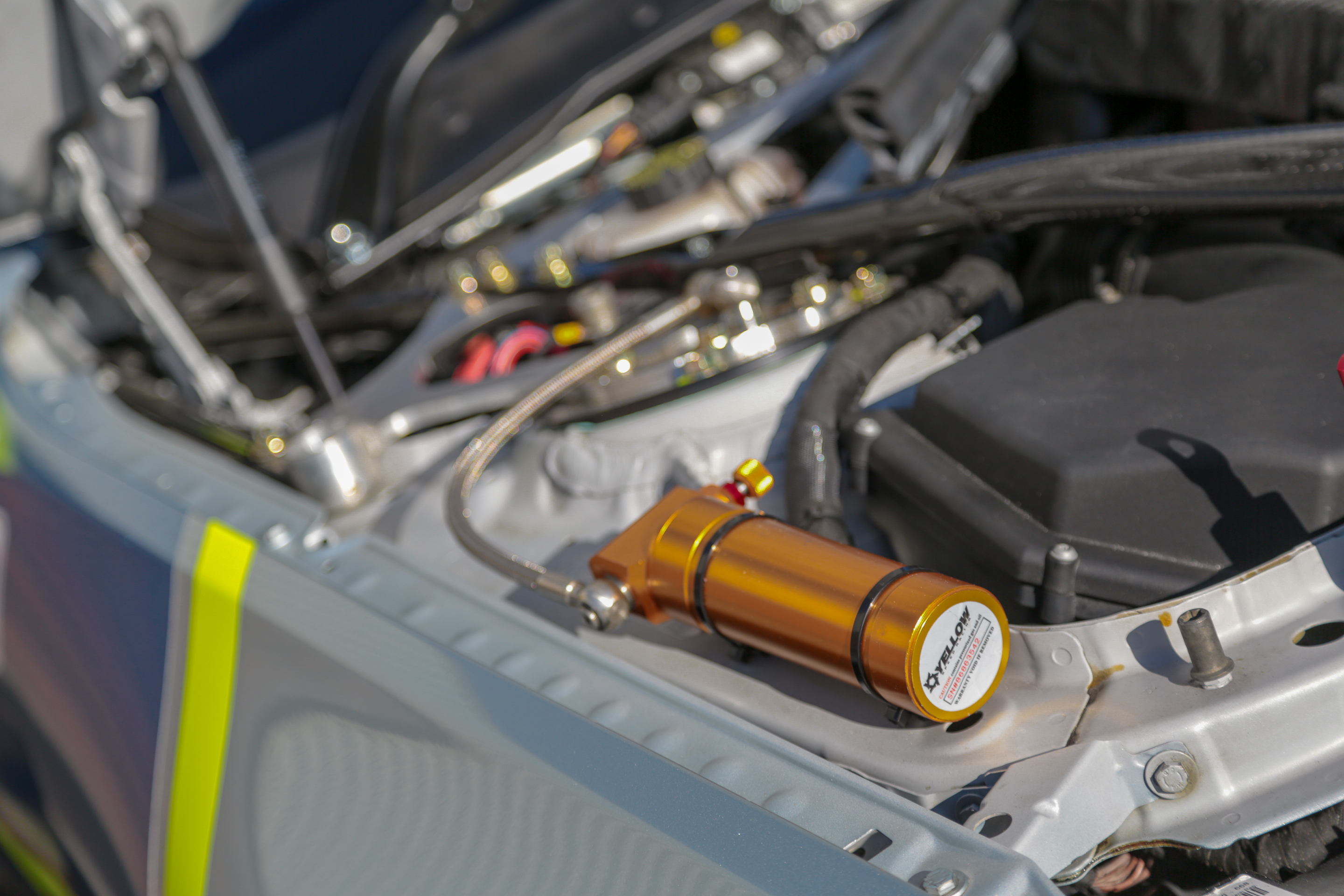 One of the first things you'll spot under the bonnet is a pair of external reservoirs, these are part of the YSR Pro Plus Racing suspension system that replaced the OEM units. You can imagine that whilst the M4 is a sports car, it is still a street car, ergo the suspension that came with it wouldn't have sufficed.
This Yellow Speed Racing kit allows us to have a massive range of adjustment for the dampening rates, as well as accommodating for high and low speed bump and rebound. Proper suspension is a game changer in any car, on track the importance of this is only heightened.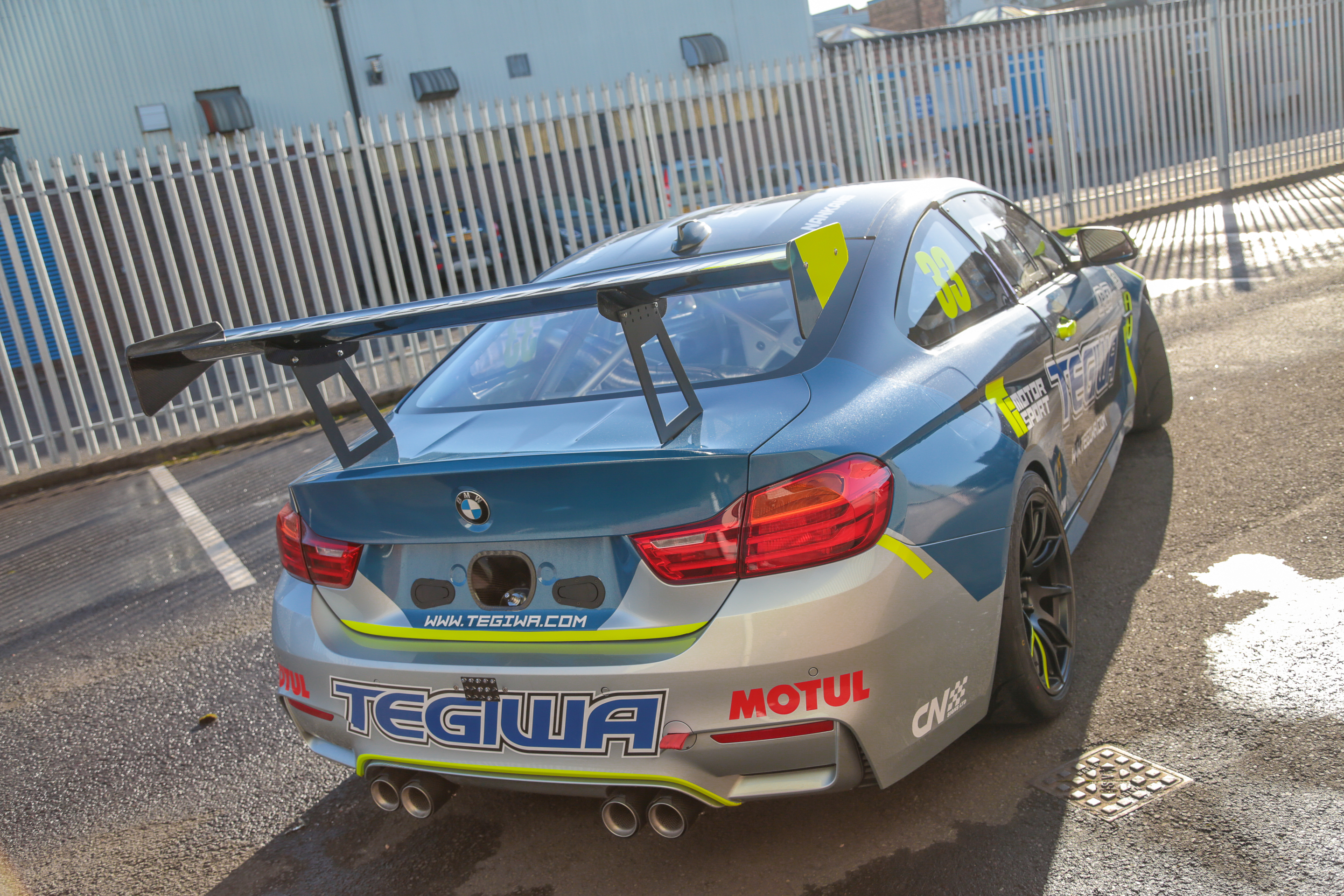 The wrap was completed by Chris and the guys at CN Signs, the final product looks incredible and certainly strands out from the crowd. Retaining the factory colour underneath the vinyl was a great choice, it complements the blues and makes for a very subtle but still screams race car.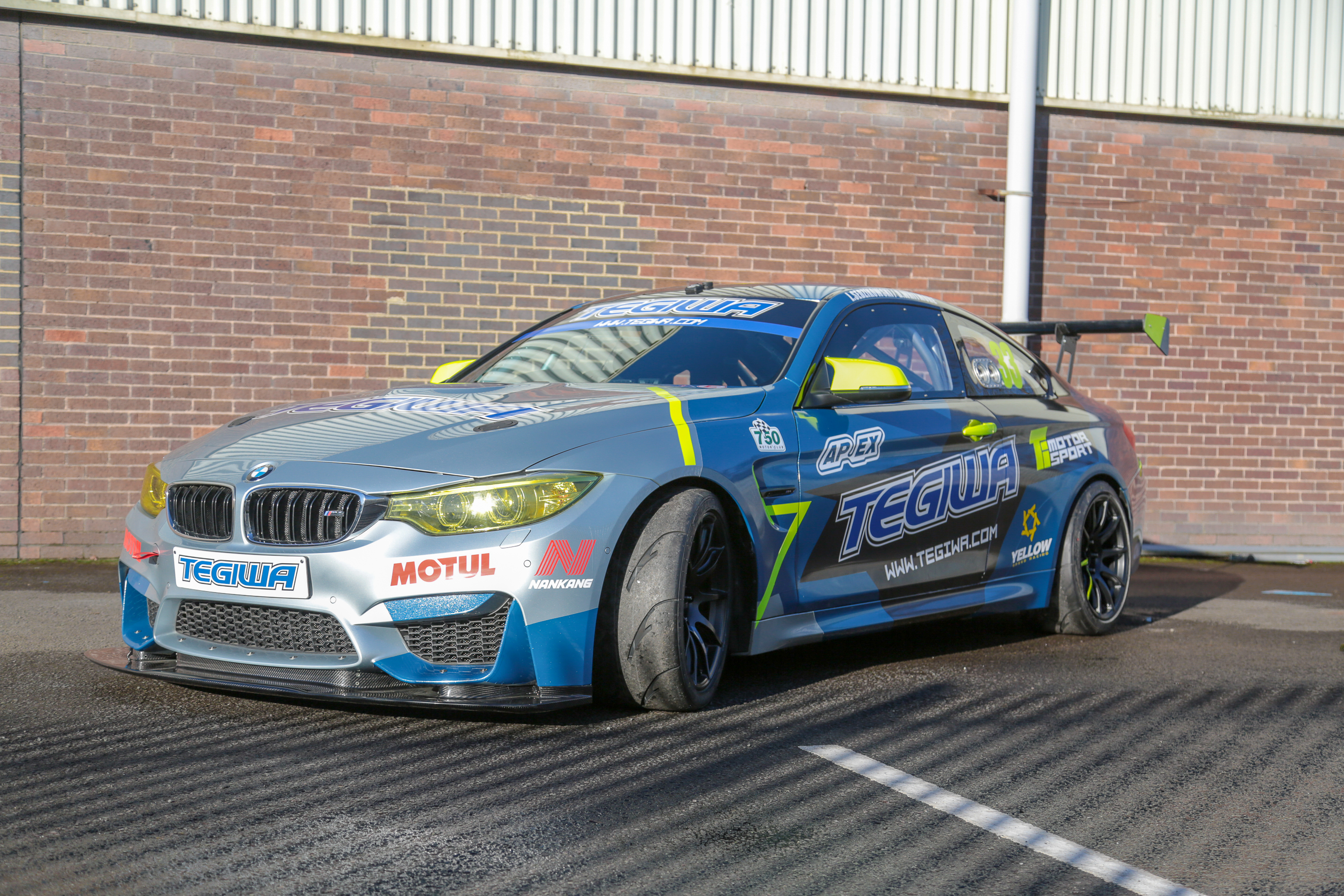 This has been a rather brief introduction to the car itself, we're now focusing on testing it. We'll be sure to share the results as well as any updates on the race season, this is going to be an interesting year for sure, we know that much. Thanks to all that have kept up with this, and to those who came and said hello at Autosport International.
As per usual I've included a Flickr gallery if you hit the image below, this is my own Flickr account and will have a few Tegiwa goings on throughout the year.