Last weekend the latest round of the Tegiwa Civic Cup took place at Rockingham – Europe's fastest racing circuit. The view for spectators here is epic, you can see every corner of the circuit no matter which grandstand you are in. The weather forecast gave out rain for the qualifying and race day (Saturday), but luckily the rain was kept at bay and overall the day was bright and dry. This was a confidence booster for the Civic Cup drivers as it meant they could warm up the Toyo R888 tyres and have faith in their remarkable gripping capabilities, allowing the drivers to keep their right foot planted and reaching up to speeds of 120mph on the Nascar inspired long sweeping left hander. Their are a number of different circuit layouts for various events, this particular event utilised the Longest layout, the International Long Circuit measuring in at 2.56 Miles. Area Motorsport made an appearance at the event in their immaculate Laguna Blue Honda Civic Type R EP3.
Results from Qualifying:
#1 – Luke Sedzikowski (Civic Type R EP3)
#2 – Richard Hockley (Civic EK)
#3 – Martin Coles (Civic EG)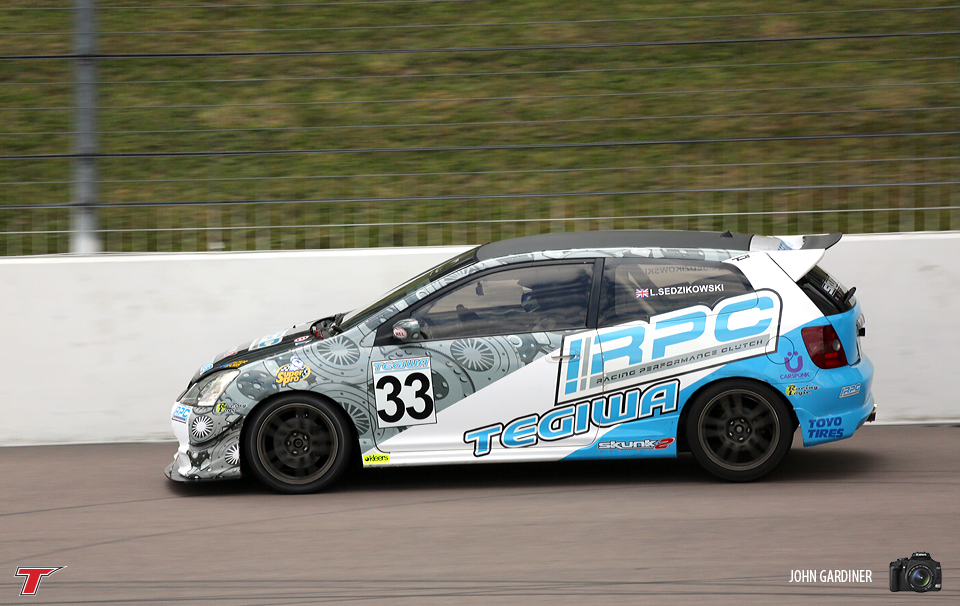 Race 1 started clean, with all drivers off to a flying start off the pit straight and into Turn 1. Sedzikowski (director of Tegiwa & sponsor of Civic Cup), Hockley and Coles held their positions with Nick Chatburn following closely behind. Luke Sedzikowski had a 'moment' into Chapman Curve holding what appeared to be a four wheel drift, allowing Hockley to pass on the inside. Throughout Race 1 there was some good bumper to bumper action, unfortunately Chatburn dropped back due to a clutch failure, Hockley retained his position in first place until the penultimate lap in which Sedzikowski battled past. Luke kept his foot planted firmly to the floor and brought home another victory for Tegiwa, Skunk2 Europe & RPC (Racing Performance Clutches).
Results from Race 1:
#1 – Luke Sedzikowski (Civic Type R EP3)
#2 – Richard Hockley (Civic EK)
#3 – Martin Coles (Civic EG)
It was great to see multiple generations of the Honda Civic on the podium. A real eye opener for those underestimating some of the older cars such as the EG6. Although the EG and EK Civic are running the B16 1.6 engine unlike the Later EP3 models running K20 2.0 engines, power to weight ratio here plays a huge part in overall track performance, not to mention greater braking capabilities over that of the EP3 allowing the drivers to brake later.
Race 2 did not disappoint, again providing some great action. With Chatburn and his Civic EK Coupe out of the race due to the clutch failure in Race 1, the grid count was down from 13 to 12. Luke Sedzikowski held 1st place throughout the place with Richard Hockley close behind in 2nd place and Martin Coles in 3rd Place. Craig Shore, also driving a Civic Type R EP3 really pushed hard on the final few laps of the race seeing him jump from 8th place to 5th and holding that position through to the chequered flag.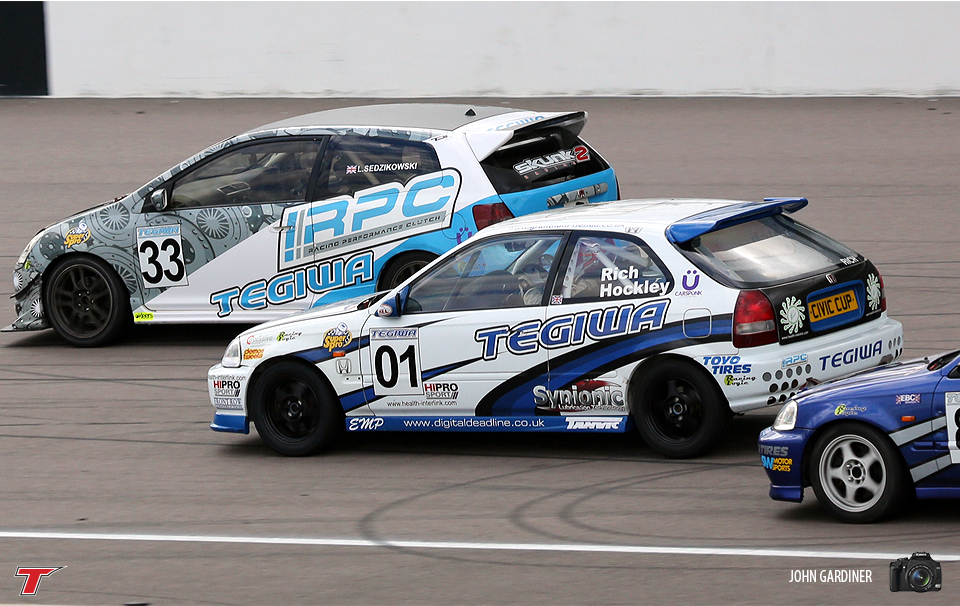 Results from Race 2:
#1 – Luke Sedzikowski (Civic Type R EP3)
#2 – Richard Hockley (Civic EK)
#3 – Martin Coles (Civic EG)
A big congratulations once again to Luke Sedzikowski for bringing home a double victory for Tegiwa, Skunk2 Europe and RPC. The next event takes place at Brands Hatch on Sunday 29th September featuring a full grid so be sure to come and watch some great racing!